A Trek through the Himalayas
Take your taste buds on a delicious, exotic journey
March 11, 2020 at 1:30 PM
I never met a dumpling I didn't like. That streak continued after dining at Annapurna Kitchen on Parade Street, a restaurant featuring cuisine from the Himalayan region, which includes dishes from Nepal, Bhutan, and North India.
Its name — Annapurna — is derived from a Sanskrit word which literally means "full of food," a good name for a restaurant. But the word, also used to describe an area of the Himalayan mountains, goes beyond the direct translation and geography; it refers to the goddess of the harvest, a deity in the Hindu religion who provides food, nourishment, and plenty.
While the regional dishes are apparent, there are a few dishes with names originating elsewhere. Chow mein, most widely known as a Chinese dish, is featured under the Nepali and Indian section of the menu. Also offered are, surprisingly, tacos and flautas, both dishes associated with Mexican cookery. And for the timid eaters in your party, there are French fries and chicken wings. Drink options are limited and run from standard soda pop to mango and banana lassis (yogurt-based drinks), so feel free to bring your own wine or beer if you like.
Although my husband Mike and I ordered from both the appetizer and entrée sections of the menu, we asked that all of our food come together so we could sample at the same time. We decided on a pork chow mein, vegetable samosas, chicken flautas, chicken momos, and something simply called hash.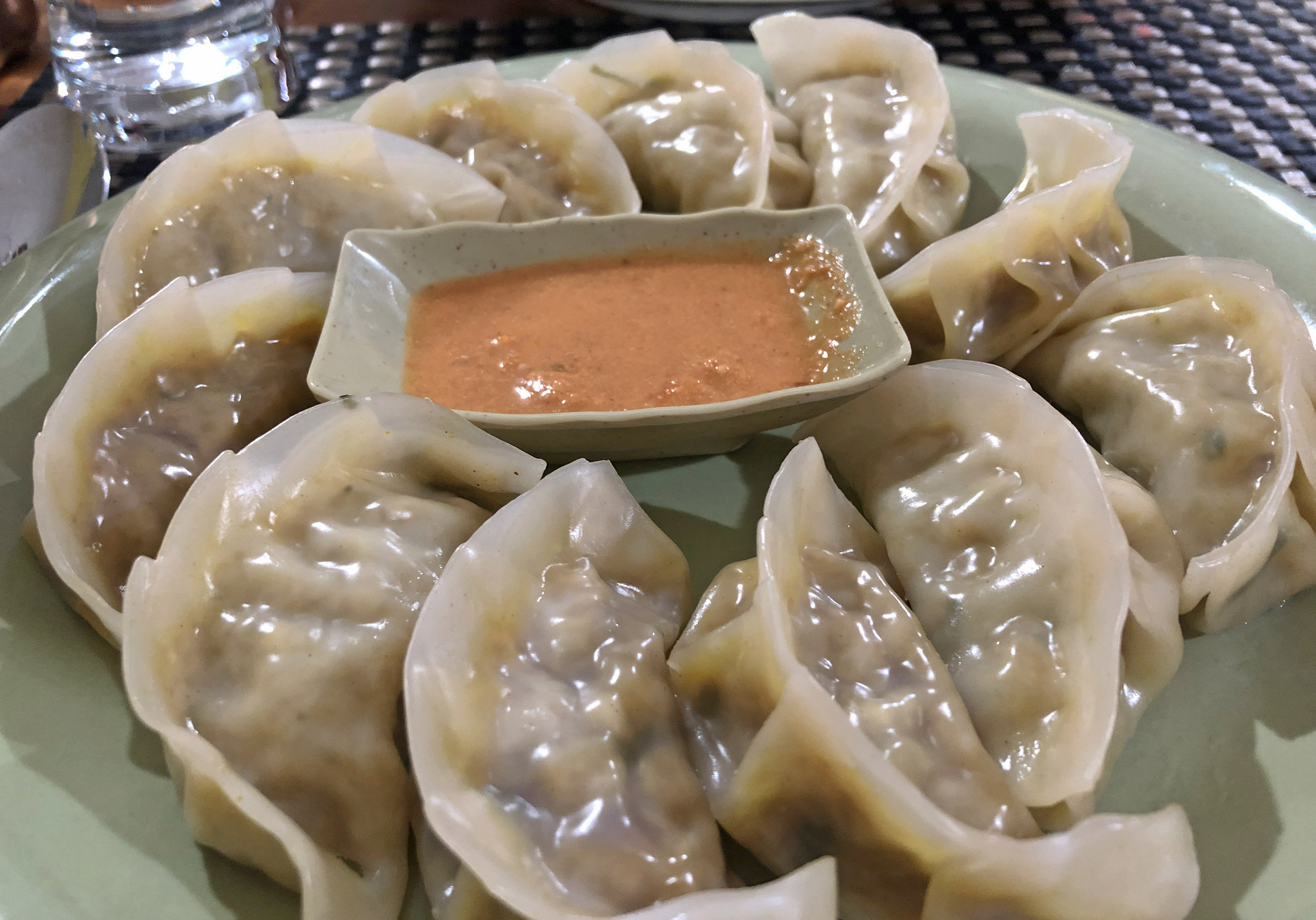 Chicken mo-mos from Annapurna. Photo by Mary Birdsong. 
The hash was an eclectic combination of chopped yams, shrimp, peppers, and onions fried together with a mole, and topped with a soft-cooked egg. The yam flavor and texture spoke the loudest in this dish and I would have liked a more balanced mixture. We only sampled a few bites, deciding to take it home to share at breakfast the next day. It was good, but not at the top of my list.
The flautas were excellent. Arranged artfully atop a puddle of mole, the crisply fried wraps were topped with pickled onions, apple slivers, and fresh spinach leaves. One typically does not find apples on Mexican flautas but here they served as a perfect foil to the savory meat and spicy sauce. The vegetable samosas came with a similar sauce underneath and were also dressed with the onion-spinach-apple combination. If I were going to choose between the two, I would go with the flautas.
Pork chow mein was classically prepared with a variety of vegetables stirred into the generous portion of noodles and pork. The pork seemed a bit overcooked and in general, this version seemed a bit drier than those found at any Chinese restaurant, but it was tasty and the vegetables were perfectly tender-crisp.
But honestly, I was really here for the momos, and the beloved dumplings of Himalayan cuisine did not disappoint. Annapurna offers chicken, pork, or vegetable fillings. Elsewhere, dumplings are considered an appetizer item. Here, the twelve plump pouches of deliciousness would be plenty for a full meal. Our chicken-filled momos were steamed to perfection, the dough tender and just a little chewy. The filling flavor was equally balanced with the essence of ginger, onion, and garlic. The icing on this cake, however, is the sauce accompanying the momos (called "soup" on the menu). This fruity-and-not-too hot concoction is called sepen in Tibet and elsewhere and also momo sauce or chutney.
Like many hot sauces from around the globe, it starts with finely minced tomatoes and hot peppers, with garlic, onions, and ginger as supporting players. Annapurna's is a smooth-style, with ingredients cooked down into a soft red/pink slurry. It complements the momos perfectly.
If you decide to seek out the enchanting momos or anything else on the menu, you need to know one thing. The atmosphere of Annapurna Kitchen may not be what you might expect. It's a little too brightly lit and the décor could use the services of a good designer. It's not the place where you go for the ambiance. It is, however, where you go for some seriously good food.
Annapurna Kitchen is located at 1313 Parade St. and open from 1 p.m. to 10 p.m. daily (closed Wednesdays) // (814) 636-5003// Appetizers $5.99 to $6.99, entrees and specialties $6.99 to $14.99 // BYOB
Mary Birdsong can be reached at mbirdsong@eriereader.com