A Virtual Walk with Old Erie On Foot
Loop around the West Bayfront and Millionaire's Row proves informative and invigorating
March 31, 2020 at 10:00 AM
For the past 8 years or so, walking around my neighborhood has been a near-daily routine for me with my children. We live nearby a number of different playgrounds and have spent many hours learning to ride bikes, taking long, sleepy stroller rides, or just generally walking around, looking at beautiful old houses and enjoying the neighborhood. So when COVID-19 hit, I did panic a bit at the thought of not being able to get out at all. It was much to my relief when I learned that taking a walk outside, either on a trail in the woods or around your neighborhood, is not just ok, the CDC actually recommends it. In a statement released by the City of Erie regarding the closing of Public Areas, Parks and Playgrounds, they made sure to note that while services in these areas are closed (including restrooms, benches, and play equipment) "the running trails and walking paths will be available for residents to walk, jog or exercise - but please keep your distance from others." The National Recreation and Parks Association expanded on the safe use of open spaces: "The CDC has flagged mental health as a top concern associated with the COVID-19 outbreak… We believe that many parks, trails, and open spaces can continue to be used in a safe manner that allows people to enjoy the mental and physical health benefits these spaces provide." 
So, who wants to go for a walk? I mean, not with me in reality: you all can stay 6 feet back, thank you very much. But in spirit, and virtually. I have created an interactive custom Google Map of my neighborhood and the areas my family walks in the West Bayfront to share with you, highlighting some interesting or beautiful historic spots. It is an easy, one-mile loop that you can take at any point when you feel like getting out for some fresh air. Or, if you don't feel comfortable or well enough to go out for a walk, please enjoy the photos and historic information I have included here, and get to know a neighborhood in your town a little bit better from the comfort of your couch. I have chosen to focus on houses and features outside of the usual (albeit amazing) heavy hitters on Millionaire's Row, and point out some buildings you may not have noticed before, or that have particular architectural or historic interest. These are marked on the map with yellow marker points, and if you click on them it pulls up some brief historic info, address, and photos to help orient you. Please remember, if you do go out for a walk, don't make it a gathering. Go alone or with your household unit, stay at least 6 feet away from anyone you may pass, and sanitize your hands when you get back to your car or home. And if you or anyone in your home feels ill, please stay home and go for the virtual walk from indoors. 
Link to the interactive google map: West Bayfront
OK! Let's start out at Gridley Park (the square encompassing Poplar to Plum across 6th Street), shall we? If you have small children with you, you may want to park or start your walk at the South Eastern corner (closest to Poplar Street) so they don't see the playground in front of Emerson Gridley and freak out that they can't go play (believe me, I've been there). Right ahead of you, you will find the houses that make up Garden Court. Garden Court is such a unique spot as it was the first planned subdivision ever in the City of Erie. With houses built between 1907-1930, they are all single-family homes and all share an internal private courtyard. There are four entrances to this courtyard on each corner of the block and they are marked with inset copper letters in the concrete (Photo 1). Both of my children have found a lot of joy pointing out these letters and using them to practice their alphabet over the years. Please be aware that the interior courtyard to Garden Court is for residents only, so don't trespass, please.
The next marker on the map is the Thayer-Thompson house at 605 W 8th Street (Photo 2). So head east on West 7th Street, enjoying the houses of Garden court as you go, then turn right on Cherry Street. The Thayer-Thompson house is hard to miss if you're looking for it. It is one of those houses that is always in some state of repair and doesn't immediately stand out as a shining jewel. But once you notice, you'll always see some new original detail every time you pass. It was built in 1861 as a country home, as at that time it was on the far outskirts of the city. Both Oscar Thayer, who built the home, and later owner, Victory Thompson, were both in the oil refinery business. It is a great example of Tuscan Villa/Italianate design and most of the original on the exterior remains intact, including the eye-catching cupola. Over the years there have been additions and the home has been separated into apartments, but from what I understand, much of the original interior woodwork and character still remains.
Next, head east (turn left) on West 8th Street, passing some amazing turrets and mansions on your way and then notice the old Longfellow school on the right just before Walnut Street (Photos 3 and 4). It was built in 1883 and was also known as Public School No. 16. It functioned as a school until the 1970s when it was closed down. In its day, it was an 8 room school with 479 seats. It has since been repurposed into apartments, but the exterior gives it away as being a schoolhouse in the past.
Take a left on Walnut, and as you walk past the alleyway known as Rolling Ridge Ave, try taking a peek in the backyard of the blue apartment house on the corner built in 1900 (714 Walnut) and notice one of the cutest turrets around. It is actually on the garage and I always check on it every time I pass, as it is made of the most beautiful stone and bright blue shakes. Also, note the remaining old brick pavers making up the sidewalk in front (Main photo, and photo 5). 
The next house of note is right up the block on the Southeast corner of 7th and Walnut (461 W 7th) (Photos 6 and 7, Photo below). It is a giant brick Italianate house that has been recently restored/renovated. It was built in 1857 and would have been one of the earliest houses built in the area. The reason I include this house on the walk is that when it was recently for sale, the realtor was given some old photos of the house by a previous resident and I have included them here. While a lot of the interior has changed, original elements like hardwood floors, built-ins and fireplaces remain.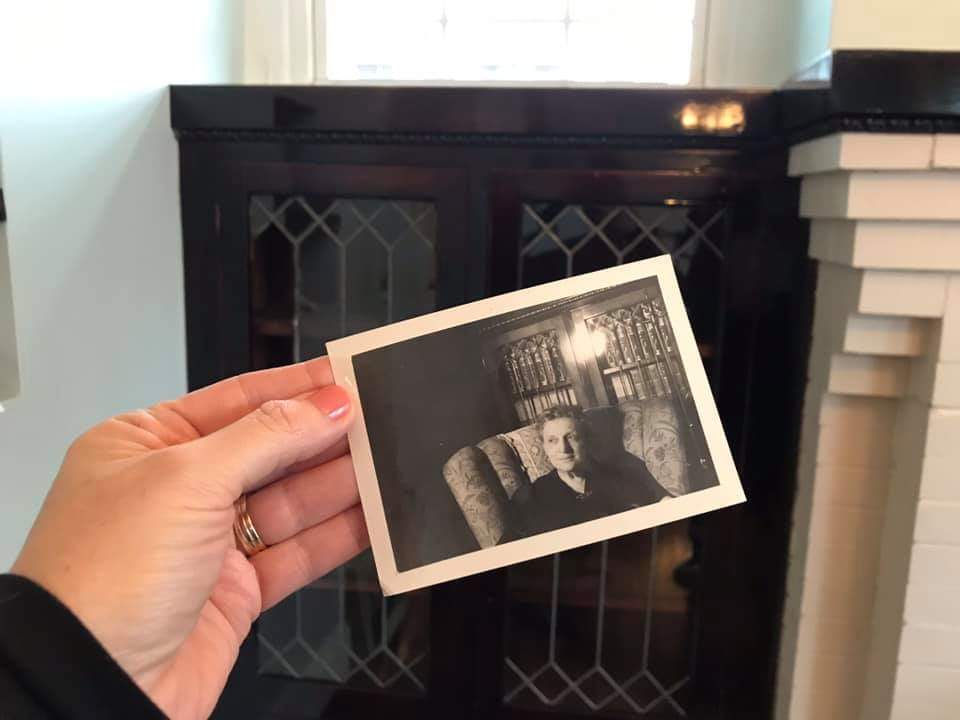 As we emerge onto the recognizable mansions on 6th Street from Walnut, straight ahead of you is the first (or last depending on which way you're going) in a long line of impressive restoration projects on historic West 6th Street, undertaken by Tom Hagan.  If you'd like to continue East on 6th street and check out the rest of these incredible projects, go right ahead. We'll focus for now on the first one. The house on the Northeast corner of 6th and Walnut is known as the Addison Leech house at 462 W 6th Street and was built in 1872 (Photos 9 and 10). It's mansard roof gives it away as a good example of Second Empire style architecture, while the rest of the house also shows many characteristics of Italianate farmhouse style. Addison Leech was a farmer and real estate dealer, later becoming successful in the operation of a number of grain and lumber mills.  During the Civil War, Leech served as a Major in the Union army. From here we will take a left and walk past some of the houses on the west end of Millionaires Row.  
On the right at 520 W 6th is one of the most unique houses on West 6th that I always stop to admire.  It is the Albert Jarecki House known today as the Stone House apartments and was built in 1911 in the Shingle style of architecture (Photo 11).  The Jarecki family had a number of houses built on Millionaire's Row (and we shall see another before the day is done). Albert was in the family business at Jarecki Manufacturing (pipes and fittings).  Anecdotally, Albert was the first person in Erie to own an "electric carriage" or automobile. The house has been converted to apartments, but lovingly, and the exterior is particularly preserved. The bold trim colors draw the eye to notice the many unique details.  One of the best details, in my opinion, is the small window set in the massive stone chimney. I'd love to see that one from the inside.
Across the street is the unmistakable, magical, Spencer House, built in 1876 and with a fabulous local history and lore, written about in great detail on the Spencer House Bed and Breakfast website here.
Of equal but lesser-known beauty and interest, next door you will find the Spencer Double House (Photo 12).  This is also Second Empire in style and was built soon after the Spencer House for Judah Colt Spencer's two unmarried daughters.  This house is unlike any I have ever seen before in Erie and still retains most of its original exterior character.
Before we head back to Gridley Park, I must point out one house on the next block that has always stood out to me.  I even remember admiring it when I was a child passing by. It is the Jarecki-Collins House at 620 W 6th Street and it is one of the most well-preserved houses in the area.  It remains a single-family home to this day and it is rife with amazing old house original details (Photo 13). All of the original leaded glass windows, stained glass, carved wood and relief sculptures in the stone, the slate roof and even chimney pots remain!  I have never seen the interior myself but have word from a few sources that it is equally as jaw-dropping as the exterior. Even the original carriage house in the back remains. Take some time to stand in front of this one and take in all the details. It was built in 1925 in the Tudor Revival style and is a great example of that type of architecture.  Alexander Jarecki (of the aforementioned Jarecki family manufacturing business) had the house built as a wedding gift for his daughter Frances and her husband, Adrian Collins in 1925.  
As you make your way back to the starting point, be sure to notice the other two 6th street entrances to Garden Court and the lovely houses that make up that subdivision on this side of the block.  I've really enjoyed walking around with you (in spirit) and I look forward to more walks to come. Thanks so much for coming along and I hope you all stay safe and healthy out there.
Erin Phillips runs the Instagram @olderieonfoot, an in-depth look at local architecture "by foot, stroller, papoose, bike, and occasionally minivan."