A Visit From St. Bacchus
A holiday poem by Rebecca Styn with apologies to Clement Clarke Moore...
November 26, 2014 at 7:30 AM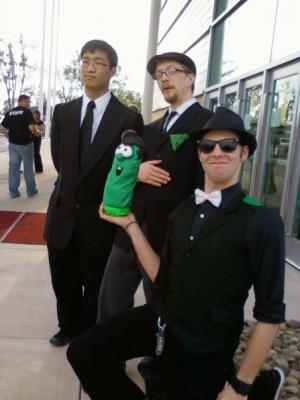 'Twas the night before Thanksgiving and all through the town, every creature was stirring (their drinks) and looking to get down.
We all were discussing, our late evening plans, as many bars, clubs, and dance floors, would be filled with great bands.
Matty B's 10-year reunion was where we all finally were led, while visions of Dirty Pickles, danced in our heads. 
We knew Potwhole and Broke Boland, were musical guests at the pub, as we drove up State Street, to the newly revived King's Rook Club. 
After enjoying the show, we ran to our car, drove down Peach Street, and walked in the next bar. 
As we took in the scene, something grand did appear, the release of NEIMAN's first solo album – it was finally here!
Amongst the talent on stage, were other great guests – Dommy Doo, GNOSIS, and Byron Eanes – were some of the best. 
We then learned Ron Yarosz was playing, but we didn't know where – and whether we were going to stay or leave and head there. 
We knew in a moment that we must stay the course, so we put on our gear and took off with great force.  
As we walked out the door, I heard Wertz yell in delight:
"Now, Graham! now, Bieler! now, Welsh, now Speggen!
On, Triana! On, Birdsong! on, Toy and Stevens!
We are heading to Scotty's for scotch and cigars and we can hear Ron Yarosz at that great corner bar!"
When we arrived at the lounge, Yarosz spoke not a word; the bluesman took to the microphone and went straight to his work. 
After the show, before we parted our ways, we went through the bill and determined our pays. 
As we got in our car, and drove out of sight, we heard Ron Yarosz exclaim, "Happy Thanksgiving to all, and to all a good-night!" – Rebecca Styn, with apologies to Clement Clarke Moore
Matty B and the Dirty Pickles Ten Year Reunion Show //  King's Rook Club 1921 Peach St.  // 8 p.m.