A West Bayfront Stroll Goal
Witnessing Erie's revitalization unfold in real-time
July 17, 2019 at 10:30 AM
It's a sultry summer evening as I take in the sights and sounds at Bayview Park.
There's the crack of bats from little leaguers playing ball at historic Pontiac Field, near West Second and Cherry streets.
I see a half-dozen arched backs, as college students, a college administrator, an 8-year-old, and a 'tween take free Vinyasa and Restorative yoga lessons on the bluff overlooking the bay. When the yoga students assume the warrior pose, they are treated to a stunning view of the waterfront. The bay is dotted with sailboats, including the schooner Lettie G. Howard, on a sunset cruise from the Maritime Museum.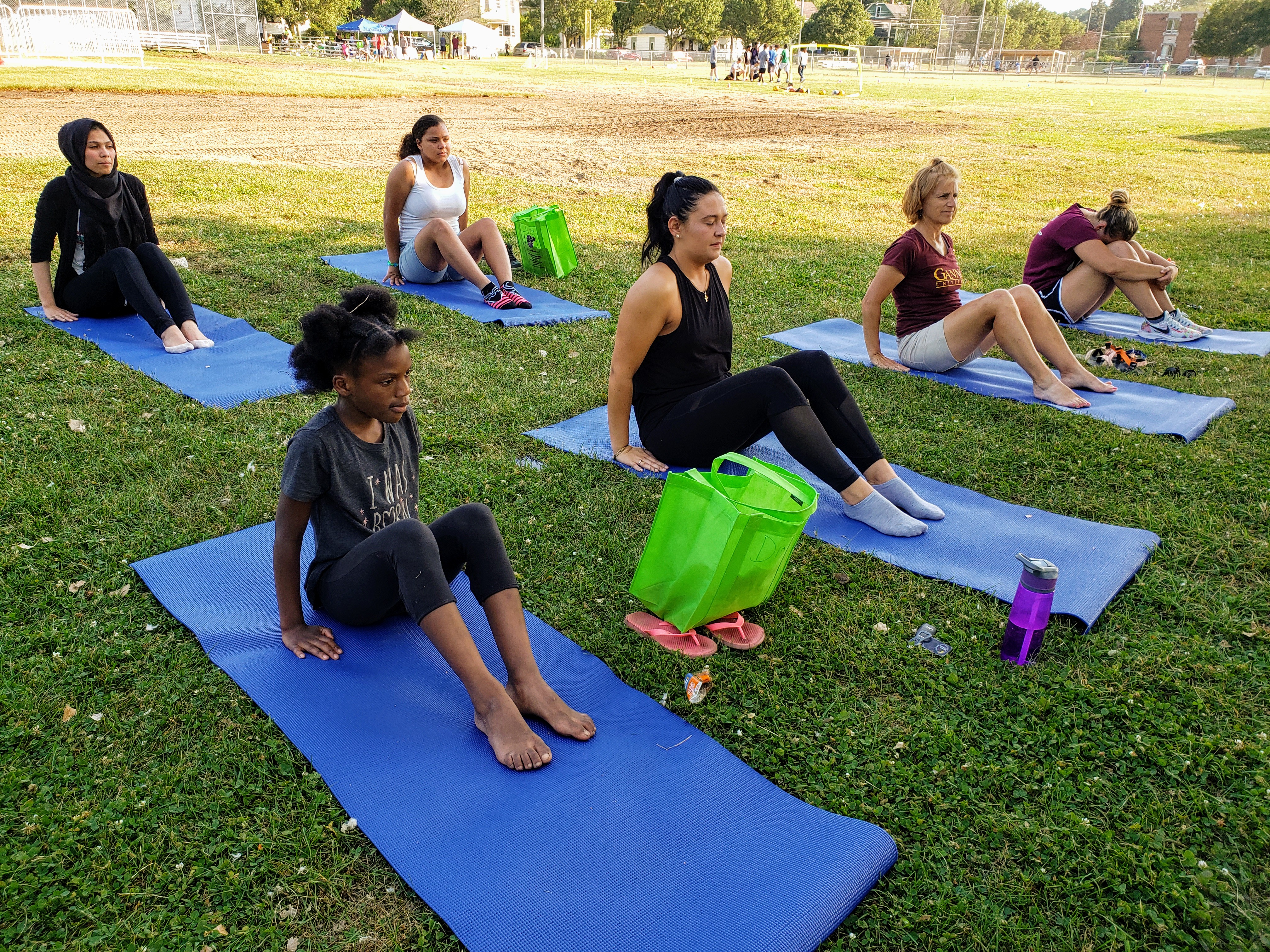 Young soccer players polish their skills with help from the Erie Commodores, while teens show off their moves on the basketball court and parents push little ones on the playground swings.
The duo known as 2 Bass Hit — Steve Trohoske on bass guitar and Tony Grey on a six-string — entertain at the gazebo.
If you enjoy fun, games and neighborly camaraderie, Bayview Park is the place to be from 6 to 8 p.m. on Wednesdays through Aug. 14, when Our West Bayfront hosts its third annual West BayFit program. Each week there is a different sports theme, along with crafts, health and wellness activities, and food from local farmers' markets. The new splash pad has also been dedicated; it is open daily noon to 5 p.m.
But more than that, Bayview Park is the ideal place to witness Erie's revitalization unfold in real-time. Rather than letting others dictate change, West Bayfront residents have given voice to the ways in which they want their neighborhood to be transformed. That's a good thing.
Having leaders step up to take charge is to be expected in this part of Erie, which has produced a bevy of successful artists, entrepreneurs, athletes, and public servants. I haven't cataloged all of the accomplished people with ties to the West Bayfront, but a partial list would include actress Ann B. Davis, who played "Alice" on The Brady Bunch; World War II flying ace Phil Cochran, whose exploits were immortalized in two comic strips (Milton Caniff's Terry and the Pirates and Steve Canyon); Paul Siple, Antarctic explorer and inventor of the wind-chill index; Willie Grace, Negro League star for the Cleveland Buckeyes who made his home on West Front Street; Stephen Galloway, famed ballet dancer and costume designer for the Rolling Stones; and Billy Blanks, actor, martial artist, and creator of the Tae Bo exercise program.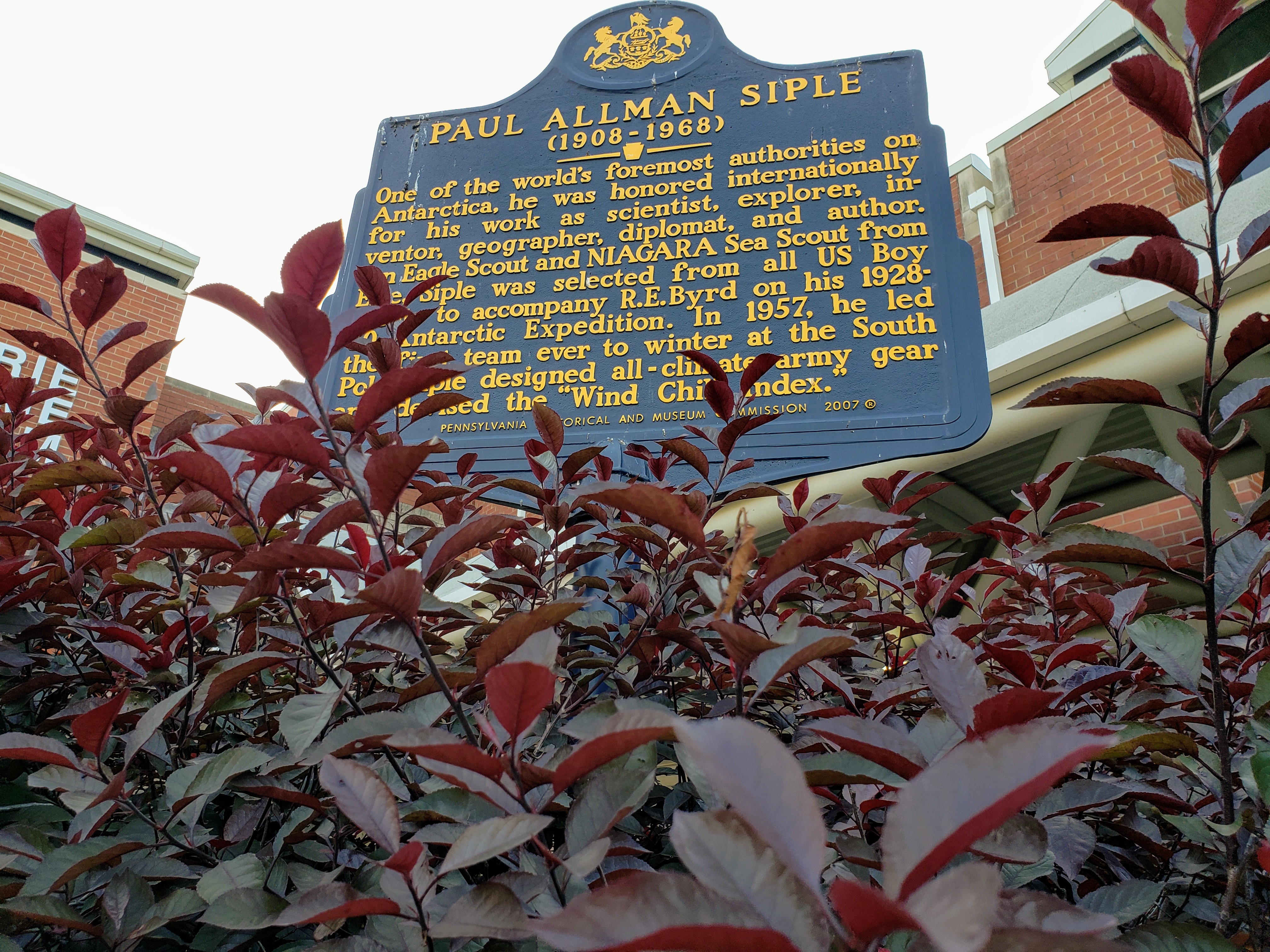 Maybe it's the proximity to the waterfront that sparked such creativity. Certainly, as an anchor institution, the Martin Luther King Center played a key role. I also have a hunch that the melting-pot character of the neighborhood helped to nurture such rich talents.
I visited the park on July 10, the opening night for West BayFit, to prep for my role in the program, as the leader for the second of two historic walks organized by Preservation Erie.
Melinda Meyer, Preservation Erie president, will lead the first walk, along Millionaire's Row on West Sixth Street, on July 17.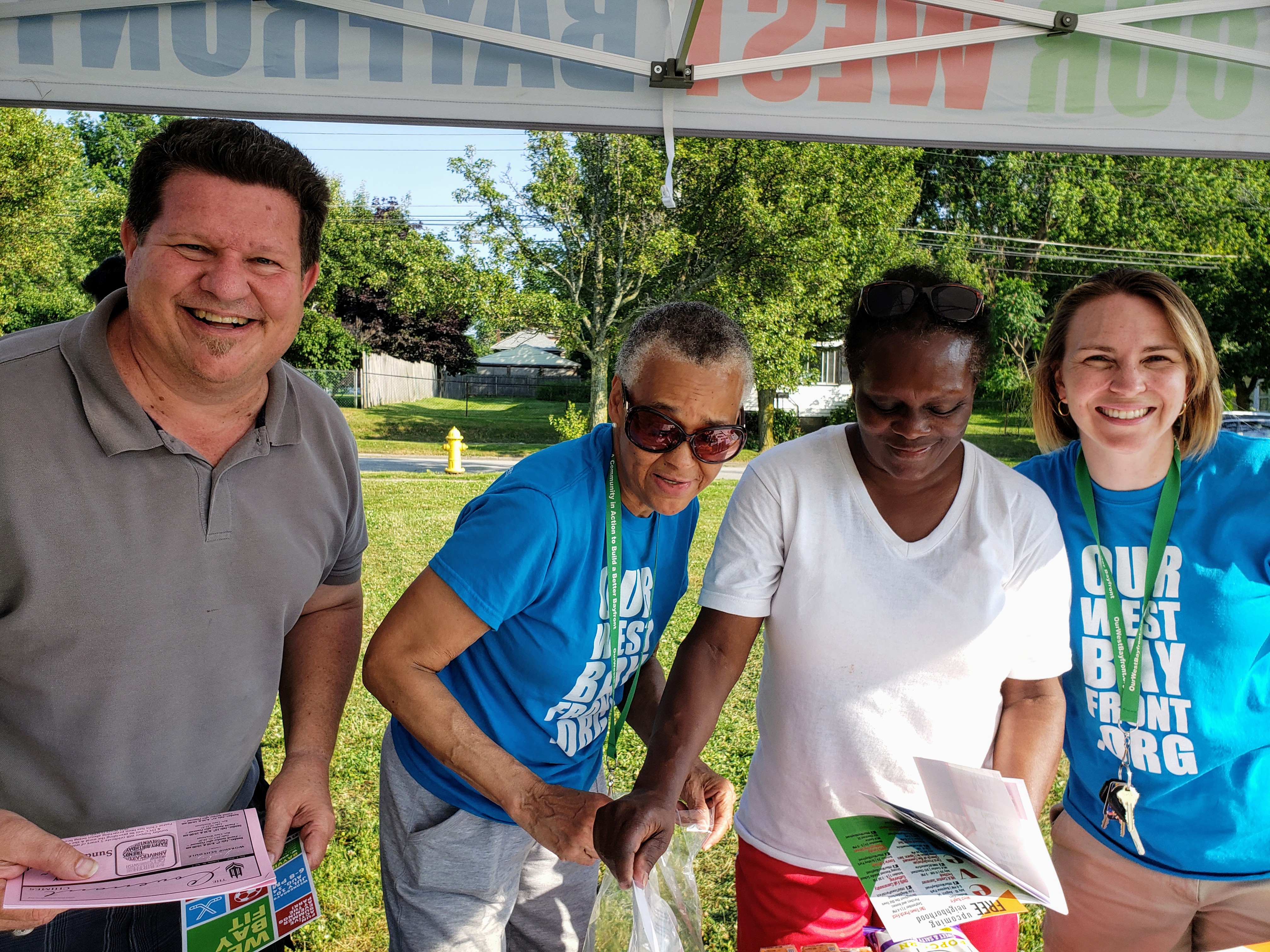 I volunteered for the July 24 walk, which Anna Frantz, executive director of Our West Bayfront, and I are calling the "Heart and Soul Stroll." My plan is to share what I know about the history of the West Bayfront neighborhoods from the perspective of regular folks. This includes the settlers who populated the area called "New Jerusalem," north of Sixth Street and west of Sassafras Street, on land that had been owned by abolitionist and mission-school leader William Himrod.
"Deed research indicates that (Himrod) sold these lots at a very affordable price to whites and blacks with a provision that individuals would build a house and reside on the property," wrote Sarah S. Thompson in her book, Journey from Jerusalem — An Illustrated Introduction to Erie's African American History, 1795-1995.
Immigrants from Scandinavian, Irish, and Portuguese fishing villages followed in their footsteps. I suggested the "soul" aspect of the walk because I know that for many early and later settlers, faith traditions were vital to their well-being and sense of place.
That commitment continues today, according to Joseph "Seph" Kumer, director of community engagement for First Presbyterian Church of the Covenant, which is in its second year as a partner for West BayFit. "The church thinks it's important that we be part of the neighborhood," said Kumer. "It's allowing different ages to come together to enjoy this park. Isn't it a beautiful view?" he said.
Church is also where Thelma Blanks learned her way around the kitchen, before she was even a teenager. The seventh of 14 children of Mabeline and Isaac Blanks and sister of Tae Bo's Billy Blanks, Thelma Blanks is the proprietor, with her daughter Mabel Howard, of the new Café 7-10, at 7 W. 10th St., just east of the Erie Playhouse.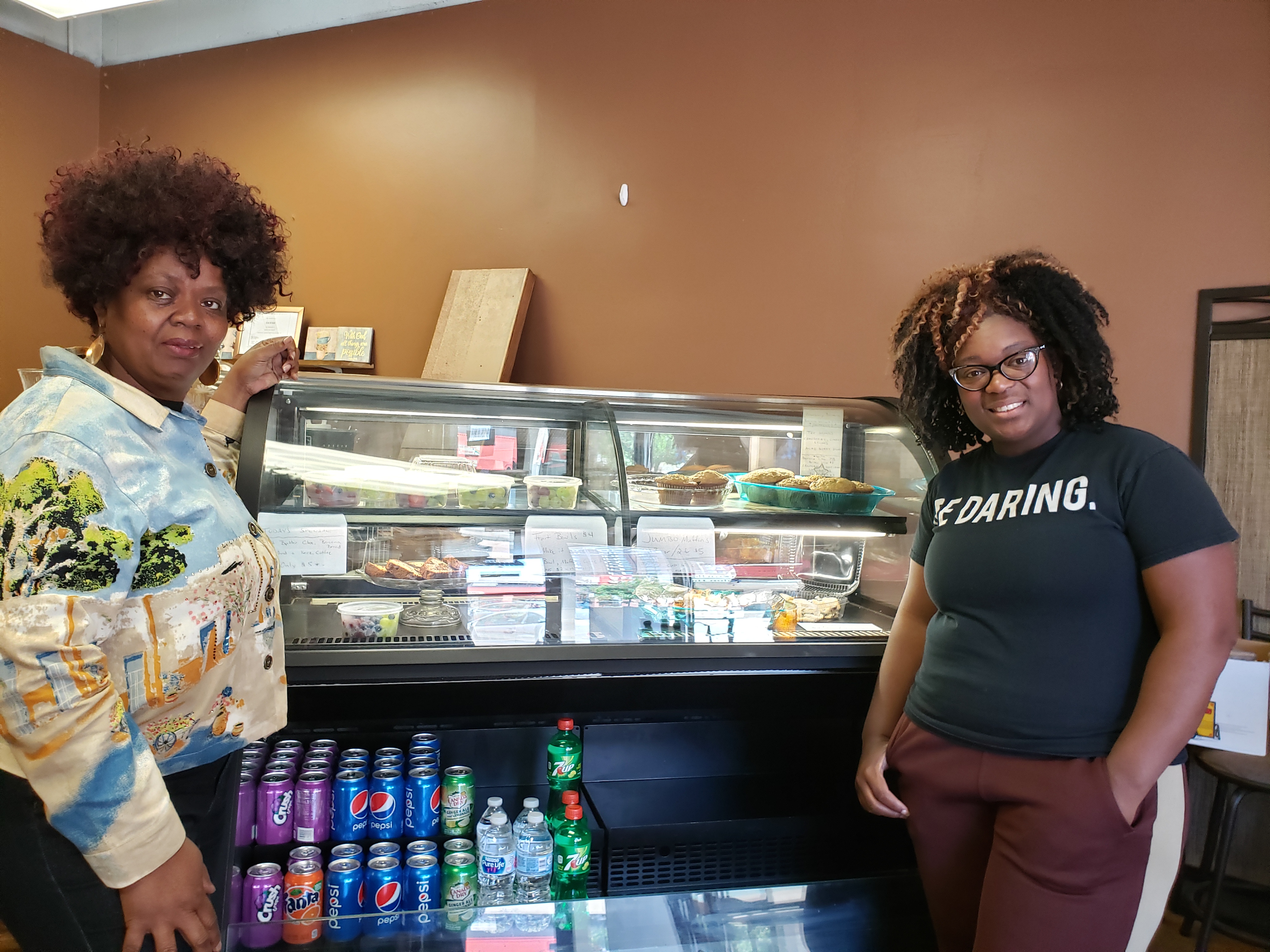 When she was growing up in the West Bayfront, Bethlehem Temple, then at 540 W. Fourth St. and directly behind the Blanks' home in the 500 block of West Third Street, was an integral part of her family's life. She learned to cook at church. "I was frying the chicken, I was frying the fish, I was making the cakes because we did bake sales at the church," she said.
Blanks, in turn, passed along her culinary skills to her daughter. Howard is especially proud of her mother's signature dish, "Thelma Divine." Howard explained: "It's like a lasagna but made in a soulful fashion. There's (cornbread) stuffing on top, then there's broccoli and chicken and a layer of cheese. It's so, so good, you don't even have to have a side dish, but she would also make macaroni and cheese and collard greens."
Blanks said she learned about entrepreneurship from her father, who had a rubbish-hauling business. "Everyone called him Boss," she said. All 10 boys in her family played sports but Thelma Blanks was the first to earn a black belt in karate after brother Billy dared her to study martial arts.
Blanks helped me to, well, fill in some of the blanks about my knowledge of the West Bayfront. So did retired teacher Johnny Johnson, who reprinted a book about the Pontiacs (with the permission of the original author, Larry Wayne Moore). which included many former Negro League stars. "The Pontiacs. Black Baseball to Remember" is available in the Heritage Room, the reference section of Blasco Library.
I've also tapped into the stories of John Reitinger, a former City of Erie worker, whose family has lived on the lower west side for 100 years. At West Fourth and Liberty streets, he remembers a bakery, tannery, shoe repair shop, and meat market; and at West Fourth and Cherry streets, there was the Gem City Club, Western Provision, and a pool hall. Firch Bakery was at West Fourth and Walnut and the Firch mansion, a beautiful Victorian home, stood next door. "It was a vibrant community. You had everything there," Reitinger said.
Despite the research I've done and the oral histories I've heard, I'm a little nervous about leading the walk because I'm not a West Bayfront resident; I don't want to come off as an interloper.
Still, I cherish my connection to the West Bayfront, because my earliest memories were formed here, in the upstairs flat my parents rented in the 200 block of West Fourth Street.
I remember my dad taking me to meet the fire dog at Engine House No. 4, at West Fifth and Chestnut streets (now the Erie Firefighters Museum), and attending kindergarten at Burns School — now Gaudenzia Crossroads Erie (a drug and alcohol treatment center).
I can hear my mom signing along with Perry Como on the radio, and recall that Dad took my brother and me sledding on the bayfront bluffs on the morning of the Thanksgiving Blizzard of '56, when there was just "a dusting" of snow. One month later, we moved to Lincoln Avenue. Our home was close enough to my father's job on Pittsburgh Avenue that he could drive home for lunch every day, and my brother and I would sprint home from St. Andrew's Catholic School on Raspberry Street to eat with our parents and our little sisters.
My first introduction to the history of the West Bayfront came because we belonged to St. Andrew's, founded by Portuguese fishermen. It also seemed perfectly normal that my Irish father and his friends of German, Italian, and Polish heritage belonged to the Danish Club. Those guys, all gone now, would appreciate the spirit of collaboration afoot in Bayview Park. They would eagerly respond to the invitation from Frantz, the director of Our West Bayfront, to take part in West BayFit.
"We want people of all ages to get out and enjoy this amazing park, to meet new friends and neighbors and connect with old friends and neighbors," said Frantz.
I'm ready. Are you?
Liz Allen's favorite new treat is the chocolate banana bread from the Café 7-10. "That recipe came to me from above (from God)," says café owner Thelma Blanks. It's truly heavenly.
COMING UP
West BayFit takes place at Bayview Park, West Second and Cherry streets, on Wednesdays from 6 to 8 p.m. through Aug. 14. Learn more at www.ourwestbayfront.org. Also mark your calendars for the MLK Center Summer Festival at 312 Chestnut St. on July 20 from 11 a.m. to 3 pm. To volunteer, call Fatima Jenkins at 459-2761, extension 241. The Café 7-10, 7 W. 10th St., is starting Poetry and Soul Food Sundays, with takeout dinners available from 3 to 5 p.m. and dining in from 5 to 7 p.m. Visit the cafe's Facebook page to learn more.