About Town
The grand re-opening of one of Erie's favorite bars: The Docksider
February 22, 2012 at 11:55 AM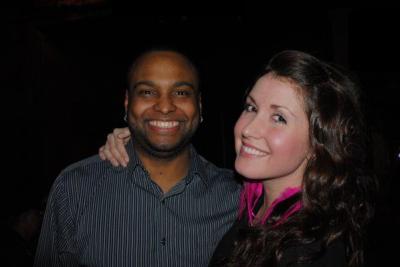 Within the boundaries of our beloved downtown—from the shoreline of the lake, north to the 14th Street Bridge, west from Sassafras Street, and east to Holland Street—one would be remiss to say there is nothing to do within the center of our Gem City. Whether you're catching a game, touring a museum, watching a show, shopping, or eating, downtown Erie has a lot more going on than we give it credit for. Although this time of year may find us a bit more reclusive than any other season, we can still generally find a variety of lads and lasses within one of our many fine, local bar establishments.

And one of those finer establishments actually celebrated a grand re-opening just the other Friday night—the Docksider. For those of you who remember (I'm going back to my pre-drinking years), the Docksider used to be located next to McDonald's between Third and Fourth streets. Tucked on the west side of State Street, the place was virtually jam-packed on any given night and there was always great music. That small space and large crowd eventually forced the establishment to bigger and better things and to its now permanent home, located at 1015 State Street.

Over the years, while the location has changed, generally the music hasn't (true, there've been questionable moments) but today, it's still one of the finer venues to check out great bands (alongside another personal favorite—the crooked i—which is conveniently located right next door). And although it's been in this location for a number of years, it has shifted its ownership to Eddie Bayeh.

So, what's different about it this time?  

Well, it's been remodeled a bit. While the structure itself already boasts a lot of character to begin with—stucco walls, exposed brick, and high ceilings with a charming loft—there's a two-story bar, which now includes two bars on the first floor and a third bar upstairs, and the main bar now offers a unique selection of craft beers that you may have not seen before. The upstairs bar and seating is still open to the public and also available for private parties. One of the biggest changes, is Docksiders also serves lunch and dinner and now caters, and I understand they serve up a pretty decent dish—from Mediterranean fare to classic bar favorites—up until closing time (2 a.m., folks). There are also specials every night, and Thursday through Saturday there's a DJ and/or a live band from the tri-state area.

This past Friday was no different for great music. And although we have a lot of great local talent that we should be showcasing far more often, Texas-born Hadden Sayers, blues troubadour, entertained guests well into the evening.

Some of the many great faces that showed up Friday night to partake in the festivities (and possibly show us some moves on the dance floor), included: Dustin J. Givner, Juliana O'Rork and Katie Zboyovski; local artists and educators Deborah Sementelli and John Vahanian; Eddie Bayeh and Katelyn Bowles; Jeff Parry, Patrick Falzone, Emily Colleen, and Megan Schafer; and the Erie Art Museum's John Vanco and Kelly Armor.

And for those that have come to know and love the 'slider as it has ingrained itself into the regular bar scene over the years, never fret—it is still the gem it always has been; it's just found a fresh face serving as a great stop for the happy hour goer to the late night owl and everyone in between.