Add Erie's History to Your Shopping List
A sweep of local neighborhoods offers plenty of food for thought
November 16, 2023 at 7:00 AM
When you patronize Erie businesses this holiday season, think about visiting your own store of memories, because shopping is more than a retail exercise. It's also a great opportunity to take in Erie's sights, sounds, and scents.
That is why I asked Bobby Sulecki and Mary Jo Sulecki (Bobby's mother) for some ideas on their favorite places to soak up Erie's culture. The Suleckis aren't shopaholics. Rather, Bobby, 34, is an "old soul," in his mother's words, who fell in love with the Boston Store at age four after watching a WQLN special, even though the store closed 10 years before he was born. "I was so happy that it was saved," he said about the Boston Store, which now houses apartments, radio stations, and a brew pub.
But I didn't interview Bobby because of his fascination with the Boston Store. Instead, I talked to him because he has extensive knowledge about Erie's Polish history, and it is the immigrant community, from Poland and elsewhere, that founded and continues to establish many flourishing businesses here.
I first wrote about Bobby in 2005, when he was a 15-year-old hosting his own Polish show on a low-watt radio station. I learned then that although he was born with cerebral palsy, his intellect is sharp and his creativity is boundless. In 2012, I caught up with him for a column about his interest in film stars from the golden age of Hollywood. Then, in 2016, I wrote about his work in documenting the history of Erie's Polish neighborhoods, with a focus on four Erie Catholic churches, including St. Stanislaus (the "mother church" of Erie's Polonia), city neighborhoods, the service of Polish soldiers from Erie in Haller's Army in World War I, and other intriguing topics.
His mom is his devoted partner in exploring Erie's Polish heritage and in providing transportation. Bobby uses leg braces and a wheelchair to get around but can't drive. He shares his research and stories at EriePoloniaHistory.com. We've also become collaborators of sorts, with Bobby making use of a series of stories I wrote in 1989 about Erie's Polish history — when he was still an infant!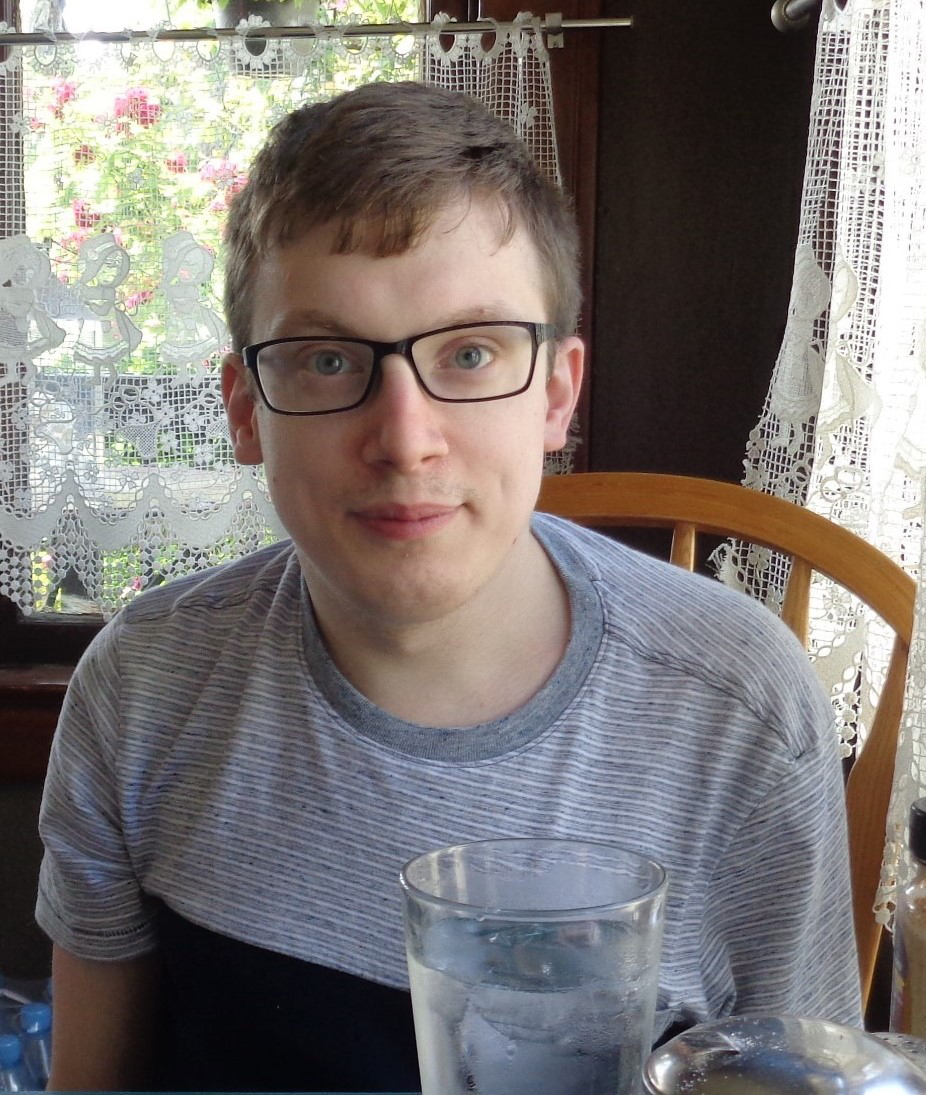 Bobby Sulecki has taken a deep interest in Erie's history and has focused the bulk of his research on the early Polish neighborhoods in Erie and their contributions to our city's development. (Contributed photo)
The impetus for my series back then was an announcement by the Catholic Diocese of Erie that it intended to close St. Stanislaus Parish at East 12th and Wallace streets, along with St. Stan's, St. Patrick's, and Holy Trinity elementary schools. The schools shut down, but St. Stanislaus Parish is still open. When St. Mary of the Immaculate Conception closed in 2015, it merged into St. Stan's and no longer exists. Founded by German immigrants, St. Mary's had previously absorbed Immaculate Conception, a predominantly Black parish.
Because of the priest shortage and a drop in attendance after COVID, the diocese has recently proposed more mergers, partnerships and changes in church status, affecting many parishes beyond the Polish ones. Under the new plan, Holy Trinity would be a secondary mission church of St. Stanislaus, meaning it could still have Mass on Sundays, holy days, and the eve of holy days. Our Mother of Sorrows, already a cluster of St. Ann, Holy Family, and St. Casimir parishes would merge into St. Stanislaus and become a secondary parish, with Mass permitted for funerals, baptisms and weddings. St. Hedwig, home to Erie's Latin Mass community, would also merge into St. Stanislaus.
I am Catholic but still need a spreadsheet to keep track of all these changes. But you don't have to be part of my faith tradition to wonder how diminished parish life might affect the City of Erie, especially as Erie's civic leaders strive to revitalize neighborhoods. And to know where our community is headed in the future, we need to understand and appreciate Erie's past, including the role that churches played in creating neighborhood identities and supporting entrepreneurship.
When I wrote the Polish stories in 1989, I also did a series about Erie's Italian neighborhoods. As a journalist, I knew Erie's geography, from the central city to the suburbs and out to the rural parts of the county. But as a west-side resident for much of my life, I wasn't as familiar with the commerce that once thrived in these ethnic neighborhoods until I wrote my Polish and Italian neighborhood series. That's when I met the people and their descendants who had started butcher shops, taverns, bakeries, dry-goods retailers, hardware stores, photo studios, printing presses, restaurants, and movie theaters that served immigrants for decades.
Now, I like to make note of the New American businesses that have opened, often on the same blocks where earlier immigrant stores operated. The UK Supermarket at 1115 Parade St. is worth a stop just for the aroma. Also on Parade Street, I'm a regular at Kraus Department Store, a browser at Cobb's Second Time Around Thrift Shop, and an occasional shopper at Nickel Plate Mills. I don't have a dog or a cat, so I don't buy the holistic pet food that is Nickel Plate's specialty. But the flower and vegetable seed packets from Botanical Interests, with lovely four-color illustrations, make great stocking stuffers (the seeds are in a separate room during the off-season for gardening).
For the Suleckis, a favorite place to shop is Urbaniak Brothers, at East 24th and German streets. Urbaniak's sells meat, cheese, fish, beef jerky, horseradish, and fruit and vegetables. You can also find homemade jarred goods, such as jams and relishes, barbecue sauce, and branded merch, including T- shirts and aprons. Herb & Honey Bakery is also located inside the store.
Bobby and Mary Jo are also excited that Adrian and Nadia Pop, the new owners of Trawka's Market at East Seventh and Payne streets, plan to carry items from their native Romania along with familiar Erie foods such as Polish sausage, ox roast, and Smith's hot dogs.
Their mention of the two food stores made me think about Serafin's Food Market, at East 24th and Ash streets, which boasts that it is Erie's oldest grocery store, dating to 1926. Go for the pepperoni balls, stay to chat with owner Dan Serafin, who is also a steward for the neighborhood, then check out Holy Trinity Catholic Church, at East 22nd and Reed streets.
From Bobby, I learned that the Holy Trinity rectory was originally a Baptist church and that the church displays many statues and pieces of art, all labeled with name and background details. One of his favorites is a portrait of St. Maximilian Kolbe, a Polish Franciscan friar who was executed at Auschwitz.
"Any ethnic church has its own personality, including which saints are important to them," explained Mary Jo Sulecki. Churches also reflect immigrant stories of resilience, thrift, and reuse. The exterior of St. Hedwig, for example, at East Third and Wallace streets, was built from street cobblestones. Bobby also recommends checking out the stunning stained-glass windows that grace St. Casimir Church, near East Seventh Street and Hess Avenue, with the Nativity on one side and the Resurrection on the other.
"Erie Refocused," the city of Erie's 2016 comprehensive plan, designated 17 neighborhoods for attention. Some of the plan's neighborhoods, like Little Italy, are recognizable. Other names don't resonate with Erie residents. But until I consulted Bobby's work, I didn't realize that Erie's Polish neighborhoods were named after four Catholic churches.
"Erie's first Polish neighborhood was called 'Stanisławowo,' in the approximate area from East 12th to East 18th streets," when St. Stanislaus was dedicated in 1885. Holy Trinity was established in 1903, with the neighborhood between East 19th and East 24th streets called "Trójcowo," he said. The neighborhood for St. Hedwig, established in 1911, became "Jadwigowo," from about East 2nd to about East 5th streets. In 1914, St. Casimir's was established, with the neighborhood called "Kazmierzowo" and bounded by East 6th to East 11th streets and Hess Avenue, Lynn Street, and Payne Avenue.
The upcoming holidays mark the seasons of thanksgiving and giving back. I am thankful for everything that I've learned so far from Bobby, and happy to pass along his appeal for readers to share your stories for his ongoing research project, which he has expanded to include St. Mary's and Holy Family parishes.
"I am interested in hearing about recollections of growing up in the Polish neighborhoods, the schools, and your families. What was so special about it? What did it mean to you? What were the Polish businesses, stores, clubs or taverns you went to? Who were the priests or nuns or special people in your life?" he asks. He's interested in photos, too — class group pictures, communion and wedding shots, family portraits, and corner stores. He will scan any loaned items and return them.
Harking back to his radio days, he's also hoping to scrounge up tapes or information about the Polish radio shows hosted by Joseph Zdunski and Peter Garnowski. He cautions, though, that he can't do genealogy research or compile travelogues. You can contact him at suleckibobby@gmail.com or by calling 814-899-2731.
By the way, he's just started volunteering at the Hagen History Center, helping to organize its extensive collection of Polish-related items. In your gift-searching expedition, Hagen History Center is also a good place to shop.
Liz Allen is a well-known shopping procrastinator. You can reach her at lizerie@aol.com.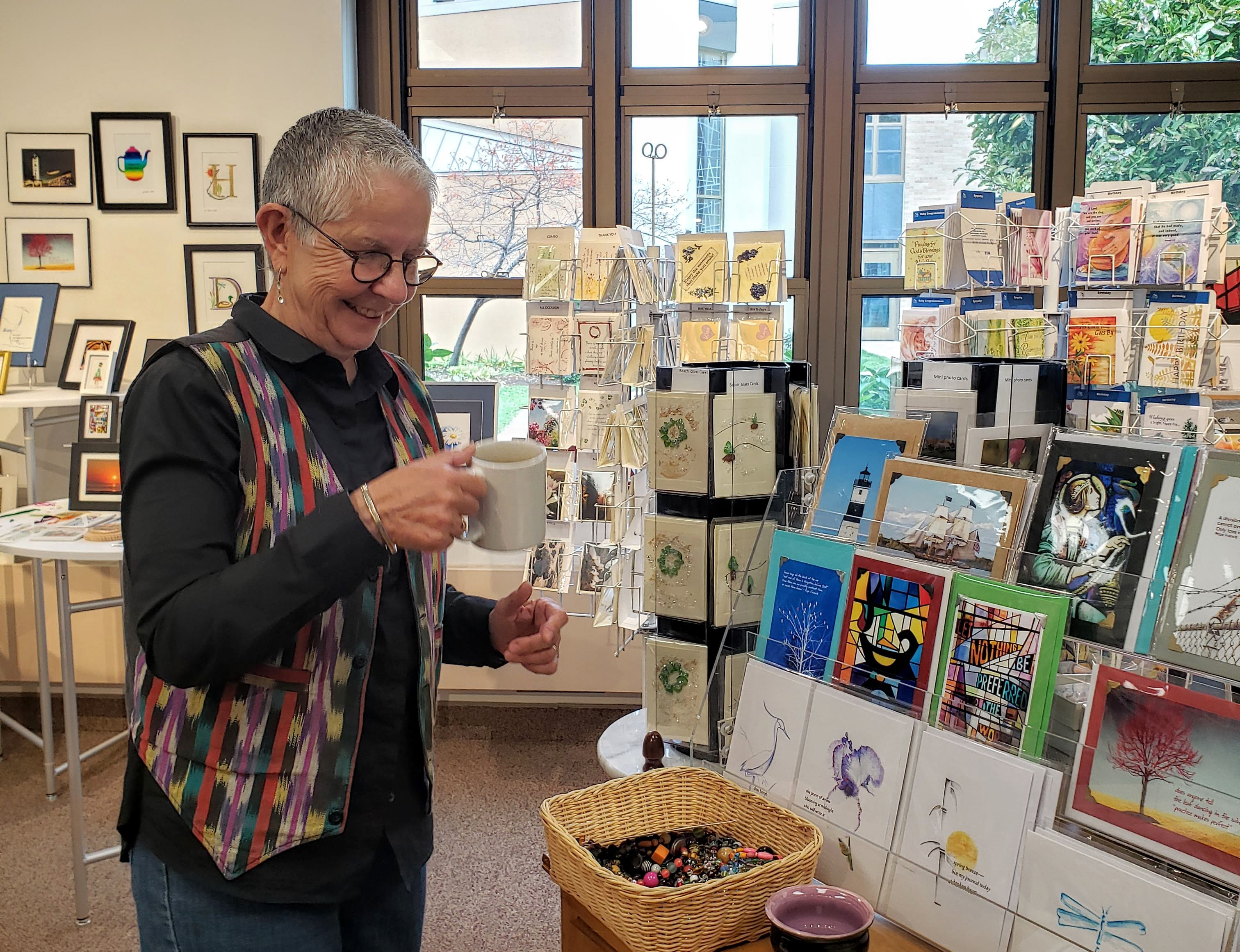 Jo Clarke, a local artist and Benedictine oblate, helps to run Chapter 57 which is a shop that offers religious books and poetry alongside locally produced fine art and art contributed from the students at the Neighborhood Art House. (Contributed photo)
On the same page with local artists
I like wordplay and books, so I keep my eye out for clever names, including titles of cozy mysteries (Buried in the Stacks, by Allison Brook) and book/gift shops (the Bayfront Bookshelf run by Friends of the Library at Blasco, for example). But I didn't know why the gift shop at Mount St. Benedict (6101 East Lake Road) is called Chapter 57 until Sister Valerie Luckey, OSB, director of Emmaus Ministries, explained its origin. (I am also a freelance writer for Emmaus.)
"It got its name in a contest that the late Sister Mary Lou Kownacki won for naming the store. It's taken from Chapter 57 of the Rule of Benedict about the 'artisans of the monastery,'" Sister Val said. "Paraphrase: The artisans are supposed to practice their craft with humility and not overcharge for anything, lest they get too prideful!"
But I will boast that I am delighted I spent some time at Chapter 57, which offers much more than books on religion, spirituality, and poetry, written by Erie Benedictines and by other noted authors of works on religion and spirituality. The shop specializes in glorious original art in all sorts of media, including photography. Artwork is sold on its own and is also incorporated into cards, tiles, mugs, woven baskets, bags and clothing items. Art by children from the Neighborhood Art House is also available, with proceeds benefiting that Benedictine ministry.
Jerry Williams was browsing at Chapter 57 with her friend, the Rev. Rebecca Cartus of the Federation of Christian Ministries. The two women, from Sewickley, had attended a retreat at the hermitages at the Mount. Williams described the art as "incredible" and said that the Benedictine rule of hospitality was practiced everywhere, including in Chapter 57, where Jo Clarke, an artist and Benedictine oblate, was waiting on customers.
Chapter 57 is the brainchild of Sister Margaret Ann "Peggy" Pilewski, an accomplished artist. It is open on Sundays from 10:30 a.m. to noon and also by calling 814-899-0614 to make an appointment with Sister Margaret Ann.