"Advanced Industries" are Economic Anchor
Brookings Institution report analyzes "America's Advanced Industries." Where does Erie fit it? 
February 4, 2015 at 10:27 AM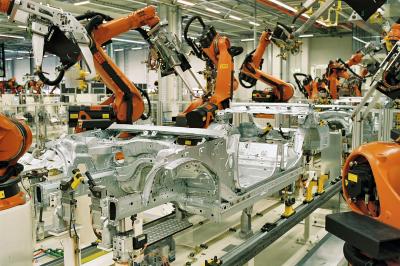 The Brookings Institution Metropolitan Policy Program released a new report Tuesday on "America's Advanced Industries."
Brookings analyzed the nation's top 100 metropolitan areas with dynamic, tech centered industries that spend an average of $450 per employee on Research and Development, and whose occupations require a degree of STEM (Science, Technology, Engineering, and Math) knowledge that is above the national average, or 21 percent of all workers. Industries must meet both criteria to be considered "advanced," according to the report.
Spoiler alert: Erie County is not on the list. Depending on whose rankings you subscribe to, Erie ranks in the mid-100s and lacks in industries that fit the criteria outlined above.
That doesn't mean we're out of the game. Fostering industries with a commitment to R&D and a skilled workforce is a bar to reach for rather than a barrier to entry.
"It's like a great experiment," says Bruce Katz, vice president of the Brookings Institute and director of its Metropolitan Policy Program. "Places that focus on what matters tend to perform better. You can't take the advanced industries for granted. You've got to treat it with respect and give it the care it needs."
According to the report, America's advanced industries account for 9 percent of employment nationwide and contribute more than 17 percent of the nation's GDP making them a significant player in the U.S. economy.
Perhaps more impressive than the economic impact of advanced industries are their intrinsic link to America's educational system. Advanced industries employ more than 80 percent of the nation's engineers and perform 90 percent of this country's private sector R&D, researchers concluded.
Economists and policy analysts like to debate the merits of economic multipliers – the residual effects of significant economic drivers throughout the economy, nationally and locally. But if the Brookings advanced industries report is correct, the presence of such industries is a huge boon to the regions in which they thrive. That's because this research indicates that for every new advanced industry job created, 2.2 additional jobs (the multiplier) are created elsewhere in the economy. That means that advanced industries, both directly and indirectly, account for one-fifth of total U.S. employment.
When you examine the 50 manufacturing sectors that constitute America's advanced industries, it's easy to see that Erie is already participating in this economy.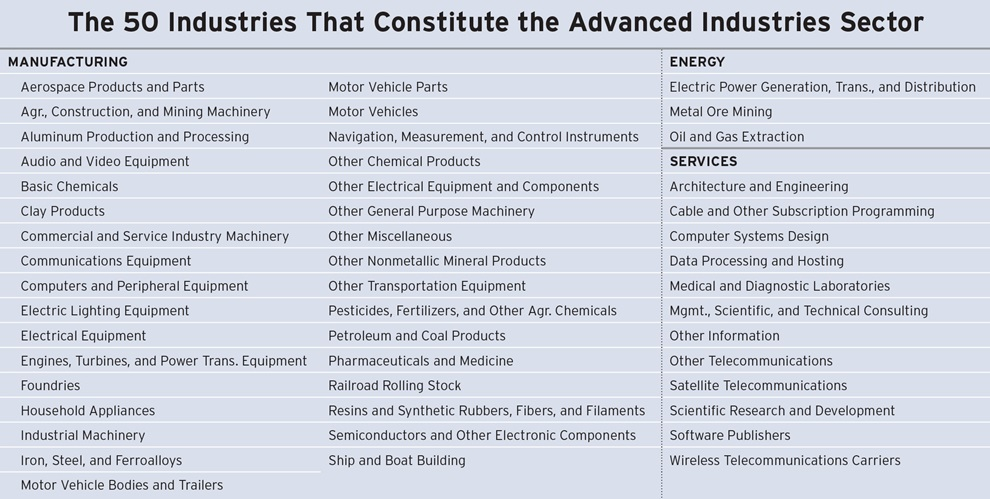 And we're not out of the game based on our population. Youngstown, Akron, and Toledo, Ohio, as well as Harrisburg and Scranton, Pa. are among similar sized metros in the advanced industries top 100. It's not about the size of the community.
"Every place had its own existential crisis in the past 50 years," Katz says. "But it's really quite remarkable that against all odds – and against every report that puts you at the bottom of some list – places have managed to claw their way back. I think, in the end, it's about these collaborative networks that invest back in high-returns on investment in their communities and then stick to it."  
Success in advanced industries is about the metro's commitment to private and public-sector collaboration, as well as the clustering of industries intent on R&D investment. Explore the details of America's top metros with the Brookings Institute's interactive data visualizations and analysis.  
Jim Wertz can be reached at jWertz@ErieReader.com, and you can follow him on Twitter @jim_wertz.