After Disbanding, Mallory Run Returns to Erie
After taking time off, local pop-punk band Mallory Run is gearing up for their return show at Basement Transmissions with Canadian Hardcore Rockers Comeback Kid.
January 21, 2015 at 4:00 AM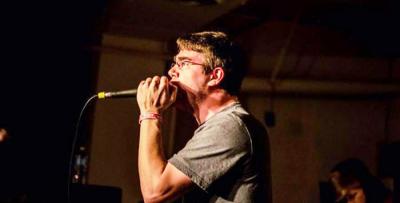 Playing music in a band while balancing the ever-increasing responsibilities that accompany growing up can be a tricky task, and for a lot of people, it doesn't always work out. That was the situation last spring when local pop-punk band Mallory Run disbanded.
Sometimes, however, passion for and dedication to what a person loves most can be powerful enough to overcome those setbacks and obstacles. Mallory Run has that passion and dedication, reuniting with a slight lineup change, and is hard at work in preparation for their first gig back coming up at Basement Transmissions on Monday, Jan. 26.
The lineup includes Canadian hardcore band Comeback Kid who are currently signed to Victory Records, along with Bridge 9 Records' Expire. Also playing will be Cleveland's Motives, Fredonia's Crazies, and local straight edge veterans, xRepresentx.
Now comprised of Patrick Harkins and Taylor Bean on guitars, Anthony Anglikowski on bass, Tommy Lipo on drums, and Danny McClune on vocals, Mallory Run's ready to hit the scene in a big way.
Will Taylor: How long has Mallory Run been together? How did you guys meet?
Danny McClune: Mallory Run was formed in the fall of 2012 when I met Pat in English class at Edinboro. We posted something on a Facebook page seeing if anyone would be interested, and Anthony was quick to respond.
WT: What happened that you guys decided to call it quits? What made you decide to try again?
DM: Earlier this year we had a different drummer, who ultimately left the band to get married. None of us have really heard from him since. Everyone else pursued other projects during that time. About two months ago, Anthony, Pat, and I talked and told each other how we missed playing in Mallory Run, and we were pretty much back at it that night.
WT: Those are some big name bands on the upcoming BT show; are you guys excited? Nervous?
DM: The show on the 26th is going to be huge. I would be lying if I said I wasn't nervous. I have a lot of friends that haven't been to shows since The Hangout closed that are coming out to this one – plus some people who have been there the whole way. Hopefully, we can get our stuff together in time to make it a good one.
WT: What do you think of the new Basement Transmissions? Any pros and cons? Do you like it better than the old place? Do you think the change in location has had any impacts on the local community of show-goers as a whole?
DM: Personally, I have only been in the basement of the new Basement Transmissions – that's where our practice spot is. I have yet to attend or even see the venue part of it. There's been a lot of back and forth lately about it, and it sucks for me, because I'm friends with people on both sides of the disagreements, and I would rather not take a side.
Bobby Jensen, [owner and proprietor of BT] has a bigger bill to pay on a bigger space, so you're going to have to have bigger shows. I hate how people in the Erie music scene generally aren't friends with people too far outside of their "genre." I wish Erie show-goers could coexist, whether it's metalcore, pop-punk, shoegaze, or whatever. People in one genre feel exactly the same passion as you do for another, so why is either any better?
WT: You used to go to shows back in the day in Edinboro when The Hangout was pretty much the only all-ages venue around. I think the last time Comeback Kid played around here, it was at The Hangout with Title Fight and Set Your Goals. How have things changed since The Hangout days? Do you think BT has the potential to be as big of a deal as Forward Hall and The Hangout were back then?
DM: The Erie/Edinboro scene is weird for me because when I was going to shows in Edinboro everyone was way older than me. And then at [the old] Basement Transmissions, when I was going there, most of the people were my age or younger. It was awesome to see the switch from one generation to the next and to make a ton of new friends. Having yet to attend a show at the new place, I can't really tell you how I feel about it as far as potential goes, but I will say that the old BT had some of the best shows I had ever been to. The Squid Vicious farewell show was probably one of the best nights in the Erie music scene, for a lot of people.
WT: You said your drummer left to get married. That must have been somewhat of a setback for you guys, and getting back together afterwards really shows that you have ambition and dedication to the band and also says a lot about your ability to overcome those kinds of setbacks. How much do personal choices like that, along with other general life decisions like going to college impact your ability to play in a band and keep things on track? What motivates you guys the most?
DM: It's tough, honestly. We are all spread out over, like, 50 miles, so it's really difficult to get together even once a week. For me, I'm motivated by the bands I listen to. I see them out touring and signing to labels and stuff, and it's all I want to do.
We're at a weird age [between 18 and 23] where we question everything about life. At the same time that we are to trying to fit music in, we also have to grow up and find ways to sustain ourselves and stuff. I feel like all five of us would do music around the clock if we could, but there's just so much else we have to do to keep our lives going.
WT: What do you guys have planned for 2015 besides the Comeback Kid show? Any releases we can expect?
DM: I will just say that by this time next year, we hope to release a six-to-ten-song EP of some sort. We also want to tour and play in at least three to four different cities. We weren't planning on playing any shows for a while since we haven't had much time to write, but we made an exception for the one in January because the lineup is so good.
6 p.m. // 145 W. 11th St. // ballpointproductions.bigcartel.com/product/comeback-kid
You can listen to and download Mallory Run's single, "You Told Me You Didn't Have a Mountain Bike" on Bandcamp for free. Catch their set at Basement Transmissions on Monday, Jan. 26.
Will Taylor can be contacted at wTaylor@ErieReader.com.