AK's Take: NBA Finals
The LeBron James-led Heat take on the Tim Duncan-led Spurs, as the NBA Finals get underway.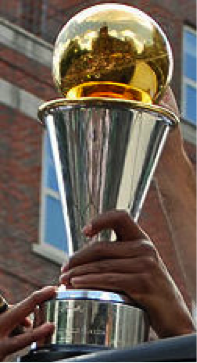 Here we go… The matchup for the NBA finals is now set after the Miami Heat crushed a confident Indiana Pacers 99-76 in a game-seven showdown Monday night. Now, an epic showdown between two future basketball legends, LeBron James of the Heat and Tim Duncan of the San Antonio Spurs, is now set to begin Thursday, June 6.
Let's go through the significance of this NBA Finals matchup and how we got here.
In terms of "Need-to-Know Info," the San Antonio Spurs won their series in the Western Conference 4-0 against the Memphis Grizzlies in impressive fashion.
Tony Parker, the key player for the Spurs that I said would be the difference, scored 37 points in game four to close out the Memphis Squad. In comparison, LeBron James scored 32 points to close out the Pacers – in game seven. Don't make the mistake of thinking Tony Parker is better than LeBron, but he plays his best in big moments.
San Antonio has a lot of confidence going in to the finals, especially since it took the Heat seven games to beat the Indiana Pacers.
If you watched any of that Heat-Pacers series, you probably thought the Pacers looked like they were the better team at times. A lot of this had to do with Miami not being able to defend the center position.
The Pacers had a big and tall center in 7-feet, 2-inch-tall Roy Hibbert, who dominated this series. Take a look at his season points per game compared to his performance in the Heat series:
Roy Hibbert Career: 11.3 points per game.
Roy Hibbert Conference finals: 22.1 points per game.
The struggle to defend against large players poses a huge problem for Miami, as they will face Tim Duncan in the Finals. The 7-feet-tall Duncan is already an all-time great big man, with four NBA championships and an average of 20.2 points per game in a 15-year career.
Putting this all together, if Hibbert doubled his career stats against Miami, who's to say Duncan couldn't do the same thing? It probably won't happen because of Duncan's age, as he has 10 years on Hibbert, but Duncan would average 40 points per game if the statistical pattern held up.
Did I mention that Duncan and the Spurs won their last title in 2007 against LeBron James and his former Cleveland Cavalier team? If LeBron and the Cavs had actually won that series, he would probably still be in a Cleveland uniform. However, Duncan, Parker, and the rest of the Spurs overmatched his teammates and won the series in a dominant 4-0 beat down even more embarrassing than the previously mentioned Grizzlies series.
LeBron's Finals series with the Spurs was the closest he had ever come to a championship in Cleveland. Embarrassed and heartbroken, James has a chance at revenge six years in the making.
Oh, how the plot thickens…
It's time for My Take.
LeBron James and Tim Duncan are both all-time great players. Ultimately, I think the Miami Heat have the upper hand because LeBron James is just too good, and Tim Duncan, at this point, is just too old.  
While Duncan's 20.2 career points per game is great, James averages 27.6 points per game in his career, and he has the athleticism to be one of the best defensive players ever – he's big, he's fast, and he's smart enough to guard any player between 4 and 9 feet tall.
In addition to that, this Miami Heat team is much better than the 2007 Cleveland Cavaliers team. I'd love to name you some other players on that Cleveland team, but I honestly can't do it. I watched that series six years ago, and I can't remember a single player on that team other than James. I'm not even sure NBA.com can, either.
Long story short, they were untalented, obscure players, leaving LeBron all alone, trying to win a championship.
This Heat team has three current and former all-stars in Dwyane Wade, Chris Bosh, and Ray Allen. James led this talented team to an NBA-best 66-16 regular season record. They are just too good to surrender the NBA title at this point, so here is my prediction:
Miami Heat wins in 7 games (4-3).
Any seven-game series is memorable, and this should be one for the ages.
If you are just too damn tired after school/work to go out and take part in an Erie event, consider watching game one of the finals this Thursday night.
Adam Kelly can be contacted at aKelly@ErieReader.com, and you can follow him on Twitter @AKAdamKelly.