Almost '17
Your guide to everything New Year's Eve
December 21, 2016 at 12:30 PM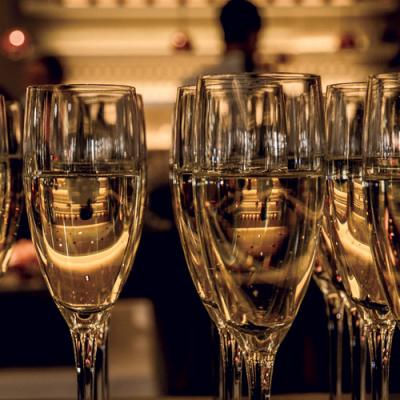 With 2017 on the horizon, many will contend 2016 has already (conclusively) dropped the ball. But in the event you're not convinced, you can await visual confirmation at a myriad of local venues.
NYE with Tropidelic at the Kings Rook Club
Nip the negative vibes in the bud with Ohio's Tropidelic. Along with special guest Of Good Nature, this Kent-based collective is sure to light the joint up with their funky, reggae-infused jams. Head upstairs after the show with Trop lead vocalist James Strips, who joins the Cleveland hip-hoppers for their after-party. Don't drink and drive, but do drink and canned food drive – nonperishable food donors receive discounts on select Tropidelic merchandise.
10 p.m. to 2 a.m. // 1921 Peach St. // 456.6439 // $10 https://www.facebook.com/events/580408652142923/
NYE Birthday Bash at the Erie Playhouse
One hundred years of Broadway and still not a bad (liver) spot in the house. Erie's premiere community theatre celebrates its centennial this season, but remains very much young at heart through the powerful elixir that is song-and-dance. Audiences will be able to chase it with champagne, not to mention chocolates and birthday cake.
7:30 p.m. // 13 W. 10th St. // erieplayhouse.org/shows/2016-17/new-years-eve-birthday-bash // $39.90 
NYE Extravaganza with Dale Jones and Jodi White at Jr.'s Last Laugh
The best way to get over 2016 may be to laugh it off entirely. Comedians Dale Jones and Jodi White – who just happen to be married to each other – will headline two shows at Jr.'s, with the second followed by an after-party featuring the Breeze Band. Jones is noted for the manic energy he exudes onstage and his knack for improvisation and physical comedy. White's more measured, down-to-earth style should prove the ideal complement to the zany Jones.
6 p.m. (show only) or 9 p.m. (show + after-party) // 1402 State St. // jrslastlaugh.net/nye-2016-dale-jones-jodi-white-breeze-band // 461.0911 // $20 (early show), $37.50 (late show + after-party)
Boogie on the Bay the Gatsby Way
You could spend NYE alone, staring longingly out over the bay, bemoaning affections unrequited. Or you could affect the dress and manner of a more gregarious Gatsby, schmoozing with other gentry at the West Egg of Erie's West Side (the Bayfront Convention Center). An optional hotel package will be offered for couples – just try to make sure your plus-one isn't already wedded to another (see: The Great Gatsby, F. Scott Fitzgerald).
9 p.m. to 1 a.m. // Bayfront Convention Center, 1 Sassafras Pier // 452.4857 // http://www.erieevents.com/events/boogie-on-the-bay-new-years-eve-party/ // $45 (individual ticket w/ 4 drink tickets, champagne toast, hors d'ouevres and the Starlight Photobooth), $199 (two tickets w/ extras + overnight stay at the Bayfront Sheraton), proceeds benefit Warner Theatre restoration fund
NYE at the Babylon Club
Skip the layovers and smuggle yourself down to the Warner Theatre for a classy reconstruction of island nightlife.
Even with the relaxation of U.S.-Cuba travel restrictions, one can still expect to pay out the Castro for a New Year's Eve flight to Havana. Skip the layovers and smuggle yourself down to the Warner Theatre for a classy reconstruction of island nightlife, courtesy of organizers Rebecca Styn, Rob Mahrt, and Rob and Megan Mastro. You and your fellow gringos can enjoy an open bar, Cuban-style hors d'oeuvres, a cigar bar, and a muy caliente set from DJ Phil. You don't need a fiery dictator to tell you this is the right thing to do. You have your heart for that.
8:30 p.m. to 1 a.m. // Warner Theatre, 811 State St. // newyearserie.eventbrite.com // https://www.facebook.com/events/1627268610907194/ // $80 per gringo, proceeds benefit Warner Theatre restoration fund
NYE at the Baldwin-Reynolds House Museum
Do New Year's justice with an evening at the historic home of former U.S. Supreme Court appointee Henry Baldwin. Good thing the "Mount Vernon of Meadville" was the first in the region to receive indoor plumbing, because Voodoo Brewery is going to keep the suds flowing all night. Revel in the majesty of its black walnut woodwork. Indulge in hors d'oeuvres courtesy of the Venango Valley Inn and Golf Course. Enrobe yourself in the sonorous swaddle of live jazz. All of this is well within your jurisdiction.
9 p.m. to midnight // 639 Terrace St., Meadville // baldwinreynolds.org // $30, proceeds benefit Crawford County Historical Society
BEST OF THE REST
We're on the Highway to Hell, so might as well embrace it as Hells Billies rocks the Erepa Grotto/Saga Club.
8 p.m. to 1 a.m. // 3828 Washington Ave. // hellsbillys.com // $20 (admission, draft beer, moonshine at midnight)
The Riverside Inn in Cambridge Springs slays the New Year's Eve game with their annual murder mystery dinner parties.
3 p.m. to 1 a.m. // 1 Fountain Ave., Cambridge Springs // http://www.theriversideinn.com/events/new-year-s-eve.htm call 398.4645 to reserve your spot
Nothing preserves the spirit like a good jam, and many a good jam will be had at the Sandbar as Cosmic Rhythm and Doug Phillips (acoustic Grateful Dead tribute) headline.
9 p.m. to 1 a.m. // 2835 W. 8th St. // cosmicrhythmband.com
2016, we barley knew thee. Nor did we want to, so have a few brews and hors d'oeuvres, too, at the Millcreek Brewing New Year's Eve Bash.
9 p.m. to 1 a.m. // 4102 W. Lake Rd. // millcreekbrew.com // $50 per person or $90 per couple (all-you-can drink wells and MBC drafts, hors d'oeuvres, and champagne)
Matt Swanseger can be reached at mswanseger@eriereader.com. You can follow him on Twitter @SwazzySwagga.