An Exclusive Interview with Angelique Kidjo
Musician and humanitarian set to entertain, inspire audience at Mercyhurst
April 10, 2023 at 10:00 AM
I met with five-time Grammy award winning musician and singer Angelique Kidjo via Zoom from her office in France prior to her performance at Mercyhurst University on Thursday, April 13th. She was born in Ouidah, French Dahomey, in what is now Benin and due to political conflicts, moved to Paris in the 1980s where she studied human rights law along with music. In addition to her wildly successful music career, she is also a UNICEF Goodwill Ambassador and has completed a world-changing amount of humanitarian work with her organizations Affirmative Finance Action for Women in Africa (AFAWA) and the Batonga Foundation, which aids young girls in the most remote parts of Africa, providing a quality education and broader access to reach their potential. 
Erin Phillips (EP): I just read that you were recently the recipient of the Polar Music Prize in addition to winning five Grammys. Can you talk about those awards and the work that's gone into the music behind them?
Angelique Kidjo (AK): The Polar Music Prize comes as a huge surprise to me, I have to say. When I woke up and read the message, I'm like, this looks like fake news; it looks like a hoax. And I was telling my husband, he said: "What are you talking about? This is not a hoax, this is real!" 
I just can't believe it – that so much research has been done into my career for me to be receiving the Polar Music Prize. It is considered the Nobel Prize for music and to receive it along with Chris Blackwell, the founder of Island Records, who signed me and has been my musical director for the first 10 years of my career... Without him, his vision, and working with me and in respect of my craft – he gave me all the wings that I needed to fly and to bloom.
This award is special, because they (the Polar Music Prize committee) have done their work and they realize the people receiving this award with me are great people. Arvo Part is also a recipient. He is a living legend: his music and the work that he does. His choir work is absolutely amazing.
It's amazing that I'm surrounded by such a great pool of music. It makes my life as a musician worth living. Because you need the validation of your peers and to be in their company in order to keep doing the art for so long. I'm looking forward to singing until I reach the age of those two guys.
EP: Could you give a brief synopsis of your musical career so far? How you got started and how that's led to where you are now?
AK: Well, I started singing with my mother. My mother had a passion for theater. And when she started her theater, I was six years old. And I would always be sitting around talking and giving her directions. I would memorize everything, the songs and everything. And then one day, one little girl actress was sick and could not play her scene. Well, I knew the song; I knew I could do this very well. My mom threw the costume on me and shoved me on stage. And I was so nervous – I think I pretty much heard my skeleton shaking like in a cartoon. Then the whole place was dark; the only thing that I had was the spotlight in my face and I couldn't see the public. So I'm like, "Oh, this is just like home. Let me sing!" So I just started belting the song out, I sang it and did all this funny stuff I do. Then as soon as I finished I just rushed off of the stage. And I got a standing ovation. 
And that was the thing that planted the seeds of me singing on stage. It started at that moment. Then I started playing with the musical band my brother put together and, at nine years old, my father smuggled me into a club so I could sing at midnight. Then I continued doing music in high school with my high school band – we won all the competitions. Then I did my first album in 1981. And as that album Pretty came out, I actually launched my career outside of Benin and into other countries, neighboring countries. So, that's how I started.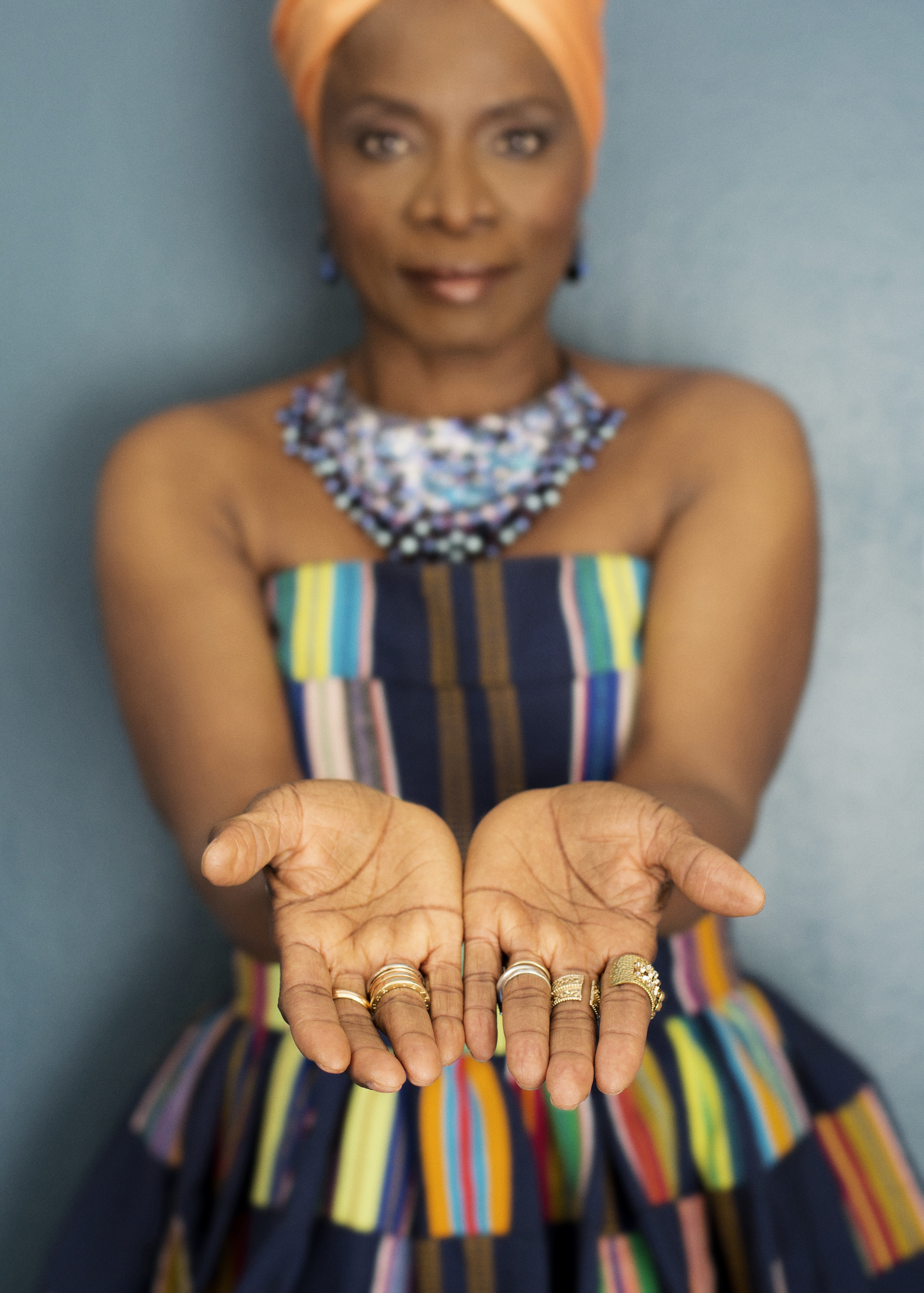 EP: In addition to your music, you do a lot of humanitarian work with the Affirmative Finance Action for Women in Africa (AFAWA) and Batonga programs that you've initiated. Can you shed some light on the work you do with those?
AK:  So I started the Batonga Foundation in 2006. When I became a UNICEF Goodwill Ambassador 2002, my question then was: what does it mean? I'm not good at small talk with politicians and I'm not good at shaking hands. And the head of UNICEF at that time, Carol Bellamy, said "Okay, what do you want to do?"  Well, I want to stand for children's rights and women's rights. She said, "Okay, let's go then."
Our first outreach was in Tanzania. And I went back many times – one day I arrived in a village and after we did our visit, the mothers asked if they could speak with me. They said, "We need to tell you something. So we started putting our girls into primary education because we saw your recorded PSAs for TV and radio urging us how important it is for little girls from Africa to see they can become like you, if they go to school." Then they told me, "You know very well that if we put them in primary school and they don't go to secondary school, they're going to end up in early marriage just like us, their mothers, and we don't want that fate for our children."
So how do we tackle secondary education? Then it hits me, like I have a flashback to when I finished elementary school and got to secondary school. All my girlfriends, we made plans that we're going to get through it together and some of them didn't make it. And I would see some of them six months or a year later, and they had kids. They'd been married off, forcefully. It was traumatic for me to the point where I went screaming to my father: can you help me save them? My father said he can't interfere in the decisions of parents and we can't do anything to help. 
So then I said to myself, I have to find a solution to save other girls from this fate and at that time, people are telling me "don't fool yourself. It's a waste of your time." Because the rate of dropouts in secondary school at that time was at the highest ever. Well, I turn around and say: if it's easy, then why bother? 
I spoke to a friend who told me about a law firm in Washington D.C. and that they've revived the whistleblowing law. So every time they win a case they'll put money in a fund. So I met with John Phillips, who became the US Ambassador in Italy. So after I organized with him, we created a board and basically they asked me: what do you want to do? We needed to build the foundation from the ground up. 
So we started building schools in Benin, Mali, Cameroon, Ethiopia, and Sierra Leone. In Sierra Leone, it was right after the conflict. So we built a school in the second largest city, Waterloo, where we gathered together all the young girls who lost their parents during the conflict. To make a long story short, fast forward to 2016, and all of them have headed to University. 
But what about the ones that never made it there? So I said to myself, I need to come back to find out how we can achieve some of those goals. So I reached out to an organization based out of New York called Population Council. They have developed a technology to tackle education in Guatemala called The Girl Roster. And they said to me, "Your organization is small enough that we can do what we can, and you can grow from it." So their technology allowed us to map a community of 5,000 people a day. So we started in Benin in two villages, Bohicon and Bonou, that are at the center of the country where all the goods transit from north to south. And it is a place a child can disappear quickly into marriage. So it is a very sensitive place to make a change. Girls need a safe space to help one another. So we started a Girls Club, beginning with 15 clubs. Today we have more than 150 clubs. We've reached out to more than 5,000 girls and we have impacted one million people's lives. We also give them seed funding for their businesses, bring in solar panels, access to clean water, and the rest they do on their own. 
They manufacture their own soap. I mean, it's amazing what they came up with during the pandemic. They have been very active to use the soap that they're producing, and put it in the service of all; they've produced masks and hijacked all the local radio stations telling the people about COVID-19 and what to do. 
Then we were asked to create a follow-up program which started with the G7 in 2016. The president of France asked me what the women of Africa need. I mean, all the time when I go to my country, I always try to reach out to the women of the markets because my father's mother started in the market and I understand the struggles. It gets worse every year, every decade. They tell me: we need to get access to loans because the microcredit rates are killing them, because you cannot go to a country like Benin and give an interest rate of 25-28%. It's unbearable, because you can't develop your business. So we started with the African Development Bank, the president of France went to the G7 countries to help get guaranteed bank loans. So as such, in 27 countries today, one billion dollars has been invested. So by 2026, we are looking to raise that to five billion invested in independent women in small businesses in Africa.
EP: So, totally switching gears and we'll wrap up with this question too: could you give us a glimpse of what attendees can expect from your performance at Mercyhurst next week?
AK: Bring your dancing shoes! Dance in the aisles! And do so from the moment you want to dance, don't wait for me to invite you! Sing along! Have fun! And that's all I want people to do. We only have one life; let's celebrate it while we can.
Tickets to Angelique Kidjo's performance are available at miac.mercyhurst.edu/events
Erin Phillips can be reached at erin@eriereader.com