Art Review: Painting For Answers
New work by Erie's Sarah Jacobs
October 10, 2023 at 8:00 AM
What person who has gazed into the stars hasn't asked the big existential questions: Why am I here? What does this all mean? What happens after I die? Most know those moments when life itself seems bigger than we can comprehend. Erie-based artist Sarah Jacobs has also asked these questions but through oil paint — her new show of paintings at the Zynka Gallery in Pittsburgh brings the viewer to the wonder and contemplation these questions can evoke.
There are large works, like The Hawk Circles at Midnight, where the viewer is dwarfed by mountainous legs and feet that, bathed in bluish hues, give one the impression of walking into the darkness and encountering giants lounging in the moonlight. In the painting, the artist has provided a tiny bench where one can sit and watch these titans lolling on the earth's surface. In this as in the majority of the works, Jacobs is playing with scale. Her figures are like gods inhabiting the earth and sky as one continuum.
In Votive, an almost life-size (apparently) male figure made up of clouds and sky climbs a ladder from the sea into the heavens to reach what lies beyond. A beautifully rendered mallard duck flies by and lets the viewer follow its feather patterns into the clouds above it. The artist likes to hide things in her paintings, and when you are absorbing all there is to see you notice the other ladders or birds or bugs in her work as small symbols to evoke even deeper mysteries.
In the work Threshold, we see two sets of human legs, barefoot, one of someone raised on tiptoe to reach the other person at a point beyond the canvas. There is a window in the background through which we see an urban setting with a few birds and a helicopter moving through a clear blue sky. The viewer's perspective is from ground level, like that of a child sitting on the carpet. Or maybe a pet? I assume the window is the threshold of the title, and the two sets of legs belong to a couple embracing before setting off on what will come next. It's a viewpoint that creates a phantom third person in the piece, and I was left wondering if I was that child or pet.
Not all the works were physically large. There were some smaller paintings, but all dealt with big questions. One, Betelgeuse, had a hand reaching out of the darkness for a large chess piece; the viewer's perspective was perhaps that of a pawn on the board. The hand had red-painted nails, and the bishop it was reaching for had a swirl of red surrounding it. This color, I assumed, was a nod to the red supernova of the title. Chess pieces, glowing orbs, a house of cards, are all objects Jacobs uses to suggest a depth of dimension she's reaching for, though I'm not sure she always needs these symbols. Her ability to create wonder and emotion through color and scale alone distinguishes her work.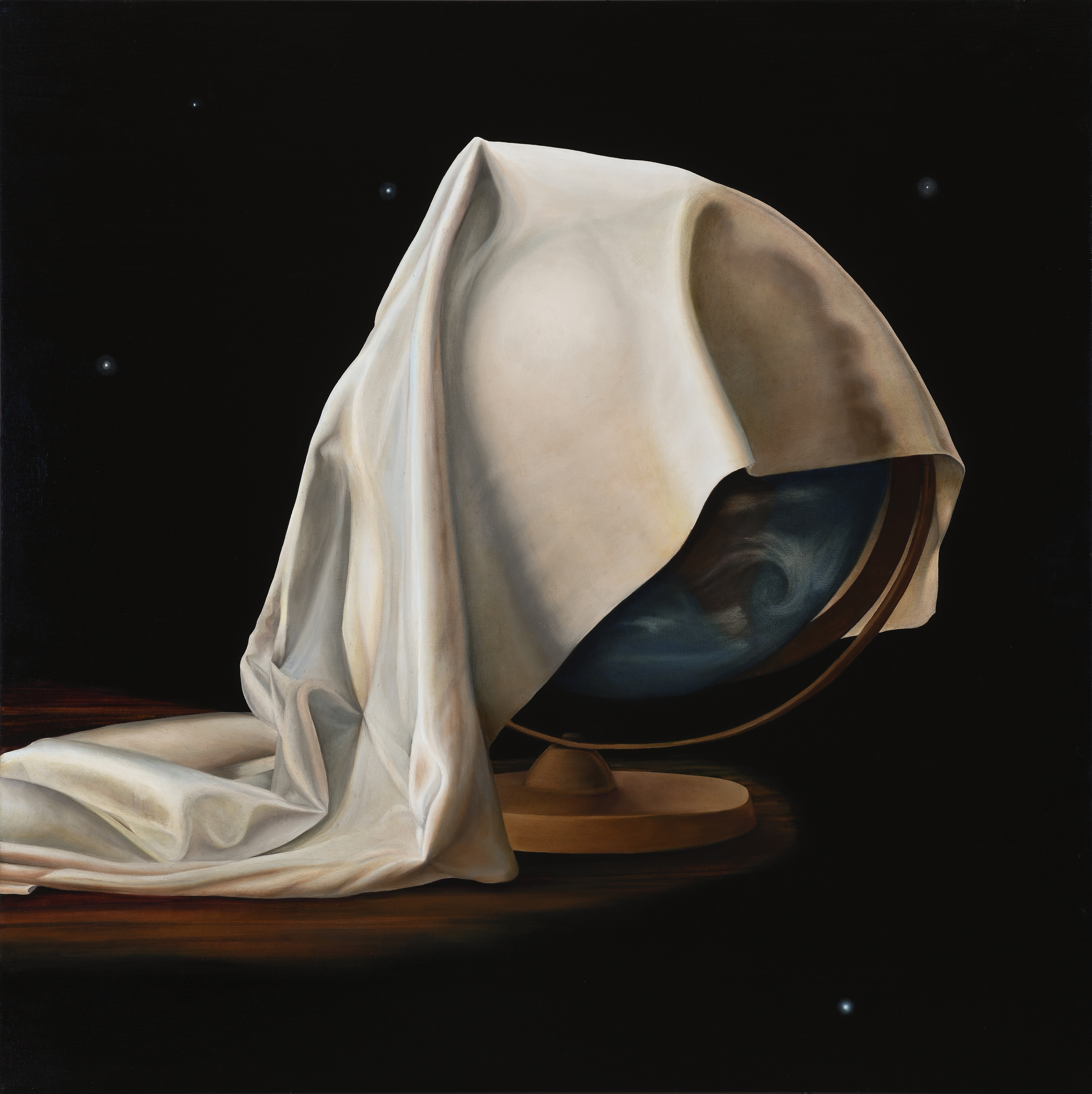 This work by Sarah Jacobs titled Waiting for Something or Nothing is currently showing at the Zynka Gallery in Pittsburgh. Jacobs, an Erie resident, tackles existential questions through her evocative artwork. 
One of my favorite pieces in the show is Waiting for Something or Nothing. It is another large work that features a globe covered by a cloth with a small part of the earth visible from one corner. It sits on a wood table top that is floating in space, a few stars dotting the darkness. The globe in the painting is not a tool for navigation or scientific study — there are no mapping lines. Instead we see a swirl of atmosphere meshing with clouds on a dimmed surface. It is earth as it exists, though captured by the cradle mount. Oddly, the painting reminded me instantly of Vermeer's Girl with a Pearl Earring. Something about the round shape — a head, a globe — partially draped by fabric, the visible blue color, the similar light of face and drape against a dark background, all brought me back to that work. The two paintings couldn't be more different in subject matter, but that a Dutch Master's work was my point of comparison shows the skill of Jacob's brush.
When I met with Jacobs, I asked if she worried that viewers would be so impressed with her skill as a painter, with the well-wrought images, that they might not look deeper to see her underlying questions and interests. Because these paintings are visually beautiful, she felt the viewer would be attracted and brought into them by this adeptness and hopefully would then use the chance to study each image further.
I thought this was a good answer.
One could only hope a painting keeps the attention of a viewer long enough for the bigger picture to come into focus. I thought about all those small details painted into Jacobs' work and how each was a small new discovery, an extra treat for those who took the time. We are constantly racing against time; but here in these paintings is a perfect lesson in stopping to think, to ponder, to ask questions, and to find those hidden clues.
Sarah Jacob's work is part of the two-person exhibition, "Otherworldly," at The Zynka Gallery, 904 Main St., Pittsburgh. The gallery is open Thursdays through Sundays and Jacob's show will be displayed until Oct. 29. For more info: zynkagallery.com
Justus Cotterill has an ongoing studio practice in Erie. He holds a BFA from the Cleveland Institute of Art and an MFA from Edinboro. He can be found at justuscotterill.com