Art Sew Good
A Review of Stitches: A Contemporary Fiber Art Show at Cummings Gallery
December 23, 2015 at 1:00 PM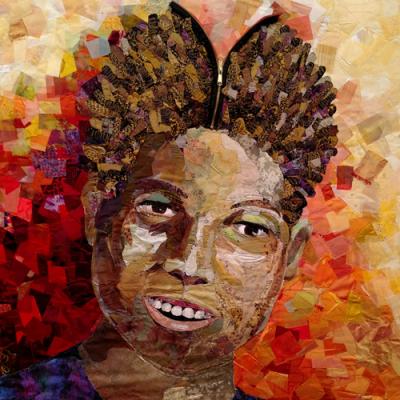 A quilt show. Sounds pretty uninspiring and routine, no? Like a display tucked in the back of the pole barn at the Wattsburg Fair behind the first place candied yams and Lego sculptures. 
So to give this show legitimacy, it was dubbed a "fiber art" show, but let's call a spade a spade: It's a quilt show. One darn fine quilt show.
Quilting itself should not need legitimizing anyway – but unfortunately it does. This ancient art form has been relegated to the realm of "handicraft" for centuries, not because it is banal, common, or easy, but for the sole reason that quilting has always been the realm of women. Men have defined what is art and, for most of history, have kept "fine" art as their domain. Embracing the quilt as true fine art with its own history and validity brings women – even women who never aspired to show their work in any gallery – unequivocally into the company of the great and famous male painters and sculptors of the past.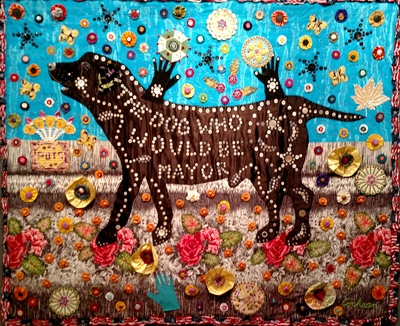 The women who are displaying their work at Mercyhurst's Cummings Gallery have unquestionably transcended their chosen medium's ignoble reputation and elevated the quilt to lofty heights. An internationally renowned artist from Pittsburgh, show organizer and participant Tina Williams Brewer uses quilting to tell stories. As far back as the Bayeux Tapestry, stories have been depicted in cloth. The tradition has been embraced by women around the world as a compelling way to share personal histories. Brewer's quilts are lush multifarious wholecloths, mixing symbolic icons with swirling bursts of color.
The women Brewer has gathered together for this show share an obvious devotion to quality craftsmanship and a love of their chosen material, but their aesthetics are varied. It's fascinating to see how far the seemingly straightforward device of flat layered fabric can be pushed by a deft and clever hand. Brewer's fellow Fiberarts Guild of Pittsburgh member Penny Mateer, for example, incorporates key rings, Velcro, chains, vinyl, hazard tape, and photo transfers into her elaborate pop-culture constructions. No longer functional as a bedcover, her wall hanging "Mighty Grip" tells a tale of our cultural addiction to brightly colored marketing, fake food, and plastic living.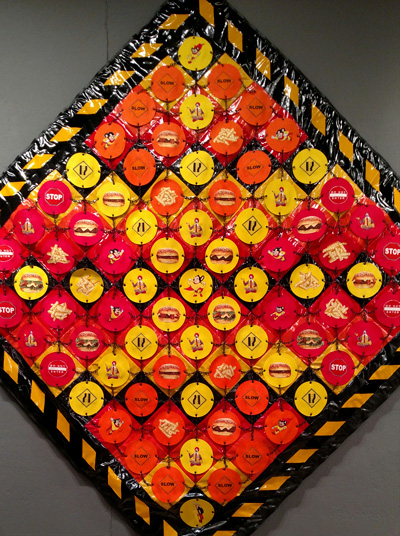 As if to counterpoint the glaring modern-day kitsch of Mateer's work, across the gallery is Allyson Allen's tribute to the proud past of African-American quilting. The story of slavery and the struggle for civil rights in this country have been interconnected with quilting like the threads binding the appliqué to the backgrounds of these story quilts. Women who had been stripped of all outward connection to their former homes hid bits and pieces of their heritage in the shapes of the fabric scraps they salvaged and sewed together to keep their families warm. Allen pays homage to these traditions by loading her art with heartbreaking imagery recalling the tribulations of African Americans of the past. "Precious Cargo," is her masterpiece from 2007 which fills a slave ship with personalized worry dolls and reminds us of the suffering of her forebears.
The other women who share the gallery space – Jane Burch Cochran, Alice Beasley, and Marion Coleman – are all nationally recognized. Their work is representative, depicting human forms and faces. These quilts ignore tradition in their subject matter, which has the effect of taking away from the richness of their connection with the past. Perhaps, however, depicting "fine art" subjects like portraits or figures which are not traditionally found on quilts lends legitimacy to quilting as a serious art. Of course, anything that increases the prominence of this admirable art form will help to move quilts and the women who make them out of county fair pole barns to where they can receive the recognition they deserve.
Show runs until until January 3, 2016 // Cummings Gallery open by appointment // Mary D'Angelo Performing Arts Center at Mercyhurst University // 501 E 38th St. // 824.2092
Bryan Toy can be contacted at bToy@ErieReader.com, and you can follow him on Twitter @ToyinWitcha.