At Play in the Fields of the Bored: The Chaffee Gathering
Michael Bennett's ears rejoiced. His feet took a beating though. Something tells us the trip to the Chaffee Gathering was worth it.
July 28, 2011 at 12:00 AM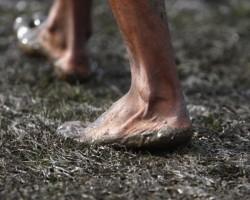 My feet are caked with mud, blackened, bloodied, and bruised. Dirt has found its way under my toenails. Collective minutes have been spent leaning against trees to pull out thorns and slivers. It is Sunday morning in Girard, and the 31st Annual Chaffee Gathering is drawing to a close. I have a big child-like grin across my face.
The campsite is in a very tidy disarray, the sun is directly over my head, and as I light my first cigarette of the day I can't help but stare at my feet and think about all the pleasure they have made me privy to over the last two days. I almost feel bad for abusing them in my quest to leave my footprints in the soft wooded earth.
We arrived Friday afternoon with the repressive heat and an overwhelming sense of anticipation, without expectation.
It was hot. The sun beat down on the field before the stage and even the respite from the direct light provided by the shade of trees could not combat the humidity. My pale Irish visage does not take so kindly to the sun's rays, but it is all in the adventure. By 2:30 in the afternoon our camp was coming together, and I was working into my second T-shirt of the day.
Our campsite was flush against a circle of several more, all inhabited by friends, acquaintances, and yet-to-be friends. Doing the work I do, it was very comforting to be out in the woods with everyone I know from downtown. It was as if State Street had moved to our little patch of woods and the familiar faces, lit by the sun passing through branches and leaves and ready to embark on a fantastic weekend of music and fun, were a welcoming sight.
As we all finished putting up our tent neighborhood, a booming voice came over the speakers at the stage and carried to every corner of the property beckoning everyone to "Come out of the trees" En masse, the woods began to empty as everyone headed to the open field to see Matty B And The Dirty Pickles open the weekend. The energy they bring to the bar stage was just as amped for their outdoor performance.
There was no real escape from the afternoon sun, and as the band got into their musical machinations, you could see we were all on equal footing, sweat dripped from each musician's face with every bob and turn.
There were a couple of places to take advantage of the shade and enjoy the music, laying across tapestries with good friends, sipping cold beverages, and finding joy in the atmosphere created.
The Pickles were followed by great sets by Euphonic Brew and Aqueous, all three bands dead set on getting you out of your seat and making you sweat because your body needed to dance.
As the afternoon wore on, and the crowd grew, the energy became inspiring as the lawn filled with chairs and blankets. Short trips between sets to return to base camp for a bite to eat and the solace of shade were marked by new paths as tents sprang up around every clearing.
A few years ago I became dismayed with the festivals I had been going to. The crowds grew from ardent music fans to cretins who just wanted to be seen. Small stands became giant corporate outposts and the overall mood changed from one of goodwill to "let me get mine."
The Gathering this year re-instilled my faith in festival humanity. The answer was always "yes." Need help putting up your tent? Here I am to help. Need a cigarette? Please take one. Are you hungry? Here is a fantastic feast for you to share in with us.
We were all solid citizens. The woods, the music, the camaraderie all combining to fill us with a gracious nature that was perpetuated with each individual act and grew to an all encompassing need to smile and enjoy life.
I am not coming at you with some fresh-faced, lidded-eye hippie love fest sense of the world but a pure understanding of the good of common man. When the goal is to have fun and find pleasure, it makes it easier to be a kind soul. It was more than that. Circumstance aside, it was a group of people joining together to pursue satisfaction and provide every conceivable amenity to those without to ensure a splendid time was had by all.
As the sun made its way across the sky and the heat became tolerable, Shotgun Jubilee took the stage. With the population growing, the lawn was now saturated by dancing feet.
There were old heads and newer fare. No class distinction, no troubles, or judgments.
Children were everywhere - tiny humans filled with unabashed joy, still holding on to the absolute courage we all lose along the way. That which allows us to let ourselves be totally and completely free, dancing with nothing but a true conviction to feel true happiness. And it was contagious. The single spark needed to set the good times in motion.
Darkness came over the site, the brutal sun was gone, and the humidity was tempered by flash rains that came to refresh and awaken all of us. Big Leg Emma and Waterband rocked through the night and the dancing reached a fevered pitch.
The bands were on and the music could be heard ringing through the trees.
The fun away from the stage was in exploration. Walking through the beautiful woods lit by campfires of all sizes and strategically placed candles left along trails by good Samaritans made the adventuring all the more enjoyable. Conversations started at random camps. Fellow travelers would cling to the group for walks toward some unknown destination. And the next thing you knew it was back to you and your lover, walking hand in hand through beautiful surrounds, and staring up to see the stars.
Good cheer was everywhere. I saw no bickering, heard no threats.
At the close of the first evening everything was right with the world. Returning to camp to see friends lost on earlier walks and relating stories of our separation. Conversation was light and heavy all at once. Topics flew quickly ranging from philosophy to baseball to the fact Erie holds itself as a second class citizen too often when it comes to greatness, which was so hard to understand considering all the talent and great ideas collected on this weekend.
Sleep came fast and hard as soon as I put my head to pillow and just as quickly the sun summoned our travelling crew back to the celebration.
The heat was again oppressive, but a fantastic string of sets by Scarlet Ledbetter, Mystic Flotation Device, and Claire Stuczynski created a sense that as wonderful as day one was, day two held even more promise. And the promise was delivered with an excellent set by the Bill Burke Trio, whose percussive rhythms inspired even me to move my soul to the driving resonance.
More smiling faces, more invitations to partake of shared cuisine and more friends discovered through the simplest of conversations.
Festivals are not for everyone. And I am glad. There is a necessary mentality needed, an understanding that must be engrained in your soul to be a full participant. No worries about what clothes you are being seen in, what your social status is, what car you drive, or how dirty your feet are. It is about exploiting the best parts of your character; being true and open and honest with yourself and your surroundings. Giving and taking freely of the environs you are welcomed into and thankful for having.
I feasted and took a brief siesta while the DT'z and Stage Coach Robbery rocked the stage, whether on the outskirts of the crowd, or secluded amongst friends in the woods the music carried throughout and was always welcome.
Eric Brewer and Friends provided an excellent groove for the evening. Halfway through the music the clouds opened and the hard earth became soft and slippery, yet in no way deterred the dancing.
The Recipe rolled the music deep into the night with a frenetic show. An intense showing to keep feet moving with a herculean effort.
As the stage surrendered to the last driving pulses and the collected, gyrating bodies bounced back to nature the music became unbound. The sounds of drums, guitars, and singing flooded campsites. Sitting in a circle of friends and welcomed strangers I took pause long enough to know I had found pure enjoyment and made sure to breath in deeply to collect as much of this quality living as I could.

A few needed hours of sleep later, I'm thinking about how great a shower will feel. I'm taking inventory to make sure the site is packed and clean. I am wishing good travels to my friends as we all prepare to head back to civilization. But I am still staring at my dirty feet. And smiling. Ear to ear.
Michael Bennett would like to thank everyone involved in this year's Chaffee Gathering for making it a wonderful experience. Share your experience and let him know if you had as wonderful a time as he did at mbennett@eriereader.com.