Austin announces candidacy for Erie County Council
Democrat Lisa Austin is now running a write-in campaign for the District 2 seat for Erie County Council.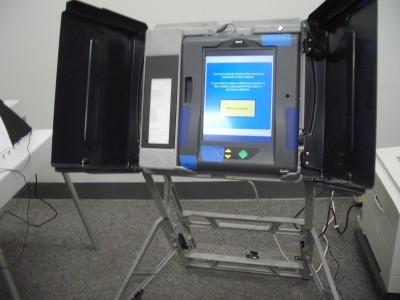 As expected, Lisa Austin announced her write-in campaign for the seat she narrowly lost during last May's primary election earlier this evening at a press event in the Masonic Temple building.
In the November general election, Austin will face the Erie County Council District 2 Republican nominee Ned Smith – as well as the man who prevailed over her in the primary, Democratic nominee Andre Horton.
But here's the thing. She won't be on the ballot; that's what write-in means – voters will need to take the extra step of entering her name into the voting machine.
As I told you yesterday, Austin's inclusion in this race complicates things for Horton, who, when reached by telephone, declined to comment on the record for this story. However, I did get to sit with Austin to talk about her campaign; here's what she had to say.
Cory Vaillancourt: Obviously, the first question – why?
Lisa Austin: We're in a crisis; it's a critical time in the county and I believe – I know – I can help. I've been doing this kind of work as a private citizen, but I think I could be more effective on county council.
CV: The results of the election were ultimately very close. Would you be doing this if there was a greater margin between you and Horton?
LA: I doubt it.
...after the announcement that I didn't win, people came to me and asked me to do a write-in. So it wasn't something I took lightly. I really thought about it, and all the circumstances – what the county needs – have led me to this. -Lisa Austin
CV: You say the county's in a crisis, and if you had lost by a ton of votes, you wouldn't be doing this, so then that kind of leads me to believe that there's some issue with Andre, or a reason you don't think he's the solution to this crisis.
LA: Let me go back to the numbers again and just say that I think in the primaries there were so many candidates, and, as you pointed out, the 10 vote difference is slight, so I don't think that there's a clear choice, and I'd like the community to have that chance – to make a clear choice.
As far as your other question, I think that my record and experience gives me the strength, really, to try to address [and] to work with the other people on county council and the county executive to address the problems in the region.
CV: Some might think – a lot like Kathy Dahlkemper challenging a Democratic incumbent, putting her own ambition above loyalty to her party – that this is something similar… Your party, the Democratic Party, has chosen their candidate, and you are continuing in your fight. Do you feel that there's an analogy there, between party loyalty and individual ambition?
Or, how does this make your party better?
LA: Well, I think I'd go back to the comment I made that I don't think there is a clear choice in this because the margin was so slight, and I think that the voters themselves never really had an opportunity to understand the different plans and visions, such as they are, for all the candidates. So I think that because of that – because of the number of candidates and because of the slight distance in the final vote, that's why I'm doing it.
Your question about party loyalty and…
CV: Individual aspiration?
LA: Yeah, you know, I don't… I would say my aspirations are more for the county, they're not really for me so much; I've been working in the community for a long time now. People came to me to ask me to run; after the announcement that I didn't win, people came to me and asked me to do a write-in. So it wasn't something I took lightly. I really thought about it, and all the circumstances – what the county needs – have led me to this.
CV: Both you and Andre have something to deal with now that you didn't have a few months ago, and that is a Republican. Do you foresee that your inclusion in this race could possibly split the Democratic vote and allow Ned Smith to win this race, when, in all reality, if it was a one-on-one D versus R, he'd have zero chance?
LA: I want to say that if you look at the numbers as they already exist, the Republicans… in other words, both Andre and myself have already beat Ned Smith by several hundred votes, so the vote was, in essence, already split, and there was no chance that he would win, so I don't… I see that as a non-issue. Several people have mentioned that, but once we looked at the numbers, people didn't realize that Ned Smith fell way below what Andre and I each brought in separately.
CV: Right, but you know what, there was no choice in that [primary election] race for Republicans, so a lot of them didn't come to the polls, [or] didn't vote in that race, because Ned Smith ran unopposed in the [Republican] primary. So to say that the number of votes he got is the number of votes he's going to get in November is wrong. It's way wrong.
LA: That's a good point; I would also, though, state that I already have Republicans who are working, who volunteered their time in the primary, who were unable to vote for me; I anticipate they will go to the trouble to write me in, in the fall. I have to digest what you just said and think it through, but I've talked with a number of different people… especially, I do hope that there's a debate; I think more people from the Republican Party will see me as someone they're willing to cast their vote for.
CV: So people physically have to select the "write-in" option and then spell your name. Do they have to spell it exactly correct? What if it's "Lissa" or "Austen?" Do you know the specifics on how that works?
LA: Yes, we were down at the county's voter registration office asking exactly those questions, and we were verbally told that as in the election itself, voter intent is what counts, so we were told that the variation of spellings would not preclude a vote being cast.
CV: Okay, so just for Reader readers, spell your name.
LA: L-I-S-A A-U-S-T-I-N.