Back to the Future
A Lustron history in Erie
September 11, 2019 at 12:00 PM
What did the future look like to a young GI returning from World War II? Could he possibly have envisioned a future where everyone would have a magical rectangle in their pocket that is at once a telephone, a camera, a map, and an encyclopedia? Cars that can plug into your house? An interactive talking cylinder that immediately answers any question? What did the houses of the future look like to him? Could he see virtually maintenance-free steel walls, hanging pictures anywhere with magnets, using one machine to clean both your dishes and your laundry, radiant heat drifting down from the ceiling? That futuristic home was not some distant fantasy for the mid-century family. It was a reality made possible by the Lustron Corporation.
What the returning GI really needed upon returning from war was a house, and they were in scarce supply. The federal government was desperate to pump out housing for its rapidly expanding population and they took a financial chance on Carl Strandlund, an inventor and industrialist out of Chicago. He invented a method of mass producing prefabricated enameled steel houses and did so in a massive factory in Columbus, Ohio between 1948-50. Each home was comprised of over 3,000 individual parts and made of 12 tons of steel that would cover the home inside and out. These houses could, in theory, be delivered anywhere in the country where assigned contractors would pour a concrete slab and assemble the home using not much more than a wrench. There were a few different models available, but most averaged around 1,100 square feet, and were very efficiently laid-out single story homes, usually with two bedrooms (although there was a deluxe model available with three). Most had the trademark large front window, most often a bay window. They were available in one of four exterior colors: desert sand, dove gray, surf blue, and maize yellow. The interior was also made of steel, usually dove gray paneling with the same enameled steel tiles from the exterior making up the bathrooms and kitchens. There were built-in closets and shelving, with pocket doors to maximize floor space. The original heating systems were radiant, totally enclosed within the ceiling; there was no ductwork. Deluxe models also came with a Thor brand dishwasher/clothes washing machine combination which resided in the kitchen. Lustron garages were also available.
The houses were marketed to young families as a "new and richer experience for the entire family: where Mother has far more hours, the youngsters have fewer worries, and far more leisure for Dad." They really were a vision of sleek, streamlined, and efficient modern living. Altogether, there were 2,500 Lustrons shipped and constructed across the United States before the company went bankrupt, despite a massive investment from the federal government's Reconstruction Finance Corporation. Rising materials costs, the scarcity of the materials themselves, and the absence of an efficient method of shipping eventually contributed to the bankruptcy of the company. Lustron had over 8,000 houses under contract when the company was shuttered and of the approximately 2,500 constructed; about 2,000 remain today.
It may come as a surprise, since there are relatively few Lustrons remaining, that Erie has a fairly good supply of these unique houses. Some are still in their original condition while others have been renovated over the years with siding, paint, or brick veneers. It has become a bit of an obsession of mine to track down and photograph all the Lustron homes in our town and in my pursuit, I came across a very fun and interactive online map called the Lustron Locator. Using this tool, one can see the location of all of the existing Lustron homes in America, including their original color and production number. According to this map, Erie is home to 21 Lustron homes.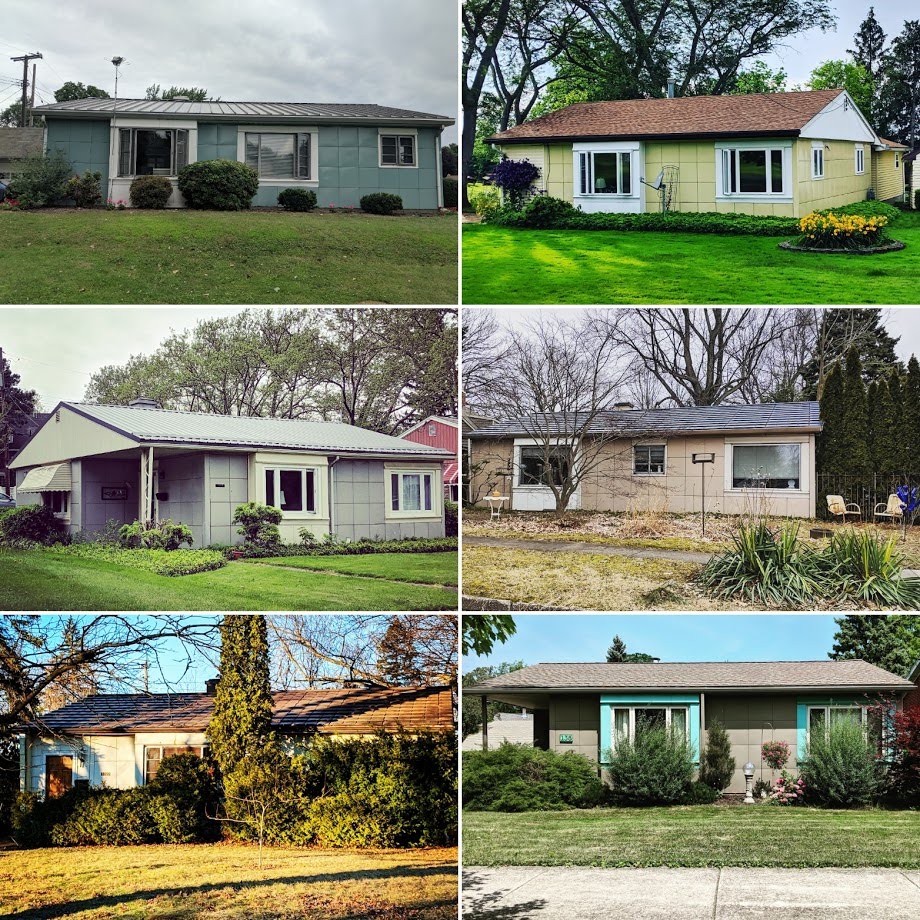 So, who would choose to live in a Lustron today? I had the opportunity to meet a few Lustron owners and get a glimpse into their lives within their stainless steel time capsules. As I pulled up to the surf blue home on Parkway Drive, Linda Guth was waiting at the door to greet me. "You're my first one!" she said as I walked in the door. I was immediately in awe of the beautifully preserved condition of her home. I was the first person who has ever contacted her inquiring about her Lustron and she was very enthusiastic to tell me all about what she has learned, restored, and come to appreciate about her unique home. Her Lustron was built in 1950 (production number 2279) for a gentleman who worked for GE and was transferred out of town a couple of years later. It was then purchased by the Krivonak family, who owned the home up until last May when Guth purchased it, and nearly all of the original remains intact, despite the different tastes of multiple owners.  
Guth didn't set out to own a Lustron, but once her realtor showed her the home, she immediately sensed how special it was and rushed home to do more research before eventually putting in her offer. She is now among a relatively small group of Lustron homeowners hoping to preserve as much of the original vision of the home as she can. Guth mentioned that some say it is "like living inside a filing cabinet" but she's never been bothered by the metallic sound of things. She has enjoyed putting those parts of the house that have been painted or carpeted back to the way they were, and anything that needs to be replaced is chosen with special care to reflect the era of the home. Among the original features remaining in Guth's home, she points out the original doorbell, windows, light fixtures, a bathroom cabinet she restored, and the hooks staggered on the walls in the utility area, originally intended to hold a clothes line. She mentioned there are some real drawbacks to living in such a unique home. There is no Lustron home repair expert around, so when something goes awry or needs repair, that can be a real challenge and expense. And you can't just hammer a nail into the wall and hang a frame. The walls are solid steel. Magnets do some of the heavy lifting, but careful planning, special screws, and a real commitment to placement makes hanging a piece of art a stressful task. Overall though, you can tell just by observing Guth in her Lustron, that all her efforts are a labor of love. 
"I've always loved the mid-century stuff," Fran Sabella, resident of a dove gray Lustron on Iroquois Avenue tells me, as she points out some vintage canisters atop her retro boomerang-pattern formica countertops. Her husband, David, shows off the official Lustron trademark seal on the back wall of the utility room, which displays the registration number. It is Lustron 791, a two-bedroom Westchester model built in 1948. Much like Guth on Parkway Drive, Fran and David didn't set out to purchase a Lustron, but instead needed an affordable, single story home and happened upon their Lustron for sale. But, also like Guth, they have fully embraced their special home and attempt to let it be true to itself. Some original characteristics of their home include the trademark downspout attached to a wavy trellis, which connects to a pillar supporting the open front porch. Many Lustrons no longer have this element due to rust, but it is a distinctive feature that makes their house stand out. They also have an original wash tub and the original kitchen pass-through, a bank of metal cabinetry with a countertop and an opening for passing food through to the dining room. Having recently replaced the roof, David spoke to the durability of the homes and the company's original goal to create a "maintenance free" house. "That roof lasted 70 years" and their home has never needed painting. And although the couple noted the drawbacks of the home, which were many of the same drawbacks Ms. Guth reported, overall they are very comfortable and have made the home their own while honoring it's history.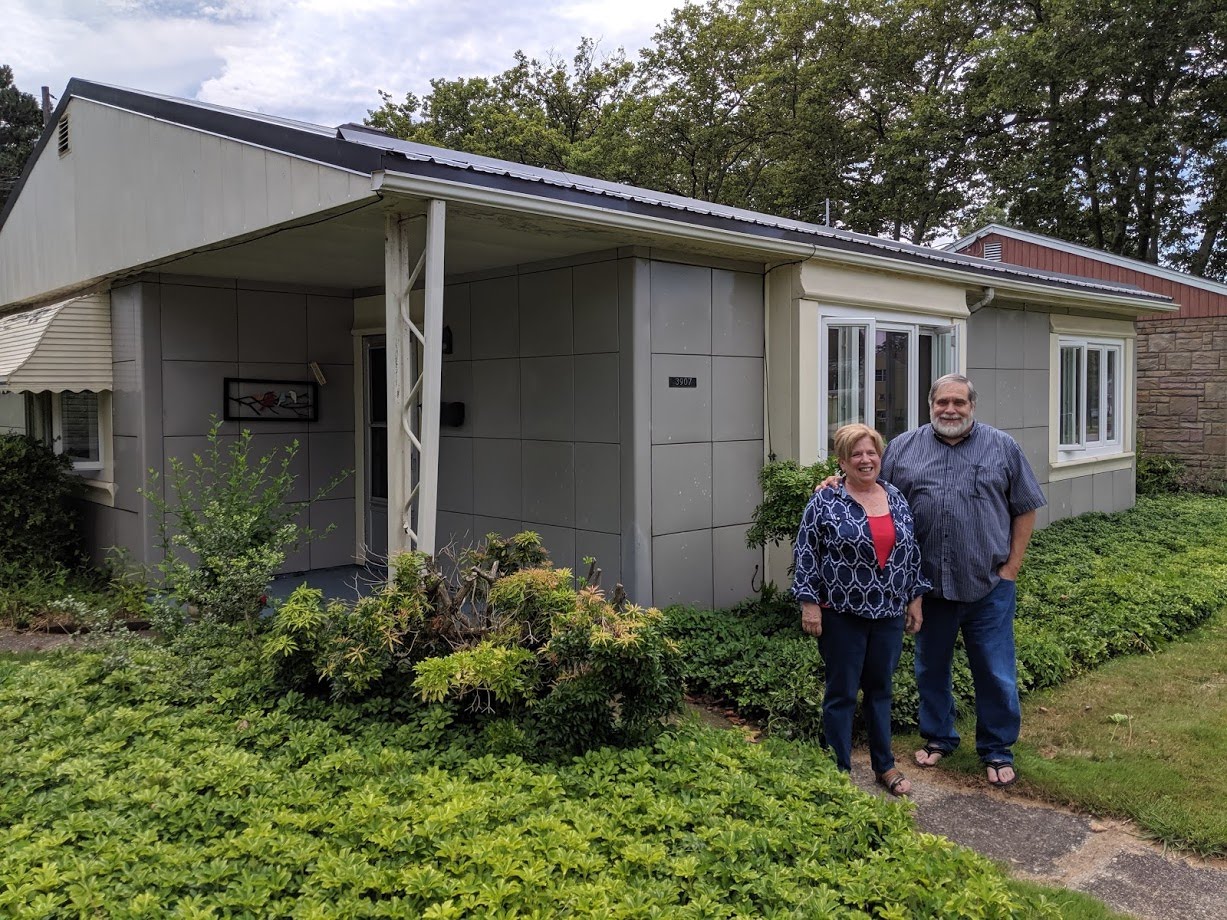 Lustron owners Fran and David Sabella stand outside their steel-structured home on Parkway Drive.
Before I left Guth on Parkway, she called my attention to the original plans and assembly instructions for her Lustron that were passed on to her when she bought the home. There was also a letter from 2002 from a historic preservation specialist from the Pennsylvania Historical and Museum Commission stating that they were attempting to find, photograph, and catalog all of the extant Lustron homes in Pennsylvania and nominate them for the National Register of Historic Places. At least with the Lustrons in Erie, that never happened. Which then begs the question: What will old houses look like in the future? Hopefully we will still revere and preserve turn-of-the-century (and older homes) as the important pieces of architectural history that they are, but what about the "new old houses?" The mid-century ranch houses with their exaggerated lines, pink-tiled bathrooms, and basement bars? What about the enameled steel manufactured homes that, for a couple of brief years, represented the opportunity and positivity of postwar America and hold a place as a specific architectural vision of that time? Do these buildings also deserve preservation? If they go away, rust away, are torn down for newer homes, what will our built history look like for the next generation and the generation after that? The owners of the Lustron homes that I met with may not see themselves as such, but they are the preservationists of the future. In caring for, restoring, and respecting these homes, they are keeping the postwar America built history alive and interesting in our town.
Erin Phillips runs the Instagram @olderieonfoot, an in-depth look at local architecture "by foot, stroller, papoose, bike, and occasionally minivan."