Basement Transmissions holds fundraiser at new venue
New all ages venue receives warm welcome.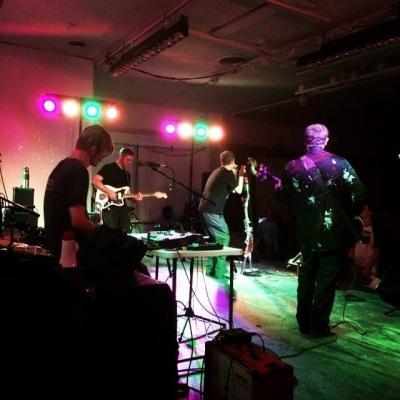 We all have different tastes and preferences, especially when it comes to music. Erie is a city that consists of diverse styles and methods of song writing, and oftentimes it is this paradoxical mélange of creativity that prevents our community from actualizing its potential. Different lineups draw different people. Pretty soon, the same people are going to the same kinds of shows and there is little to no cross-genre socialization.  Yet such a display of variety is certainly something that should be embraced. But it would be untruthful not to admit that we all fall victim to the comfortable tendencies of a clique-oriented music scene from time to time.
That wasn't the case the weekend of June 6 when Basement Transmissions held a two-day fundraiser event to help fix up the old Roadhouse Theatre – the new location of Erie's only all-ages venue and art gallery. Strong feelings of awe and excitement as the great potential of this massive building was revealed overpowered any relevant opposing tastes that might normally play a role in the trajectory of mixed genre show like this.
When you first walk in, there is a front room with a ticket booth (a feature BT's old spot at 1501 State St. did not have) and a ceiling covered by two massive mirrors. A double doorway opens up into the theater where there are two black walls on either side of a center isle that create a viewing balcony and sound booth. The isle opens up into a massive floor space that is met by an equally massive stage. This portion of the building alone is at least ten-times larger than the venue on State Street.
At the end of the room is a doorway that leads into a smaller concession area, which will eventually be used to have smaller shows in. This part is also about four-times the size of the space in the old building. Jaws dropped as people were taken back by the absolute massiveness of the whole thing. Conversations carried on all weekend about the many different possibilities and things that could be done to make the place even cooler.
While the show that took place on Saturday, June 7 didn't have quite as many people come out as the Friday show, I liked the lineup a little bit more. Bravura , a local progressive-metal band, opened the night up with an energetic set. As someone who doesn't usually prefer this style of music, I was impressed by their stuff, which was a lot more intricate than most of the local metal bands I am used to. You can tell by the way these guys play that they have all put a lot of time into learning their instruments, and it shows in their performance.
Attendance wasn't very high at this point, and the gargantuan floor space managed to keep people spread out in separate corners of the room. But things steadily picked up as the evening progressed
The second band to play was Clusterfunk , a group of local teens attempting to mix hard rock with blues, resulting in a style that made me think of Kid Rock  or some other kind of southern-sounding band you would expect to see at an outdoor festival in the summertime accompanied by a scent of fried food.
Except we were inside a large theater that instead smelled like sawdust, and the conflicting atmospheric sensations didn't mesh very well.
There was nothing about this band that really stood out, and their set dragged on until even the majority of the band members looked bored. Not to say this band was outstandingly bad, but I don't think they were a good fit for the show's overall vibe.
Next was another local group, Sea of Teeth , who plays a style similar to that of bands like La Dispute and Circa Survive , consisting of exceptionally personal and poetic verses shouted over complicated riffs that somehow manage to maintain structure while concurrently sounding very chaotic. I think this is one of the best active bands in Erie right now, but this wasn't their best set. Fault might rightly fall on sound engineering, however. Massive sub woofers on both sides of the stage had been providing exceptionally low range frequencies all weekend, but for this set particularly, the kick drum and bass were pretty much all you could hear. I think this may have resulted in a less tight performance than is typically given by this band.
The night was brought to a climactic end with the last set. Every so often, you go to a show and see a band that really stands out. You can tell by the way they play that what they are engaging in is not merely intended to be an entertaining performance, but an intimate creation that expresses the relationships between the individuals responsible.
Jargonauts , a dormant Erie band whose sound is to unique to classify in one genre, finished the night with what was their final set – ever.  The way the energy of these five individuals harmonized as they played songs of their own as well as songs from the defunct Pegasus Unicorn , a band that shared members with Jargonauts, was very captivating. The only way I can think to describe their sound is being like the instrumentals of Modest Mouse, sung over by a more enunciated Jay Mascis and accompanied by an interesting array of beats and samples. This set was so spacey and trippy that when a man wearing a unicorn costume randomly started dancing around the stage, it didn't catch me off guard as much as one might expect.
I felt bummed after seeing this band, wishing I had followed them when they were active. But while the night ended on a solemn note for some as a very talented group of musicians bid farewell, the overall excitement about what the future of Basement Transmissions holds for the local community persisted.
Will Taylor can be contacted at wTaylor@ErieReader.com.
---