Beef. It's Not What's for Dinner
Embracing a plant-based diet has never been easier in Erie.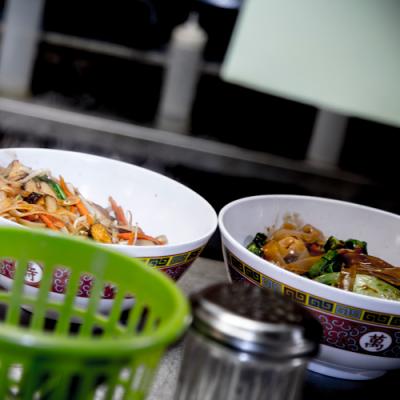 Labels can be as cumbersome as a parka at Presque Isle in August. With sweat beads steadily pouring down your back, you finally fling the thing to the weeds, bury it among the sleeping mosquitos, and pedal to the monument feeling lighter and free.
Flinging the label is exactly what The Vegetarian Resource Group, a nonprofit organization dedicated to educating the public on food-related health issues, decided to do in 2011 when they hired Harris Interactive to conduct a national survey on plant-based diets. Rather than asking straight Yes or No questions about veganism and vegetarianism, the survey used such terms as "never," "more than half my meals," and "one meal per week" in relation to animal- and plant-based meal consumption. The results showed that one-third of the country may be eating vegetarian – or plant-based – meals 50 percent of the time. Another 5 percent eat plant-based meals full-time, with half of that group also ditching dairy and eggs.
So what's the deal? Just how did kale manage to become the new black on the dinner plate?
"I think part of it is the Internet," said Heather McIntosh, assistant baker at the Erie Whole Foods Co-op – voted a Reader Top Vegetarian Place to eat in Erie. "Just because someone wants to go vegan doesn't mean they have to give up a chocolate chip cookie. These days, we can get a dairy- and egg-free recipe from the Internet and it's good," she added.
Google Trends data shows that the Internet is exactly the place people are turning to learn about plant-based diets. Since 2011, vegetarian- and vegan- themed searches have spiked. The timing of this spike may not be a random occurrence. In 2011, Oprah Winfrey openly endorsed Meatless Mondays; and in 2013, Beyoncé and Jay Z raved about their 22-day vegan diet during which Beyoncé lost eight pounds. In the past year, the 7-Eleven chain switched to Hampton Creek's vegan Just Mayo after it beat a popular national brand in a taste test and Liam Hemsworth stated in a Marie Claire interview that "since adopting a vegan diet, I've never felt better; mentally or physically."
The trend may be taking hold locally, also. Mike Augustine, head cook, manager, and menu creator at Like My Thai – also voted a Reader Top Vegetarian Place to eat in Erie – estimates that as much as 20 percent of his business is vegetarian or vegan.
"In 2007, I started Pad Thai Tuesdays at my old pizza shop on Eighth Street," Mike said. "It was a vegetarian dish. On the first night, the place was packed. It was the only place in town to get Pad Thai. I regularly brought in an extra 60 people a night."
The local demand for plant-based meals gave Mike the confidence to develop a vegetable-oriented menu in a traditionally meat-dependent town.
"With the exception of only a few items," Mike said, "I can adapt nearly everything on the menu to meet the diet or allergy restrictions of any customer."
It is his creativity and willingness to conform his dishes that have helped to make his meals popular.
"When we go to parties or dinners at a new place, we call ahead to see if they will accommodate our dietary requests. We don't have to do that when we go to places that we already know will serve us vegan dishes," said Lisa Casler, who co-founded the Erie Vegan and Vegetarian Society with her husband, Craig. The couple first started researching veganism after a friend lost more than 100 pounds by following a plant-based diet.
"One snowy Erie weekend, we rented a bunch of documentaries about the food industry," Lisa said. "We immediately emptied our freezer of meat products and didn't look back. After that, it took about a year to transition completely from fish, dairy, and eggs."
"We did it for health reasons," Craig said, whose cholesterol once topped 270. "I had always been told that heart disease is hereditary, but I learned that diet and exercise can prevent and sometimes reverse heart disease. Now, at almost 55 years old, my cholesterol is down by over 100 points, my blood pressure is down by 20 points, and I don't take any medication."
In the Ornish Reversal Program, a program at UPMC Hamot consisting of four lifestyle wellness elements that, when practiced together, prevent and even reverse such chronic conditions as heart disease and diabetes, patients learn many of the same things the Caslers did through research and trial.
"The idea with the program is to keep things balanced," said Jennifer Eberlein, Ornish Reversal Program Director and nurse case manager. "The four elements work synergistically, with diet being one of the four elements. We teach a plant-based, low-fat diet. How much a person adheres to the lifestyle is the main factor determining what kind of results a person will see."
Just as the Caslers, Beyoncé, and Hemsworth all described after switching to a plant-based diet, the positive changes that take place in Ornish Reversal Program participants is noticeable.
"It's neat to see the changes in people as they go through the nine weeks," Eberlein continued. "To see the change in how they carry themselves, to see how much happier they are as the weeks progress … it's fun to watch."
So, you might ask, next time you're standing in the produce department, what should you remember about the kale story? Wear the parka, don't wear the parka – call it vegetarianism, don't call it vegetarianism – the important thing is to go the distance with the plant-based diet. Pedal to the monument and embrace the kale.
Ti Sumner can be contacted at tSumner@ErieReader.com.