Beer Bellies, Kitties, and Valentines
Queer comic artist Ed Luce to speak at Penn State Behrend's Gender Conference
April 10, 2019 at 2:00 PM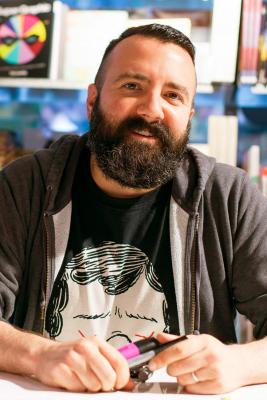 Thursday, Apr. 18
By: Dan Schank
For the past decade, artist Ed Luce's comic series Wuvable Oaf has explored San Francisco's art scene — and the heavy-set, hirsute gay men that populate it — with great affection. Though he may resemble a bouncer at a dive bar, the giant, goateed "Oaf" at the center of the story is a sweetie at heart. The comic is ostensibly about his conflicted search for love, but it's also an excuse for Luce to catalog his many obsessions — kittens, donuts, body hair, and '80s new wave records, to name a few.
Wuvable Oaf began as a decidedly grassroots labor-of-love, but in 2015 its first five years were anthologized by Fantagraphics Books. Soon after, the compilation was praised as one of the year's best comics by Slate, Vulture, and Mental Floss. A follow-up anthology, 2016's Wuvable Oaf: Blood and Metal, won the 2017 Lambda Literary Award for Best LGBT Graphic Novel.
We chatted with Luce in anticipation of his upcoming talk on April 18 at Penn State Behrend's annual Gender Conference, which is free and open to the public.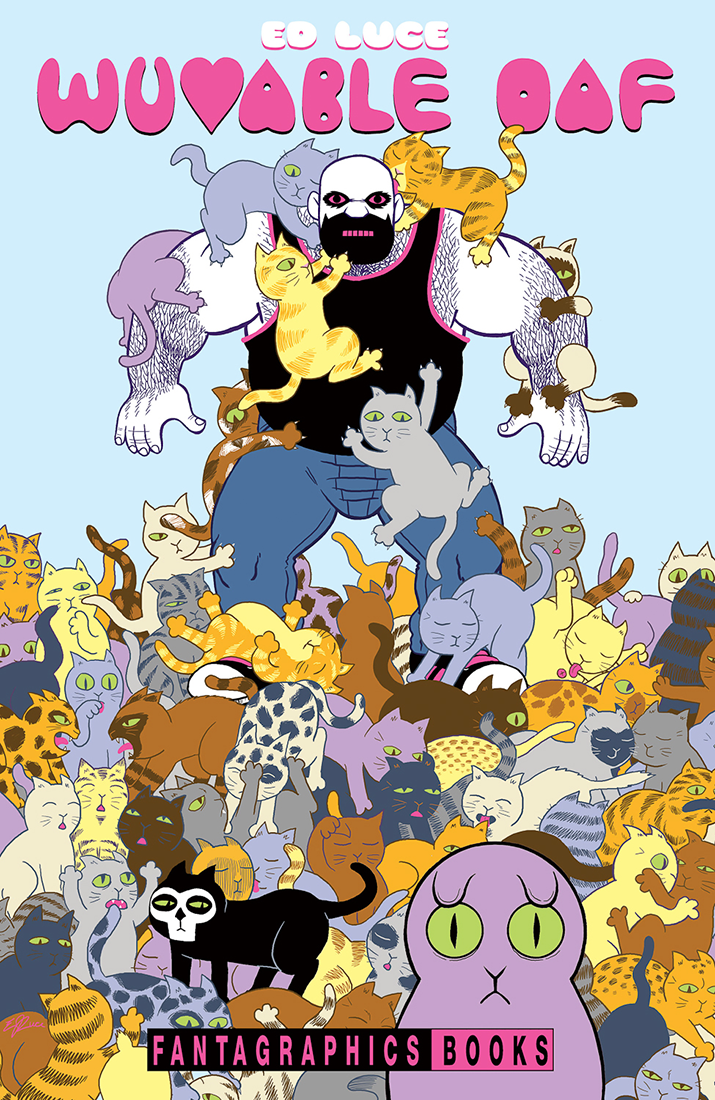 Ed Luce's Wuvable Oaf made his graphic novel debut in 2015 through the iconic indie comics publisher Fantagraphics 
Erie Reader: Wuvable Oaf began as a very grassroots project. Can you give us a quick timeline of the comic's journey from self-publishing to Fantagraphics?
Ed Luce: In 2006, I was asked to contribute a few drawings to a paper doll themed art exhibition at The Trunk Space, a Phoenix-based art venue. One of the designs I came up with was this big, ugly, scary-looking guy, covered in hair and baring pink teeth. Someone you'd probably cross the street to avoid. But all his tab-on outfits and accessories were cute and cuddly ... like footsie pajamas, a sweatsuit covered in black kittens, a Smiths shirt, a Chipmunk Punk record. These revealed the brute's softer side, so it seemed natural to title the drawing "The Wuvable Oaf." And so the original character was born. A few friends asked me who this guy was, where did he come from? I'd just moved to San Francisco and was starting to get back into comics again, so a sequential narrative seemed the best format to tell his backstory.
I'd been into comics on and off since I was a kid, but never attempted to draw something this complex. Having an undergraduate degree in illustration, I had the skill set, in theory. So it was just a matter of hunkering down and figuring out what type of story I wanted to tell. Ultimately, a sort of meandering, strange romantic comedy formed. The learning curve was steep at first but after several months of hard work, I was able to release back-to-back issues (Wuvable Oaf #0 and #1), followed up by some aggressive touring from San Diego up to Seattle.
In addition to those longer format, sequentially-numbered books, I started to release batches of shorter handmade mini-comics and zines. Most were printed on an 11" x 17" inkjet printer on my desktop. I was always trying to debut new titles at every upcoming show, which really drove my production schedule and allowed me to save more money — which I put back into travel. I was also doing a lot of merchandising with the character, printing runs of t-shirts and posters, releasing 7" vinyl singles (based on the band in the book, with music by members of bands Limp Wrist and Needles), among many other novelties. After a handful of years really pounding the convention scene, a few publishers took interest and asked me to submit pitches for a collected edition. I'd been a fan of Fantagraphics since I was 15, so when they stepped up to the plate, it was an easy decision to go with them.
ER: Over the decade-plus since your comic began, have you seen any changes regarding the visibility, quality, or nature of LGBTQIA+ comics? How has the field changed since you got started?
EL: When I started out in 2008, there had already been decades of amazing lesbian and gay comic work coming out from Alison Bechdel, Howard Cruse, Trina Robbins, Jennifer Camper, and Roberta Gregory. I consider myself to be part of the latter generation of cartoonists who have been heavily influenced by the fearlessness with which they told their stories. At that time, the genre definitely seemed to be booming, along with the broader popularity of the comics medium in general.
But there weren't as many comics about transgender, non-binary, gender queer, asexual, or bisexual characters and experiences. Thankfully, in the last five or so years, there's been an explosion of younger creators exploring this territory. Representation has never been better for all of these groups ... it feels like there's something out there for everyone. And if there isn't, someone comes along quickly and forges a new path.
And I think there's no better antidote to this currently toxic political environment. When someone reads a very personal queer story, they get to laugh, love and cry along with the creator. It makes it much more difficult to dehumanize them. We start to see the things we have in common...that we're not all that different where it counts. Comics can win hearts and minds, particularly those of young people, so they're a vital tool in combating both homophobia and transphobia.
Also, special shout-out to Maia Kobabe's upcoming new graphic novel Gender Queer: A Memoir. I think this book is going to make quite a splash in the LGBTQIA community ... and well beyond.
ER: Wuvable Oaf is, among other things, a celebration of body hair and love handles. How do you see the project in conjunction with the various body-positivity movements that are currently emerging?
EL: For a long time I was always asked to be on the queer comics panels at conventions. Almost to the exclusion of all other topics. But over the last five years, I've been invited to take part in body image/positivity panels with increasing frequency. I think people see the Oaf's physique, how he bucks long-standing stereotypes about queer male bodies, and they immediately understand how celebratory the imagery is. It's meant to be in-your-face and unapologetic ... and folks gravitate toward his sexiness and confidence, regardless of their gender identity or sexuality. If they happen to look like him, they feel empowered. And if they're attracted to him, they can wear a shirt with his likeness and flag their interest to others.
ER: As a graduate of SUNY Fredonia, to what degree do you see your work as influenced by Western New York?
EL: I definitely absorbed a lot of the blue collar, rural vibes of Western New York during my time there. A lot of men in these areas look like the Oaf. They're a little more on the rough-hewn side of things, in looks and attitude. And un-self-consciously so. I kind of became a student of ultra-masculine forms of gender performance and you can see that in the way I shape and adorn my characters' bodies.
Sure, it's sexy ... but it can also be kind of scary, even threatening. That's why the cats are so important in the comic ... they're my way of undercutting the hyper-masculine aspects of the main characters. I really enjoy playing the kitties off the Oaf in particular, showing just how eager to please them he is, putting him in awkward situations where we find out who's really in charge and getting some laughs in the process.
A Conversation with Queer Comic Artist Ed Luce will be held on April 18 at Penn State Behrend's Reed Union Building (Room 114), starting at 12:05 p.m.
Dan Schank can be reached at dschank@eriereader.com