Begin Again
John Carney's second film pleases in all the right ways, blending humor, heart, and the stripped down essence of film romance.
July 31, 2014 at 11:12 AM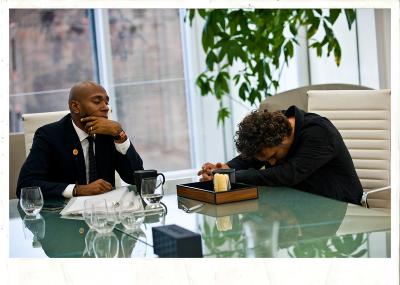 Pardon the pun-cliche, but no other film this year beats the summertime blues like the funny, honest, heartfelt and free musically inclined dramedy Begin Again. Released alongside the enormous latest Planet of the Apes installment and thrown into competition with other summer hits like Tammy or the all-out obsession with The Fault in Our Stars, John Carney's second film (he directed 2006's Once) pleases in all the right ways, blending humor, heart, and the stripped down essence of film romance.
Right at the start, Carney gets us hooked with the beautiful Gretta (Keira Knightley) serenading a crowd of people in a New York City bar with a sparse acoustic arrangement of a song she's written. Newly single and lost in New York's sprawling landscape, Gretta is looking to make some sort of sense of her breakup with pop music star Dave Kohl (Adam Levine), whom she leaves after discovering his affair with a worker on his record label.
Enter Dan (Mark Ruffalo), a once iconic record executive and founder of Distressed Records, who's recently been fired from the company due to serious ideological differences with co-founder Saul (Yasiin Bey). His professional and personal lives in shambles, Dan drowns his troubles and deteriorating relationships with his ex wife and daughter in alcohol.
Dan happens to stumble into the bar where Gretta is performing, and swears that her music will save his life. Overcome by his vision (quite literally his vision -- a scene in which Dan imagines a flurry of instruments accompanying Gretta's sparse delivery is pure cinematic and musical joy), Dan seeks involvement with Gretta, spilling his guts about his personal life and promising her a meeting with his former label in the prospect of a new album.
Rejected by Distressed Records, Dan assures Greta that the album can be recorded independently, thus beginning their ambitiously scrappy project -- a tribute to New York recorded solely outdoors in various locations and with only amateur musicians.
Capturing the redemption and freedom that music can bring, Dan and Gretta, along with a talented young backing band, spare no musical idea, inviting a colorful array of musical contributors, from delinquent youth on the streets of New York to Dan's own daughter Violet (Hailee Steinfeld).
Carney remarkably captures that same spirit and pure artistic freedom, letting us in on Dan's growth from booze addled depressive to passionate artist and friend to Gretta.
If you chuckled earlier at the mention of Adam Levine's significant role as Gretta's ex lover, think again. Levine, known primarily as the frontman of sold out rock band Maroon 5 and judge on "The Voice" comes along in a defining role. He's sensational as Gretta's too-cool, wildly popular hipster of a boyfriend. Alongside an equally sensational Knightley, their former relationship and songwriting partnership is portrayed in all of its romance and crippling muddledness.
Ruffalo's performance is an unexpected treasure. He gets to the heart of Dan's buried genius, personal trouble, and love of music in a way that achieves uplift with none of the typical gimmicks. Katherine Keener is typically great as Dan's doubtful ex wife, and Steinfeld, who generated such buzz for her performance in 2010's True Grit (in which she was just fourteen), gives us an exceptional turn as a young woman struggling through adolescence in the absence of her father.
At the film's center, and among its highest attributes, is the chemistry between Ruffalo and Knightley, whose relationship is never reduced to romantic simplism. More than anything, though, it's the music, written by Gregg Alexander, that holds the movie together and fuels Dan and Gretta's relationship.
Carney, who wrote as well as directed Begin Again occasionally chokes on incidental eye-rolling sentiment and inspirational gimmicks, but he's got something here that is special. Begin Again isn't just a movie about music, it's a movie that reminds you of the feeling of pure joy and liberation   you get when you want to dance to your favorite song in public.
 Eric Kisner can be contacted at eKisner@ErieReader.com.