Beirut Captures Fresh Sound and Releases Third Full-length Album
Beirut is magical and talented. But no one?s talking about them. Except Ted Hoag. And he?s arguing we should all be listening.
September 10, 2011 at 7:49 AM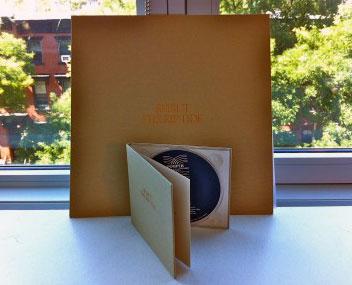 Picture it.  You?re in a European alleyway.  Sitting on a patio enjoying a pint and a meal, then, suddenly, you hear horns, ukuleles, and voices upon voices that crash off the cobblestone road and century-old buildings nearby.  Still, you can?t pinpoint where the structured--yet raucous--sounds are coming from.  You are floored with progressions, hooks, and notes that you may have never heard before. You can?t describe its sound, but you know the sound is growing closer and closer and you never want it to stop.
And then, it hits you.
You see a grouping of musicians creeping through the alleyway, like an ambitious snail with each member playing their part under the tutelage of a creative leader.
Enter Beirut, a mysteriously fresh baroque, Euro-Balkan-influenced band that has emulsified Indie pop and alternative rock into one experimental beaker.
That creative leader is Zach Condon--creator of Beirut-- who began composing and writing in his Sante Fe, N.M. bedroom by experimenting day-in and day-out with a plethora of different instruments and recording styles to achieve the sound that he and Beirut are so well-known for today.  Now, ?The Rip Tide? has enveloped the world of music.  Beirut?s third full-length album, ?The Rip Tide? takes on a new, fresh sound that doesn?t totally neglect their true foundation of horned instruments and uncanny lyricism.
?Gulag Orkestar,? Beirut?s debut record (recorded in its entirety in Condon?s bedroom) seemed to be created by a modern European composer, much less than a 19-year-old boy from some desert-landscaped area in southwestern America.  And, then, the publicity began for Condon.  Almost overnight, he and Beirut?s sound had engulfed the Indie genre, mainly because no one, at least in America, had ever heard of something so pure and foreign.
Condon, after a short stint in community college, decided to go on a European adventure with his cousin.  Witnessing Balkan music (southeastern European music, distinct from other music in Europe) for the first time, Condon knew this is how he wanted his music to be portrayed: large groups of friends playing their own instrument, led by a composer with sonorous vocals that would catch the attention of anyone nearby.  This, in a nutshell, is what Beirut has become.
With the release of ?The Rip Tide,? Beirut has taken an unexpected turn in terms of sound and influence.  By the genius of Condon and his fellow comrades, the nine-track album doesn?t seem to misstep or wallow, but stupefy their fandom by throwing a curveball of American pop and grandeur. 
Recorded in Brooklyn, N.Y., ?The Ripe Tide? is influenced immensely by its surroundings, with Brooklyn being a mecca for popular music. The added ingredient of Americana could, perhaps, help Beirut achieve a higher status within the popular music realm, but Condon is a man of bewilderment and spontaneity.  The chances of Beirut repeating history on their next creation is a far cry from the norm. 
The opening track, ?A Candle?s Fire? is a bustling mixture of horns, tambourines, and vocals overlapped by more vocals, and multiple stringed instruments.  A great way to break the ice for new listeners and not totally reminiscent of previous works, ?A Candle?s Fire? provides a happy medium for all.
Previously-released track ?East Harlem? is the penultimate example of how Condon and Co. implemented their newly-acquired pop feel.  While refreshing, cult followers of the band may disapprove of Beirut?s slightly modified sound.  I, however, feel that it was a change that was needed before their Euro-style would become stale and underappreciated to those familiar and unfamiliar to their grand existence.
?Sante Fe? follows the same pop blueprint with electronica work by Condon, coupled with his vocals, percussions, and tambourine, and as always, horns are incorporated for that classic Beirut-iful sound.
Again, Beirut present more traditional tracks like self-titled ?The Rip Tide? or ?Port of Call.?  Both tracks would seem fitting for a first dance between a bride and groom on a hand-crafted dance floor, lit by lanterns that seem to run on piano notes, baritone voices, dramatic ukulele strumming, and horns from the heavens.
The remaining bits on the album will take you on a similar journey that ?Flying Club Cup? did back in 2007 but won?t leave the average listener twiddling their thumbs, left counting the tiles on the kitchen floor either.
So how come no one is talking about Beirut?  Why don?t most radio stations play their music?  When will they ever come to a small town like Erie? 
These are all excellent questions.  And sorry to say, I don?t have all the answers to these questions.  However, if you are reading this, why not take it upon yourself to revitalize your music library and pass the Beirut goodness on to family and friends.  Trust me ? Zach Condon and Co. will fulfill your curiosity.