Berry Global Thrives in Erie
Essential plastic closure business is open and humming
September 23, 2020 at 1:00 PM
In historic Little Italy, in a plant where workers once built hulking steam locomotives, Berry Global showcases the best of Erie's manufacturing culture — offering reliable family-sustaining jobs and encouraging forward-looking thinking.
Part of a company with 50,000 employees worldwide, Berry's local plant makes plastic closures, mostly for food and beverage customers, in a rainbow of colors and an array of sizes: blue lids for Hellman's Mayonnaise, orange for Gatorade, black for Powerade, green for DaSani water bottles, purple and other hues for Naked fruit juice, among many other items for clients.
Part of the manufacturing facility is still housed in the old building with massive brick walls — perhaps as thick as four feet — that once housed Heisler Locomotive Works, which made gear-driven steam engines, primarily used for logging. The Lake Shore Railway Historical Society and Museum has a Heisler in its collection.
After rolled-up structural blueprints for the Heisler factory from 1922 were discovered, Ralph Shipp, plant engineer, framed the prints, as detailed and precise as computer-generated documents would be today, to hang on the conference room wall. The prints are an acknowledgment of the factory's heritage and its importance to Little Italy, and they serve as an eye-catcher when the Historic Little Italy Business Association holds bimonthly brown-bag lunch meetings in the conference room, courtesy of Berry. (Those meetings are now being held virtually because of COVID-19.)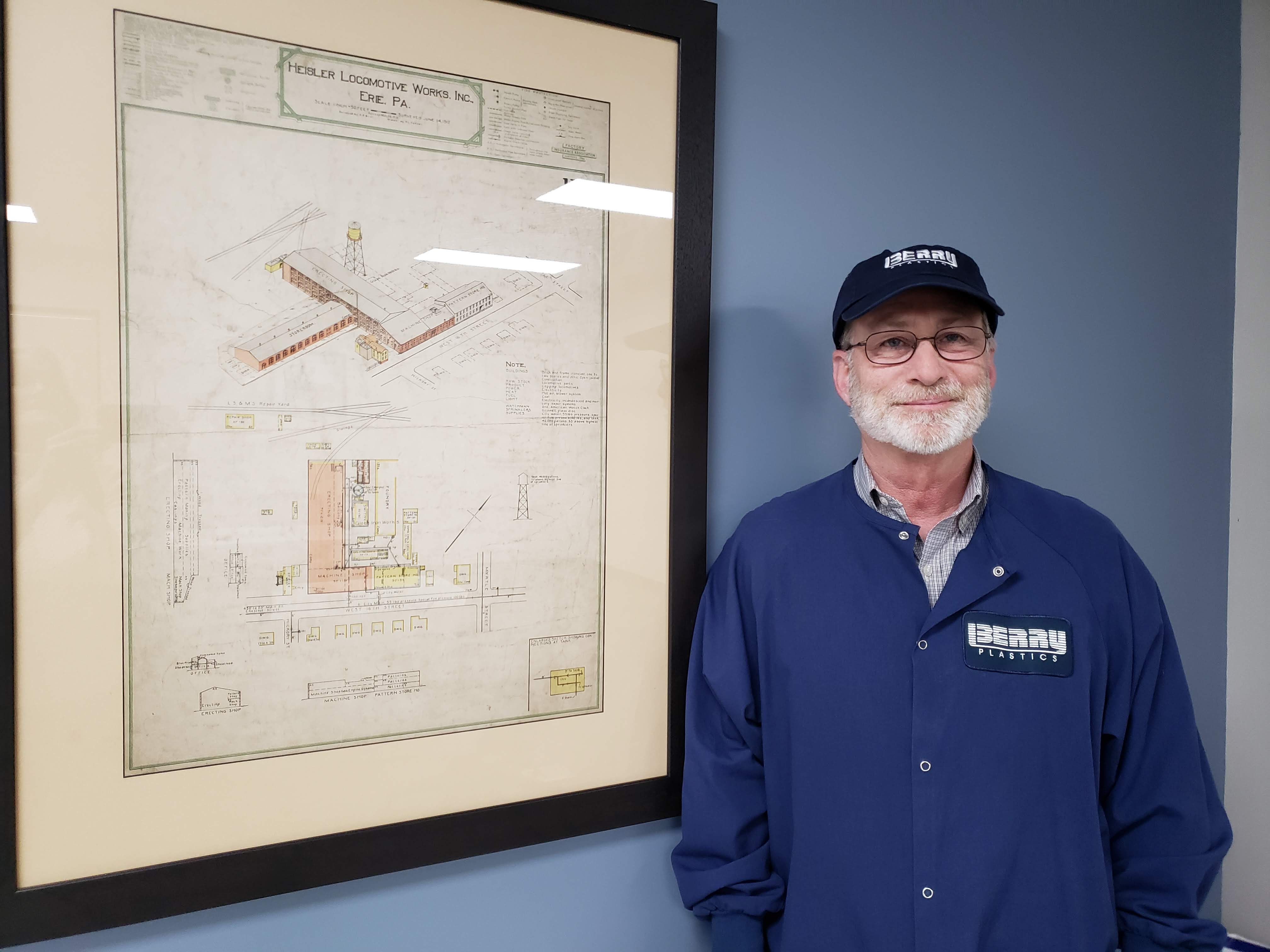 Bob Guthrie, Berry Global plant manager, stands beside framed blueprints of the Heisler Locomotive Works from 1922. Manufacture of Heislers at its factory in Erie's Little Italy neighborhood ceased in 1941.
Bob Guthrie became Berry's plant manager in 2001, about the same time that the Sisters of St. Joseph were canvassing the neighborhood to ask residents about their most pressing needs in preparation for the opening of the Sisters of St. Joseph Neighborhood Network.
At the time, fencing and barbed wire surrounded the plant, located at 316 W. 16th St. The sisters suggested that perhaps those barriers could come down. Today, the plant's grounds are open and nicely landscaped, a vibrant visual introduction to the manufacturing facility, which is bright, clean, and inviting.
That welcoming culture extends to employees, who are encouraged to ask friends and family to apply for jobs at Berry, said Guthrie. "We want a work environment that encourages people to bring your friends," he said.
In Erie, Berry Global employs about 150 people, and there will soon be job openings as longtime employees retire in the next couple of months.
"We're looking for employees who want to build a career," said Guthrie, who agreed to transfer from Illinois to Erie after his boss called while he and his wife were vacationing in Seattle.
"I like coffee," said Guthrie, who had checked out the original Starbucks in Seattle at the time. "I looked online to see if there was a Starbucks in Erie and the first Starbucks had just opened on State Street. 'OK, they have a Starbucks. I have to go there,'" he recalled with a laugh.
Guthrie and Christen Brown, human resources manager, are both proud of the fact that the company provides jobs with wages that "people can live on," in Guthrie's words. The work is also steady. Berry has employees who grew up in Little Italy, began working there right after high school, and stayed to retirement age. Shipp, the plant engineer, has been with Berry for 25 years. Every quarter, the number of five-year service awards increases, said Brown.
The company also is committed to both initial training and retraining, when needed. "You can make a decent living. We're looking for folks who have mechanical ability. We're looking for the intellect, the initiative, the integrity," Brown said, borrowing a quote from Warren Buffett. "We do a lot of promoting from within into a skilled position," she added.
When Brown holds small group meetings with employees to discuss their career goals, she likes to ask them: "What's making you stick around?" It's the reliable nature of their jobs, they tell her.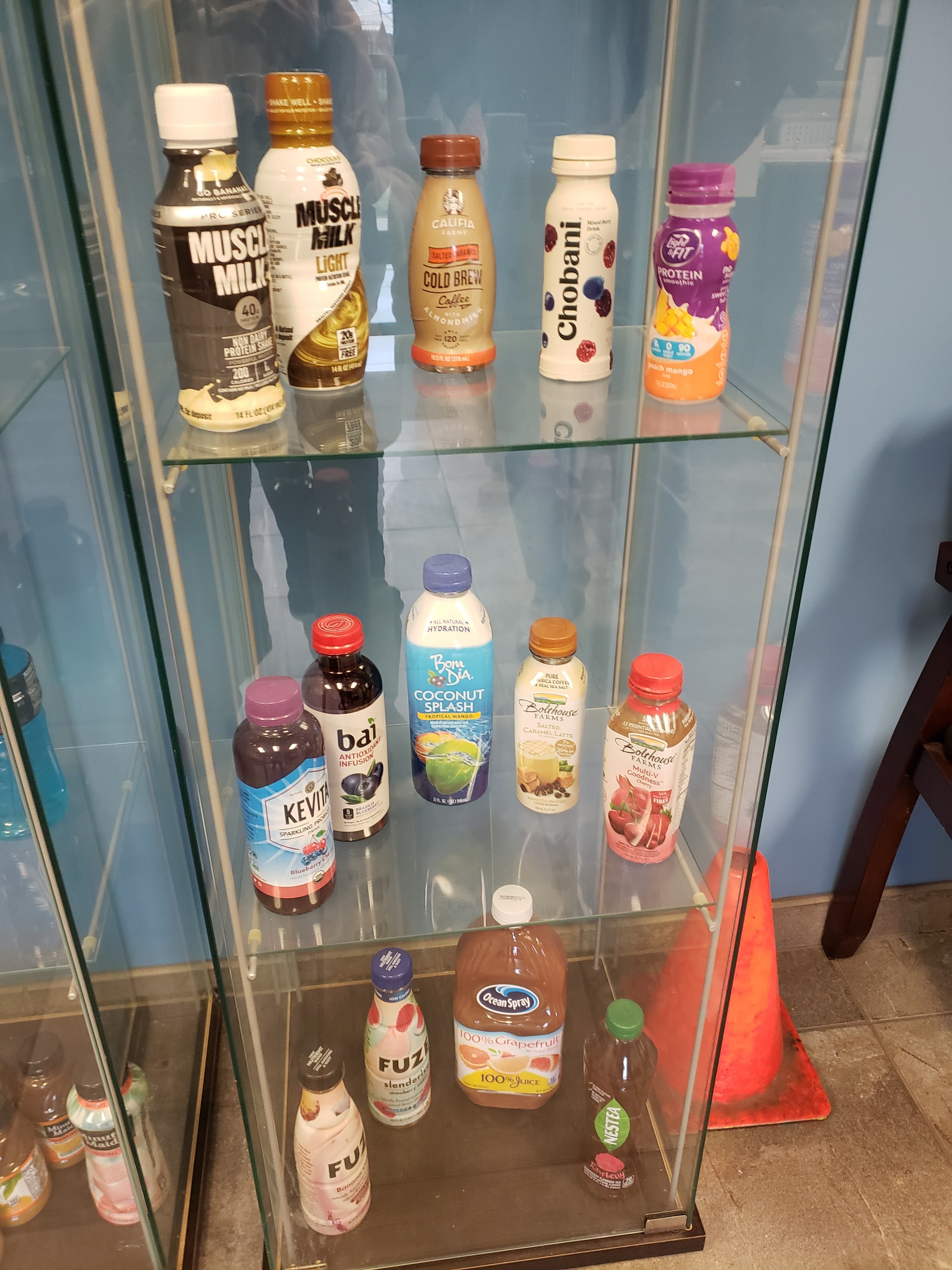 Berry Global continues to seek out new markets, including drinkable yogurt, energy drinks, non-dairy refreshments and cold-brewed coffee. (It also makes caps for motor oil.)
Serving diversified customers helps Berry to avoid becoming "vulnerable" to a dip in any one market.
In fact, Berry Global, deemed an essential business, has remained open throughout the pandemic, Guthrie said.
"We make food packaging and we never stopped production," he said. "Some customers are up, some are down, but overall, our business is up." While there was a drop in demand for food that comes in large containers, such as salad dressings for restaurants, there has been an increase in other lines. "There are definitely more individuals cooking at home, so with some sandwich spreads, those volumes went up," he said. "Early on, we saw a surge in water bottles, when people went out and bought cases of water."
The Erie plant has not had one confirmed case of COVID-19. "Whenever someone has symptoms, we tell them to stay home," Guthrie said. An outside handwashing station has been set up. Employees wear masks, and there is deep cleaning inside the plant every four hours.
Guthrie said his biggest worry during the pandemic has been about the well-being of the workers, "particularly workers with young families, with kids in school affected by daycare closings," he said. "My biggest concern is their ability to maintain their lives."
With retirements and with some additional work coming to the plant, Berry Global in Erie is looking to hire about a half-dozen new employees, Guthrie said.
In addition to a commitment to train new hires and to upgrade their skills periodically, Berry also has developed a strong working relationship with engineering students from Penn State Behrend's Innovation Commons, according to both Guthrie and Jake Marsh, industry relations coordinator for the Innovation Commons.
"It's a great company to work with," said Marsh.
In 2015, Penn State unveiled an initiative for each campus to find ways to support small businesses, inventors and startups. With funding from an Invent Penn State seed grant and from the Erie County Gaming Revenue Authority's "Ignite Erie" program, Innovation Commons opened in January 2016. "We want an entrepreneur to have all they need to succeed," said Marsh.
Innovation Commons is part of the Innovation Beehive in Erie County, in which Behrend, Edinboro University of Pennsylvania, Gannon University, Mercyhurst University, and the Erie County Library each specialize in aiding business innovation.
Behrend's niche is offering prototyping services to innovators and free engineering consulting services to businesses.
At Berry Global, Behrend engineering students are consulting on 3D printing, which has resulted in "major cost savings" for the company, said Marsh. He explained that a part that might have cost up to $1,000 to replace can now be made with a 3D printer for about $3. In addition, Behrend students wrote a computer program that kicks in if one of the fast-moving machines becomes jammed. The jam no longer breaks a tool that could cost as much as $10,000 to replace. Instead, the computer program triggers action that breaks the part made with the 3D printer — a part that will be replaced economically.
The goal of Innovation Commons isn't simply to do a job for a client; it's also to teach the business how to do the job itself. Berry is now buying its own 3D printers, Marsh said.
The benefits of Innovation Commons don't just accrue to the business receiving consulting services. For engineering students, it's a way to learn about various business environments, to build up "killer references" for future employment, and to gain confidence to become an innovator.
John Nowakowski III, owner of the recycling start-up Bayfront Glass, LLC, earned his master's degree in manufacturing management at Behrend and served as a student manager of Innovation Commons. Bayfront Glass is one of at least 10 start-ups nurtured at Innovation Commons. Another is M2 Additive Manufacturing, which builds flexible 3D components. Michael Paul, a Behrend grad in electrical engineering who also served as a manager at Innovation Commons, and Behrend student Michael Gibilterra, who also worked at Innovation Commons, started M2 Additive.
Not every student with a background at Innovation Commons will start a business. But they will bring an innovation mindset to their employers, contributing ideas on how to improve processes, Marsh said.
And because of Berry Global's work with the Innovation Commons and Plant Manager Bob Guthrie's enthusiastic embrace of innovation, the solutions devised by Behrend students "may get implemented at a global level," said Marsh.
Liz Allen has participated in numerous Zoom sessions during the pandemic but her Zoom interview with Jake Marsh was her first use of that technology for a reporting project. You can reach her at lizallenerie@gmail.com.
Berry Global, 316 W. 16th St., expects to hire at least six new workers in coming months. Interested applicants should visit www.berryglobal.com, click on careers, and then on the Erie location. Bob Guthrie, plant manager, said the company is stepping up its use of social media to recruit workers.