Best Summer Night: Presque Isle Partnership's ambitious fundraiser brings Crosby, Stills, and Nash to Beach 11
?When seated, a concertgoer may expect to take in the 80-foot-wide by 40-foot-high stage set on the beach, with the lake just to their right as the sun goes down at about thirty degrees to their left. I think the juxtaposition of the grandeur of the stage placed in this wonderful natural setting near sundown will be quite magical ? certainly a once in a lifetime experience for most.?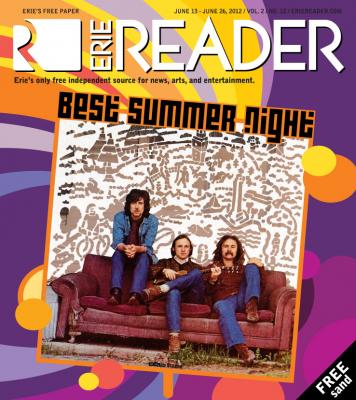 Months ago, a rickety wooden rumor arose from behind that thick purple velvet curtain where the "they's" and "them's" of this town do their thing. Timidly, meekly, that rickety wooden rumor insinuated that a certain folk-rock supergroup was supposedly stopping in Erie over the summer.
For what? I thought. To add gas to their tank on their way from Buffalo to Pittsburgh?
We all know that national touring acts rarely stop in Erie anymore, but as local author Dan Schell (who is featured elsewhere in this issue) told me, it's not Erie that's changed, it's the music industry itself. When national touring acts decided to do the math during the mid-1980s, they opted to multiply their revenue by playing dozens of large venues rather dividing their time amongst hundreds of small ones. And given that national touring acts don't get much bigger than the one mentioned by that rickety wooden rumor, many people had trouble believing that such a celebrated group of musicians would do any more in Erie County than visit a truck stop on I-90 for beef jerky and energy drinks on their way to Marrakech or wherever.
But this time– not like that time with Wilco – this one damn time, that rickety wooden rumor turned into a real boy, like Pinocchio – fully attired, gregarious, and causing frenzied excitement wherever he went: David Crosby, Steven Stills, and Graham Nash will indeed perform together at Beach 11 on Presque Isle at 7 p.m. Saturday, June 23.
But you probably know that by now.
What you probably don't know, however, is that this event did not just magically come alive after some fairy flew through a window to grant some Pennsylvania Geppetto's wish upon a star. The real story of how this unexpected and most welcome performance truly came to be is about how the staff and board members of the Presque Isle Partnership willed this show into existence. They had to, as if by magic, design a temporary, intimate, lakeside concert venue, in an eco-friendly manner, from scratch. Then they had to, as if by magic, raise the money to pay for it. Then they had to, as if by magic, contract one of the biggest names in music to play that technically nonexistent venue. Then they had to, as if by magic, turn the whole thing into a fundraiser to renovate an important area of their namesake state park. And the name of this magical wooden boy made real?
It's called "Best Summer Night."
"I think we chose that title with the thought that everything we have, every aspect of what we're attempting to do will culminate on June 23," said Steve McDermott; he's the executive director of the Presque Isle Partnership. Established in 1994, the Presque Isle Partnership's mission is to help maintain Presque Isle State Park's standing as one of the most beautiful and unique natural features in the United States. McDermott's been pulling the strings over there for about 10 years.
"The purpose of our organization is to enhance the visitor experience at Presque Isle, and that takes a wide variety of formats," he said. To the Presque Isle Partnership, sponsoring events of differing format is old hat; there's the UPMC Sunset Music Series on Wednesday nights, the Bay Swim, Discover Presque Isle, a duathalon, a triathlon, and something called the Joe Roots Frostbite Open. They're clearly experienced at staging events, but in Erie, an event of this magical magnitude has never been attempted before. By anyone.
"Not on this scale," he confirmed.
McDermott told me that the first step was selecting a site. "We chose Beach 11 because it's the most protected of any of the beaches from the standpoint of wind and wave action. That was our starting point."
Like all great productions, that first act demanded strenuous, sustained effort over several acts, but not just from McDermott. "My Board of Directors – which numbers about 20 – along with myself and Alexandra have been working on this feverishly since about mid-September."
McDermott's talking about Alexandra Dusckas, an executive assistant at the Presque Isle Partnership. The three of us sat in McDermott's office, located on the second floor of the Tom Ridge Environmental Center and adorned with the clutter of a man who's been working feverishly since about mid-September. Dusckas has been with the Presque Isle Partnership for just over four years, three as an intern, and McDermott tells me that she's had as much to do with the planning and execution of this event as anyone, which makes me wonder what her office looks like.
"It all revolves around details and planning," she said. "One of our board members who has been very crucial is an architect; he designed the whole setup."
Make No Little Plans
Architect Daniel Burnham famously said, "Make no little plans."
Burnham is a legendary architect and urban planner, and is not the board member Dusckas was talking about, because he's been dead for one-hundred years and twelve days as of press time. Burnham did, however, know a thing or two about making something out of nothing. In addition to designing Washington, D.C.'s Union Station and New York City's Flatiron Building, Daniel Burnham was largely responsible for the design of the Chicago World's Fair in 1893. This seven-month commemoration of the 400th anniversary of Christopher Columbus' appearance in the Americas consisted of almost one-and-a-half square miles of downtown Chicago dotted by nearly 200 temporary buildings, rising from the Lake Michigan shore like the mythical Brigadoon, that Scottish village that appears but once every hundred years, and only for one day.
From the sound of things, architect Sean Plunkett isn't used to making little plans. Plunkett's been with Weber Murphy Fox, an architecture firm based in Erie, for 11 years, but has been working in Erie since 1967; you may already be familiar with some of his work – he's designed many of the projects you see around Erie on a daily basis, including the Bicentennial Tower and Jerry Uht Park. He currently serves as the vice president of the Presque Isle Partnership's Board of Directors; he also serves on the Landmarks and Strategic Planning committees, and has lent his time and expertise to the layout and design of this, his own personal Brigadoon.
"This thing is going to be spectacular," he told me via email. "You're going to think you're at Rich Stadium [in Buffalo], except you're at Beach 11. The other important part of that equation is that not only are you at a much more beautiful setting, with the shoreline probably 10 to 15 feet from most of the seats, but, more importantly, the intimacy that this is going to afford people, I think, is really key."
The venue Plunkett's designed will seat just over 4,000 individuals, all within 214 feet of the stage; that's not even the length of an NFL football field – in fact, if the stage were at the goal line, the furthest seat in the house would be right about where most Buffalo Bills' drives start and end: their own 29-yard line. "I would offer that all the seating for this particular event will feel close to the stage," he told me.
During my conversation with McDermott and Dusckas, I told them that I had seats in the 40th row. "If you're in the 40th row, multiply that times three is 120, add 10, and you're 130 feet from the stage," McDermott said. In NFLspeak, that'll put me right about midfield, or, as the Cleveland Browns offense calls it, uncharted territory.
The particular attention that has been paid to making the venue itself something special will certainly enhance the experience for all of us in the audience, but I get the feeling that the extensive preparations made were not aimed solely at the spectators.
"You don't bring a top name group like Crosby, Stills, and Nash in…" McDermott said; his voice trailed off, and we exchanged slight, almost imperceptible nods of comprehension.
Those knowing nods silently proclaimed that further discussion between us on the magnitude of these stars was wholly unnecessary. It was almost as when in a church, in the very presence of a deity, one speaks in hushed half-whispers out of both piety, and fear. These three wise men, born of Byrds, Hollies, and Buffalo Springfield, united to form one of the brightest shining stars of American music over the last half-century. As a trio, Crosby, Stills, and Nash has died and has been resurrected so many times and in so many different manifestations – often including Springfield alum Neil Young – that their music has endured generations, and has therefore been afforded appropriate reverence. Just the thought of that holy trinity – an intimate venue, a novel beachfront setting, and an immense collection of musical talent – evokes a majestic sense of synesthesia. A blending of the senses. A syncretism of sound and scenery, seated soundly and solely on the sands.
"When seated, a concertgoer may expect to take in the 80-foot-wide by 40-foot-high stage set on the beach, with the lake just to their right as the sun goes down at about thirty degrees to their left," said Plunkett. "I think the juxtaposition of the grandeur of the stage placed in this wonderful natural setting near sundown will be quite magical – certainly a once in a lifetime experience for most."
Crowning the head of the venue will be that huge temporary stage, which, Plunkett told me, is designed and sold as "the safest temporary stage unit" available.
"It comes in on a 53-foot tractor-trailer, and then it unfolds," McDermott revealed. "One of the really cool things about this is, when people have seen an outdoor concert at Presque Isle, it's been off of a very small bandwagon that we rent from the city. So I think in the back of people's minds, that's what they're thinking about."
No, this will be no Potemkin village. After all, one does not simply bring in a top name group like Crosby, Stills, and Nash, and…ahh, I see you nodding.
"As Alexandra said a few minutes ago, 'Details, details, details. ' That's what this has been about," McDermott said; he continued to stress that every seemingly insignificant aspect of this event has been prepared with the utmost care and that his team has been focusing on making this event truly worthy of its title. For example, they've rented 4,500 padded folding chairs, a significant detail one might see at an outdoor wedding; McDermott told me that even the event program, another seemingly insignificant detail, will be also be quite special.
"This is going to be like no other event program that people have seen before. It's going to be a really classy piece; we're giving programs to everyone who enters the concert that evening, and then about five minutes before – I'd prefer you not mention this in your article, but – about 5 minutes before the show…"
Whoops. Sorry, Steve; I've probably said too much already…so, where were we? Oh yes, the VIP party.
Erie is an "access" town; just having a regular ticket is never good enough for some people. Unfortunately, if you are one of those people and don't have yours, you had better start leaning on your lackeys – VIP tickets sold out almost immediately, months ago.
"The pre-party will accommodate roughly 1,500 premium ticket holders," said Dusckas. "That party will occur from 5 to 7. We're going to have some live music – the Sam Hyman Band is going to be playing, as is Matt Thompson. The caterer we're using, 'Make it Fabulous,' is Stephanie Potus-Eaker from the Summerhouse Café."
McDermott, in his own brand of calm intensity, succinctly summarized the kind of blood-stirring magic he believes they've created with this event. "We think this is going to be like no other evening in Erie in a very long time."
The Magic to Stir Men's Blood
Architect Daniel Burnham famously said, "Make no little plans. They have no magic to stir men's blood."
With big, blood-stirring plans come big, blood-boiling problems. Plunkett went on to tell me that a concert on the beach seems like a great idea but poses significant logistical and environmental challenges. Among them, simply getting the stage to the sand. Because that stage weighs in excess of 80,000 pounds, a special road had to be built so the tractor-trailer chrysalis could easily plant itself on the sand and unfurl without getting stuck. But getting stuck was still a concern.
"We were able to solve this with the use of special mats that are actually manufactured nearby in Titusville by the AlturnaMATS company," Plunkett said.
Would they work? Or would they pave the path for this Brigadoon to become a Bradbury-esque dystopia? McDermott told me about an interesting dry run they performed about a month ago.
"We laid [the AlturnaMATS] out on Beach 11, and the we had a double-axle dump truck here at the park filled absolutely all the way to the top with sand, and it weighed about 70,000 pounds. When it drove out onto the beach, Sean [Plunkett] was watching to see what the amount of deflection was." Deflection is the measure of how far the mats bend when force is applied to them. The 70,000-pound truck broke a leg; deflection was less than half an inch. "Up until that point, [Plunkett] had been somewhat doubtful that this would really work, but he was sold after that little test."
Because of AlternaMATS, a dump truck, and a dream, the Presque Isle Partnership's Brigadoon was about to be realized. But at what cost to the environment? Plunkett told me that they've taken a variety of measures to ensure they leave Beach 11 in the same – if not better – condition than they found it. All food service items are recyclable, as are the garbage bins. The AlturnaMATS and stage equipment will leave the ground underneath undamaged. Isolated and pristine beach grasses and sand dunes will remain just that.
"Even the stage location is biased toward projecting sound away from Gull Point, which is a protected area," he said. "Ultimately, for our efforts to be truly successful we must return the park in the manner in which we received it and I firmly believe all our action plans allow for just that."
Big Plans, Realized.
Architect Daniel Burnham famously said, "Make no little plans. They have no magic to stir men's blood and probably themselves will not be realized."
The realization of "Best Summer Night" has, up to this point, been a complete success; however, if boasting of low environmental impact is one measure of success, another measure is the achievement of the ultimate goal – raising money to renovate the area around the Perry Monument. As McDermott told me, their magical musical Brigadoon will be built solely of dollar bills; assembling them was no less daunting than assembling the venue will be.
"We needed to raise a minimum of $75,000 for seed money. Without being able to do the fundraising aspect, this would not have occurred," McDermott said. "Hats off to the folks in this community who have made that happen."
Now, $75,000 is a lot of money, especially for an organization that only raises $400,000 a year, but that was only the beginning. The total expenses for this show will nearly equal the Presque Isle Partnership's yearly budget. So just what does McDermott and the Presque Isle Partnership hope to accomplish with this risky roll of the dice?
"Our hope is to raise a minimum of $100,000 with this concert in support of renovations and upgrades to the Perry Monument area prior to 2013," he said. "We think it's important. We knew the state did not have any money. We could not depend on them, so, our board embraced this as civic pride."
Plunkett echoes McDermott's supposition; McDermott said he estimates that Plunkett has put in at least 200 to 250 hours of his own time on the project, and other board members have contributed as well, surely a demonstration of that civic pride. "I chose to become involved in this particular project because I love the park," Plunkett said. "And this fundraiser, although sure to be a great show, will more importantly provide funds to upgrade the Perry Monument area in preparation for the Perry 200 Commemoration, of which the concert is a part."
Dusckas elaborates: "All of the proceeds that we raise from the show – ticket sales, sponsorships – will be going towards the necessary renovations of the Perry Monument area. That includes building a whole new pavilion out there, more recyclable picnic tables, and the re-lighting of the light."
With literally millions of people visiting the park not only this summer but next, another of Erie's Brigadoon moments, the Perry 200 Commemoration, will intensify the focus on one of the park's best-known areas – the Perry Monument. "We felt it was important to have that area of the park looking as nice and shiny and as good as possible," McDermott said. "So this was the vehicle we chose to try to make that happen."
Enter the Perry 200 Commemoration – a celebration of Commodore Oliver Hazard Perry's contributions to Erie, and vice versa. Commodore Perry was the hero of the battle of Lake Erie during the War of 1812, and his fleet, including the Flagship Niagara, was built in Erie. It was a symbiosis, really, an enduring and mutually beneficial relationship between Perry and Erie wherein neither entity was truly better alone than in that relationship; Erie built the fleet that built the very future in which we now dwell. Likewise, a collaboration between the Perry 200 Commemoration Commission and the Presque Isle Partnership ensued.
"They [the Perry 200 Commemoration] thought it made a lot of sense, not just because we were attempting to make some upgrades to the Perry Monument area, but they felt that their involvement would send the message that this is one of the key kickoff events of a series that's going to last 13 or 14 more months," McDermott said. "So they were excited to be a part of this."
Dr. William P. Garvey, one of the co-chairs of the Perry 200 Commemoration, agreed. "It's a high-profile event that would help in raising funds for our plans for the renovations to the Perry Monument," he said. The Perry 200's contribution is restricted to the costs of relighting the Perry Monument, and, again, Plunkett's capable hands are at work. "He's looking into a really unique way of lighting the monument and using an eco-friendly way to do that," said McDermott.
"The Perry Monument is currently lit by lights at its base, but at one time was lit from within the urn that sits at its peak," said Plunkett. "We are currently investigating ways in which we can re-light the top of the monument so it is viewed as originally intended."
Citing recent advances in lighting technology that allow for surprisingly small amounts of power to be used in LED lighting, Plunkett hopes to find a way of keeping the relit Perry Monument completely off the grid. "In this case, using even a little bit of power from the grid is too much to us, so we are looking at opportunities to couple LED lighting technology with solar panels to power and keep the light lit long into the future. The use of LED technology in this case is not only nice from a power consumption perspective but it also offers the ability to change the color of the lighting remotely. So the park will be able to create many different effects at the monument all with one very efficient system."
Once the music ends, and Plunkett's Beach 11 Brigadoon returns from whence it came, like Burnham's "White City," the lasting legacy of relighting the Perry Monument will be not only a visible, permanent reminder of the hard work of the Presque Isle Partnership and the generous support of all their sponsors, but will also be a reminder of the day that Erie's rickety wooden boy was made real.
"I may be biased because I've put so much work into it, but I think I can speak for myself, Alexandra, and the board when I say that this is going to be one of the most exciting things to have happened in Erie in a very long time," said McDermott.
I had one last question for McDermott as I left his office: Will we see Brigadoon rise from the sands again next year?
"That's a question to be answered after June 23," he laughed.
As of press time, a few tickets for the Presque Isle Partnership's "Best Summer Night" were still available, although all ticket sales will cease on or before June 17; purchase them now at www.ErieEvents.com, or, enter for your chance to win some courtesy of the Perry 200 Commemoration, who will be giving away 12 pairs of free tickets. To enter, visit www.Facebook.com/perry200 before Wednesday, June 20 and "like" the page; the drawing for the free tickets will be held on that day. There will be no walk-up ticket sales on the day of the performance. For more information, visit www.DiscoverPi.com or www.Perry200.com .
Want to comment on this story? Click here.