Beyond the Surf: Time Distortion in the Sound Waves
Toby Keller deals with music's ability to control time.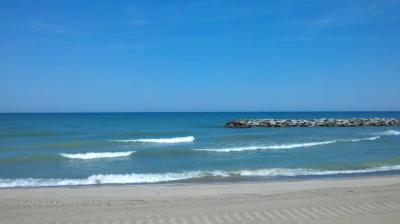 After high school one day, I drove to a gravel pit to meet my buddy Steve, a tall, dark-haired kid a year older than me. My car was parked, and I was listening to some music with my feet perched on the open driver's door when he pulled in. He circled around me, rolled down his window and said, "You want to go over to Fuzz's? We're having band practice."
"Yeah man, I'll follow you there."
Fuzz was a year younger than me, usually sporting blonde hair down to his shoulders, a black T-shirt generally featuring some band and jeans. He was a drummer at heart. When we got to his house, a nice, ranch-style place set off Route 62 near the four corners in Russell, he was busy in the basement making a set of drum sticks out of multiple sheets of paper and Scotch tape.
"I broke my last set of drum sticks last night, so I've been working on all sorts of things until I get up to Jamestown again," he said when I asked him where his real gear was. The afternoon light streamed into the windows near the ceiling on one wall, and it did its best to filter through the entire room, but large shadows lingered behind the furniture and practice set—a full set of drums, four amps for two guitars, and pedals on the floor with wires leading every which way.
I took my place on a couch on the wall farthest from the windows, facing the practice set. Steve sat down in a wicker chair and pulled out an electric guitar with a wood finish from a black case I hadn't seen. He began strumming, running through the strings and twisting the knobs at their ends. At the time, I had never picked a guitar up, never played an instrument other than my infamous, and short-lived time with the harmonica.
Fuzz finished taping the last stick and walked past me, to his drum set.
"These are going to work great," he said, holding them together with both hands only inches from his face, inspecting his work.
"I can't believe you man," Steve said, shaking his head before looking at me with a laugh.
"I wasn't not going to play the drums, man," Fuzz replied. "And I've definitely played with worse."
I didn't doubt that.
Fuzz sat down on a small stool behind his set and immediately started banging away at the various surfaces in front of him. He arms moved faster than I could see and the sound was overwhelming in the small basement space. With each clang of the cymbal my eyes closed involuntarily.
Then, as if he sensed the presence before it was there, Fuzz stopped playing.
"They break already?" I asked.
"No, I think I just heard my brother coming down from his room."
As if cued by the remark, the basement door opened and Nate, Fuzz's older brother and the missing guitarist to their band UTE, came down the stairs in sweatpants and an old black T-shirt, his brown hair tied in a ponytail.
"I thought I heard you on the stairs," Fuzz said.
"How," I asked, when all I could hear before came from the tightly rolled papers smacking his drum set.
"It threw me off for a second, I thought my drums sounded off before I realized it wasn't coming from me."
Nate, ignoring the conversation, had pulled out his own guitar and quickly ended all speculation on how his brother had heard him over the drums by turning his amp on and making his guitar scream.
"What do you want to play?" he asked.
"First, let's get the strobe going," Fuzz said. "That's the only way to do this."
He got up and walked to the wall, where a single strobe light was plugged into an outlet. He turned it on and pointed it into the middle of the four of us. They decided on a song of theirs, something they hadn't quite finished yet, and began playing. With the strobe light going, and heavy metal filling the sound waves, I sat and nodded along, watching the best I could at the broken fragments of light illuminating Steve's hands bending around strings and Fuzz's paper sticks flying into the air then crashing down again and again.
In some forgotten book I read awhile ago, there was a sentence that stuck with me, even when the author and title have slipped away: "There is nothing like heavy metal to clear the mind of anything resembling thought." And while I don't think that's true in all cases—it certainly rang true the first time I experienced UTE's band practice. For an hour or more, I was held at their mercy, I didn't look at the stairs and wonder who was up there; I didn't look out the window and think of the world spinning precious time away. I was lost in music.
Music has an uncanny ability to distort our perceptions. It is one of the best ways to distract yourself from anything like the traffic in front of you at a green light, and it can also be used to focus more intently like listening to classical music while studying. Often times, when I get lost in music, like the night I stayed up with the Ray until morning light, or at UTE's band practices which I kept going back to for years, time perception is controlled by the sounds I'm listening to. Hours seem like fractions of themselves in those instances.
However, it isn't always the case that music throws you into the future through distraction. When a song comes on that I really don't like—maybe any song on Star 104—my brain plays a terrible trick on me. From the first notes of the song, I am able to remember the rest of the song for how bad it is, and while I'm remembering how bad the song is, my brain is activating the areas connected with auditory perception. In other words, I listen to the song once from memory in a quick flash, and when I return from that thought, the song on the radio is still in the intro and it triggers the same effect over again. A Lady Gaga song could perceivably play for a million years.
But never in those million years would I give up the ability to listen to music. From listening to records with my dad, downloading rap albums my parents didn't want me to have, blasting heavy metal out of car speakers, to playing quiet notes by myself with the Ray, music has been a timeless blessing.