Bikers Welcome: Bike Erie and the National Bike Challenge
With summer officially upon us, plenty of time remains to help Bike Erie reach their 2015 National Bike Challenge goals.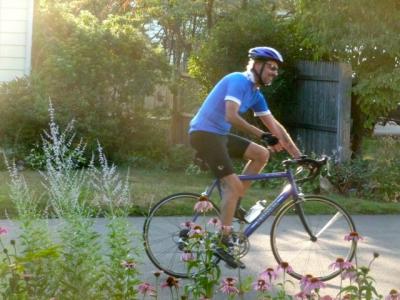 Kleenex. Kotex. Huggies. You might not think a corporation known for these items would spearhead a mission to get people riding their bicycles.
But in 2009, according to The National Bike Challenge website, "Kimberly-Clark Corporation created an internal bike challenge for its more than 50,000 employees." Two years later, the Challenge operated statewide in Wisconsin. Supported by the League of American Bicyclists and PeopleforBikes the Challenge expanded nationwide by 2012. Last year, the National Bike Challenge logged "more than 45,000 participants riding 23 million miles."
Now in its fourth year nationally, The National Bike Challenge "is a nationwide event uniting thousands of current bicyclists — and encouraging countless new riders. It is a free and easy way to challenge yourself, your colleagues and your community to ride more while competing on a local, state and national level. [The Challenge] aim[s] to unite 100,000 riders to pedal 35 million miles from May 1, 2015 until September 30, 2015." 
Locally, Bike Erie is encouraging individuals, workplaces, and organizations of all sorts to get involved in the Challenge. As they say on their website, "It's fun, it's free and, most importantly, the National Bike Challenge makes for a great turnkey health and wellness initiative for your entire organization. It's also a great way to build office camaraderie and culture through reaching a common goal, such as beating a rival business or branch and helping the Erie community trounce other communities!"
Participants are welcome to log miles after every single ride, whether for fitness, commuting, or the quintessential ramble around Presque Isle. Stationary bike miles don't count, but "Miles traveled on a pedal-assisted electric bicycle (devices that provide assistance only when the bicyclist is pedaling)" are eligible to be logged, according to National Bike Challenge FAQs.
When you sign up, the Challenge website also logs your calories burned, dollars saved, and pounds of CO2 saved, based on estimates of average auto emissions. And, it'll galvanize you to get your miles in, even when a beer and a lawn chair are calling you.   
So get your motor runnin' ... wait. No. Shut your motors down. Test your pedal power against 87 local riders and counting. Join up, start logging, and help Bike Erie reach their goal of 200 riders by September 30.