Bines versus Vines: A Night of Local Beer and Wine Pairings
Lavery Brewing Company squares off against 6 Mile Cellars over a four-course meal.
April 30, 2014 at 9:07 AM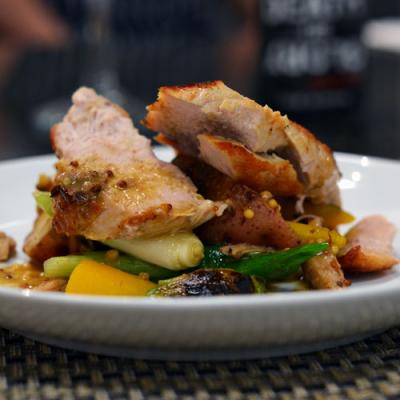 Beer versus wine – it sounds like the perfect title for a show on Food Network, but at the very least, it's a debate all of us diners and imbibers have had at least once or twice.
The ol' what pairs better with gazpacho drizzled with a jalapeño olive oil – a tangy saison or a tart Riesling? argument.
Or the ever-common which couples up nice and close to a pheasant breast perched atop braised pheasant legs with potatoes, carrots, and a wholegrain mustard – an oaky dry red wine or a bold, bitter IPA? quarrel.
Haven't tipsily fought the beer-versus-wine discussion that specifically? Come Monday, May 12 and Tuesday, May 13, you'll have exactly that opportunity with Erie's first-ever Bines versus Vines.
In one corner, the bines (named for the part of the plant on which hops grow) of Lavery Brewing company will square off against the vines (named for the part of the – well, you likely already knew that…) of 6 Mile Cellars in the other corner.
The proverbial ring? A four-course meal dreamt up by Joe Perino out of Frankie and May Fresh Grocer's kitchen.
The referees? All of those who choose to partake either night, as patrons will vote after each course to determine which paired better with Joe's creation: Beer or wine.
Which takes us to the practice arena a few Tuesdays back.
"Erie is perfect for this and should be open to it," says the chef who works at Colao's and teaches classes at Frankie and May, which happens to service as the evening's training facilities, as Lavery Pub Manager Patrick Miller and 6 Mile President Bart Towell test out some of their wares with Joe's creations – including that gazpacho and that pheasant – for the upcoming friendly match.
"This has been a project that's been floating around in my head for about a year and a half now," says Pat Miller, who tested out Lavery's award-winning Liopard Oir with the cold, tomato soup brightened with fresh basil. "We established a great relationship with 6 Mile Cellars when we opened the pub, and they have the same sort of ethos we do as a company."
"When Pat suggested the event, it felt like a fresh idea and a fun collaboration," adds Bart, who paired 6 Mile's crisp Winsome White. "When Frankie and May – along with a very talented local chef – came into the picture, I think we all saw something unique. This 'trial dinner' definitely confirmed our ideas."
"It seemed like a perfect fit for us to work together with another great small local business [Frankie and May Fresh Grocer], have some fun with a little friendly competition, and help out a great and worthy local charity – the Erie Crime Victims Center. The whole idea behind the event is: Eat Local, Drink Local, Help Local," Pat says.
But soup and pheasant and Riesling and Farmhouse Ale only account for half of the night. If the bout begins with a light soup in round one, round two throws off the gloves with a chopped salad featuring blanched radishes, roasted fennel, arugula, bacon, smoked moody blue cheese, and hazelnuts – which just so happen to be roasted in the fat of the bacon along with some brown sugar – topped with a smooth honey-lemon vinaigrette.
For that, Bart paired 6 Mile's Derby Red, the sweetest wine of the night, which was sugary and fragrant without being too overwhelming. Pat trotted out Lavery's Death or Glory in keeping with his saison run, but being a black saison, the Clash-inspired beer offered a roasted bitterness of chocolate and coffee.
The main event? That was the pheasant – an I'm-gonna-use-every-part-of-this-bird-in-this-dish-because-I-don't-waste-food-type of plate. And as it was the heaviest part of the night, the heaviest drinks squared off – a full-bodied red and a nearly-off-the-BTU-charts IPA.
In the fourth and final round, Joe served up Barland pears braised whole then seared in butter and topped with mascarpone cheese and homemade granola. Not decadent enough, you say? They're also topped with an ice-wine drizzle.
Pat went dark and heavy with Lavery's Ulster Breakfast Stout with a dark coffee aroma and rich mouthfeel, while Bart decided on going lighter with 6 Mile's Vignoles that gave a honey taste on the front end and citrus notes on the back.
"It's exciting to pair different beers with different dishes and see how similarities can magnify flavors already present in both or play with contrast in flavors to bring out more subtle tasting notes," Pat says. "Every pairing is different and chosen to elevate the tasting experience, of both the beer and food, as a whole. Pairings are especially fun because you can get a sort of synergistic effect where you can make 1+1=3."
And like beer, wine fits that non-linear mathematical equation quite nicely.
"Wines each have their own unique flavors that can range from floral and citrus to warm cocoa and spice," Bart adds. "With the dishes we try to match the flavors as well as balance the acids in each.  It's art blended with a bit of food science as well."
Beer, wine, food, art, science, math – no matter how you count it – all add up to a lively, friendly fight and diners and imbibers' night not to be missed.
May the best libation win.
Bines versus Vines will be held both nights at 6 p.m. at Lavery Brewing Company, located at 128 W. 12th St. A very limited amount of tickets for the evenings are for sale at Lavery's, 6 Mile Cellars, and Frankie and May and are $75 a piece or $140 per couple. For more bine-based information, visit: LaveryBrewing.com or call 454.0405; for more vine-based information, visit 6MileCellars.com or call 580.8375.
The Reader Eater can be contacted at ReaderEater@eriereader.com.