Bird's-eye View
1201's dream kitchen looks out over a vineyard landscape.
August 3, 2016 at 2:45 PM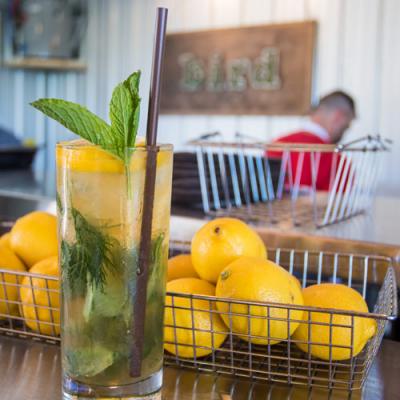 If you guessed the new patio pavilion at Five & 20 Spirits and Brewing in Westfield, New York is home to a farm-fresh eatery, judging from Bird's country-style chicken logo, you'd be half right. The smoked chicken thighs with paprika rub and cilantro-orange slaw, among the entries on this week's menu, will point your taste buds in that direction.
But Bird is no paltry poultry restaurant – it's an inventive small-plate café and cocktail bar named after Charlie Parker, the saxophonist who introduced bebop to jazz in the 1940s. Parker flew through songs with his innovative riffs and advanced harmonies, earning his nickname, Yardbird, or Bird.
"At Bird, we aim to create something that seems effortless and simple, but behind the scenes takes a lot of technique and knowledge about the food and how to balance it properly," says Bird's co-owner Dan Kern, executive chef/owner of 1201 Kitchen in downtown Erie. Kern, his partner JB Innes, and chef Mike Karle, opened Bird in partnership with the Mazza family's winery, brewery, and distillery on July 4.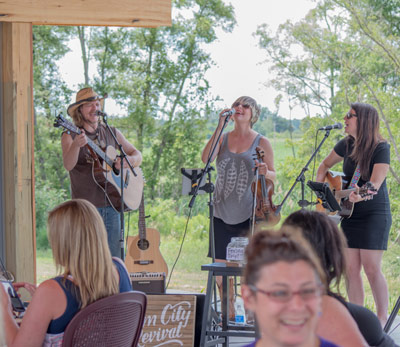 On the recommendation of our 11-year-old vegetarian granddaughter, Lily Kate, who raved about the guacamole with fresh lime and tortilla chips, my husband Rich Gensheimer and I sped east along Route 20 one Sunday to give it a try.
We made our way through Five & 20's busy tasting room and stepped outside to what can only be described as an informal gathering of family and friends. Everyone was engaged in conversation and enjoying good food, drink, and, as luck would have it, rootsy Americana music from Gem City Revival. While the fiddler fiddled, children swirled hula hoops and young adults tossed cornhole bags on the lawn.
The entire Mazza family was there that breezy afternoon (with the exception of Bob who was serving Mazza wines at the Pittsburgh Vintage Grand Prix in Schenley Park), going from table to table to make everyone feel welcome. For that matter, so was Kern, who left his post in the open-air kitchen to deliver artfully arranged appetizers and to chat with guests, including his wife, Chrissy Kern, and her friend Mel Mazza, wife of Mario Mazza, general manager and enologist at Mazza Wines.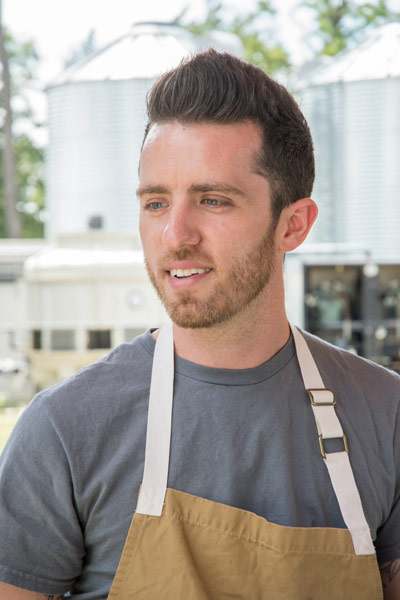 We spotted our friends Anna and Hugh McCartney sipping Mazza's Bare Bones White and pulled up two chairs and two glasses. Soon we were sharing a platter of creamy burrata cheese sprinkled with sesame seeds, house-made hummus, marinated cucumber, salmon, mint pesto, and chunks of warm bread; followed by fatoush salad and pickled cucumbers with summer herbs, crispy shallot, and scallion.
Kern credits Karle for developing and preparing the rustic, ever-changing menu, which incorporates fresh, seasonal ingredients from local farmers, foragers, and fisherman.
Karle is well-schooled (Le Cordon Bleu in Chicago) and well-traveled (sous chef at 1201 Kitchen and later the posh Westmoor Club in Nantucket), but has deep roots in Erie. He is the son of Tommy Karle and grandson of Tom Karle, who together ran Erie's Karle & Son Clothiers, known for their attention to detail and customer service.
Given 1201 Kitchen's flair for specialty cocktails, Kern and Karle couldn't wait to dive into Five & 20's ready supply of small-batch bourbons and whiskeys, made from grain grown on the property or on nearby farms, for their new venture at Bird.
Given 1201 Kitchen's flair for specialty cocktails, Kern and Karle couldn't wait to dive into Five & 20's ready supply of small-batch bourbons and whiskeys, made from grain grown on the property or on nearby farms, for their new venture at Bird.
The Farm Lynchburg Lemonade, made from freshly squeezed lemon, mint, basil, dill, and Five & 20 bourbon, was so refreshing, I was tempted to order another, but I know my limits and didn't. Rich picked the Kentucky Devil, most likely because of its bad-boy name and not for the watermelon, which he typically doesn't care for. Lemon and adobo added a bit of kick to his pink drink, also made with Five & 20 bourbon. Like the appetizer and small-plate menu, the cocktail menu will change every two weeks. The idea is to come back to the three-season pavilion again and again to try something new. It will be fun to sit around the firepits this fall.
The chefs were clearly enjoying the day as much as we were.
"It is, to put it lightly," Kern says, "a dream kitchen for anyone to be able to look out over the most beautiful landscape, dotted with smiling faces of the people you're cooking for."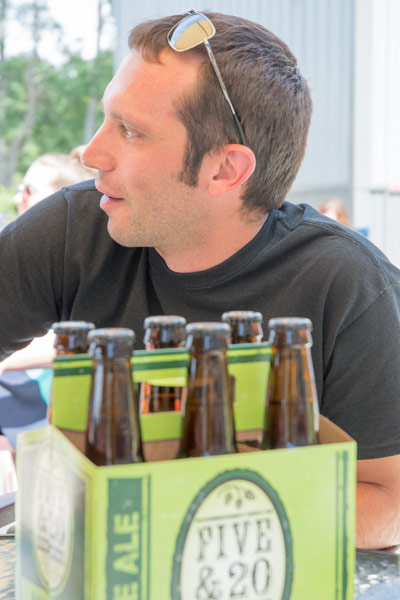 When Mario Mazza joined our table, the conversation turned to sustainable business practices, which was of interest to all of us, but especially to Anna McCartney, who is a water quality expert and communications and education specialist for the Pennsylvania Sea Grant program. Five & 20's grain-to-glass distillery and brewery, the first of its kind in the region, was all about sustainability from the get-go, but what to do with the spent grain after beer making and distilling?
Enter the Mazzas' joint venture with TimberFish, which will not only reduce the cost of hauling it away but will sustainably generate a food chain that produces contaminant-free, high-quality fish, clean water, and high-energy biofuel on site.
The Mazzas broke ground June 1 on the TimberFish demonstration project. TimberFish technology, the result of 40 years of research and development, is a transformational biotechnology that uses highly diversified populations of microbes and invertebrates. The populations are controlled and managed in constructed ecosystems that capture and concentrate nutrients while degrading organic materials.
Once it's fully up and running, "Our system can produce about 20,000-30,000 pounds of fish per year, starting with salmon, trout, and high-end fish like arctic char," says Mazza. "The goal is to develop the technology and then use this as a pilot and training facility for a plant that would produce 2, 3, 4 million pounds per year."
It should come as no surprise that the 36-year-old Mazza is thinking big and has grown the family operation nearly four times since he returned to the region in 2005 from Adelaide, Australia, where he studied winemaking. For as long as I've known the Mazzas – going on 40 years now – they have added value to every venture they've embarked upon.
From their leadership in fighting for the Limited Winery Act and establishing Mazza Winery in 1972; to rescuing the historic South Shore Inn, uncovering and restoring its Civil War-era stone wine cavern and transforming the 1865 structure into the thriving South Shore Wine Company; to building their first distilling operation near Chautauqua Institution, where they began producing liqueurs and spirits for companies like Bittermens along with their own; to the present facility in Westfield, which has already expanded multiple times with new warehouses, this patio and pavilion, and now TimberFish; this ambitious, hard-working family keeps pushing the limits.
Heady stuff, and all good.
Some day we will come back and drink a Rye Pale Ale knowing the rye grain was grown on this 80-acre farm, the spent grain was recycled here and fed to the trout that was smoked and served on a small plate at Bird. It doesn't get more "sustainable loop" than that.
For the moment, we were content to tip our faces to the sun, sip our delicious cocktails, and listen to Gem City's Abby Badach, Angela Philips, and Pat Doyle rock a Paul McCartney tune. "Blackbird singing in the dead of night, take these broken wings and learn to fly. All your life you were only waiting for this moment to arise. Blackbird fly …"
Bird is open Wednesday – Sunday, 11 a.m. to close (Call ahead; days and hours differ from Five & 20 hours and are subject to change) // Five & 20 Spirits and Brewing // 8398 West Main Road, Route 20, Westfield, NY // 793.9463 // @birdat520
Lisa Gensheimer is a documentary producer and writer. She can be reached at lisa@onmainstreet.com.