Bobcat Goldthwait Thanks Robin Williams at Sundance for Call Me Lucky
Bobcat Goldthwait's new documentary Call Me Lucky premiered at Sundance and the director gave his a heartfelt shoutout to his fallen friend.
February 1, 2015 at 2:15 PM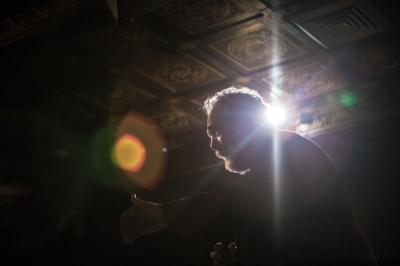 About a year ago, I had a chance to talk with comedian, director, and all-around cool guy Bobcat Goldthwait when he came to Erie for run of stand-up sets at Jr's Last Laugh last February, an interview in which we discussed the auteur's diverse career, the importance of doing what makes you happy, and his film Willow Creek, the second-highest-rated horror flick in 2014 according to Rotten Tomatoes.
In the interview, Goldthwait mentioned that he was going to start working on a documentary on a friend of his. That project would turn out to be Call Me Lucky, a film that covers the story of Barry Crimmins, a fiery political satirist who was raped in his childhood and has gone on to help other adult survivors of molestation. What I wasn't aware of at the time was that Goldthwait's good friend Robin Williams, who committed suicide last August, had provided the first round of funding for the documentary right around the time Goldthwait was in Erie. Call Me Lucky premiered at the 2015 Sundance Film Festival and Indiewire's Eric Kohn reports that Goldthwait had many kind words for Williams, who helped make the film a reality.
"I'm emotional," he said. "You know, Robin Williams was my best friend and this is the exact same theater where I showed him 'World's Greatest Dad' for the first time. The reason I'm bringing that up is that Robin's a big part of why we're here today."
Goldthwait said that he had initially wanted to tell Crimmins' story as a narrative feature, but Williams felt otherwise. "Robin was familiar with our friendship and he knew Barry's story," Goldthwait said. "He suggested I make it as a documentary. In fact, he gave me the initial money that started this movie in February."
As he began to tear up, Goldthwait added, "It means a lot to me that you like it. It means more that Barry likes it. But I just did hope I did well by my friend. So thank you."
It's a touching tribute from a guy who was really close to Williams. Even from our 30-minute conversation, I could tell how close the two of them were, so here's hoping the best of luck to Goldthwait. For more on Call Me Lucky, check out a short Meet The Artist video from Sundance below.