Bomb Trains: Pipelines on Wheels
Derailments, spills, and explosions beg the question: Are safety measures enough? 
March 16, 2016 at 3:00 PM
Nick Mobilia is spraying peaches when out of nowhere come two military helicopters heading straight toward him, buzzing low over the railroad tracks that slice through his 250-acre fruit farm in North East.
Armed men in uniform lean out as the train rushes past orchards and vineyards and quickly disappears from view. He suspects they're escorting some kind of sensitive cargo, like nuclear material or secret weapons.
"You don't want to know what's in those trains!" says Mobilia.
He was only half kidding.
Like many businesses in Erie County, Mobilia's Arrowhead Wine Cellars and Farm Market are only a stone's throw from the CSX and Norfolk Southern lines that transport volatile crude oil to East Coast refineries. A neighboring manufacturer, Cost Effective Coatings, is even closer, about 20 feet from the tracks.
The shipment of crude by rail has spiked 5,000 percent since 2008 when oil companies stepped up their fracking in North Dakota's Bakken oil fields. Almost 75 percent goes by rail, according to the Energy Information Administration, because East Coast refineries lack pipelines to transport crude.
As many as 35 crude oil trains snaked through Erie County each week when oil production was at its peak last May, each 100-car unit train (a train carrying a single commodity to one destination) loaded with as much as 3 million gallons of combustible fuel. The pace has slowed for the moment as plunging oil prices put the brakes on production and sidelined thousands of railroad tank cars. Some oil companies have gone bankrupt.
No one knows what the topsy turvy market will bring in 2016, but the U.S. Geological Survey estimates the Bakken region contains 7.4 billion barrels of undiscovered, "technically recoverable oil," and that only represents a fraction of the possible 900 billion barrels that could come out of the ground with enhanced technology already in development. Clearly, oil trains are here to stay if the industry has anything to say about it and Americans continue to rely on fossil fuel.
Local and state officials, including Erie County's emergency management director, say the rapid growth in crude oil train traffic is a recipe for disaster. Aging infrastructure, outdated DOT-111 tank cars that were not designed to carry crude, and the volatile gases released from crude oil are sparking concerns about federal safety standards, inspections, and what communities like Erie can do to minimize the risk.
Every day the long chains of black tank cars slip into Pennsylvania at East Springfield, hugging close to Lake Erie before rumbling past farms, schools, and suburban neighborhoods. They continue under highways and over bridges into the densely populated city of Erie, before moving through Harborcreek and North East and on into New York state toward Buffalo.
Mobilia says he's not too worried about a derailment or spill. He says cargo trains carrying hazardous materials such as chlorine, hydrochloric acid, and ethanol have been rolling through Erie County for years, with no major incidents to speak of. The Association of American Railroads claims 99 percent of hazardous material shipments reach their destinations safely.
Low probability, high impact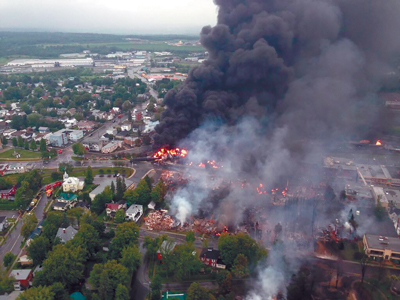 That's what the people of Lac-Mégantic, Quebec, thought before July 6, 2013, when an unattended freight train carrying 74 tankers of American Bakken crude ran off the rails and exploded, obliterating half of its downtown. Forty-seven people died and scores more were badly burned and injured. The bill for damages and loss of life in the half-mile blast zone is $430 million and climbing, and that doesn't include the long-term effects on air, land, and water. Last month Canadian scientists reported an unprecedented spike in fish deformities, which they attributed to the spill of 26,000 gallons of crude oil into the Chaudiere River. Of 900 fish collected, 47 percent had lesions and infections.
Lac-Mégantic is the poster child for crude oil train disasters, but it's not alone. Since Lac-Mégantic, more than two dozen accidents and hundreds of so-called minor incidents involving crude oil occurred in the United States, according to the Federal Railroad Administration (FRA), which is responsible for oversight.
Among them are disasters in Casselton, North Dakota, Lynchburg, Virginia, Vandergrift, Pennsylvania, Pickens County, Alabama, Alma, Wisconsin, Galena, Illinois, and Mount Carbon, West Virginia. A single weekend last November saw two back-to-back derailments in Wisconsin.
Most incidents fly under the radar, but the fiery crash in Mount Carbon made national news when a CSX train hauling nearly 3 million gallons of Bakken crude derailed during a snowstorm on Feb. 16, 2015. Twenty-seven of the train's 100 cars left the tracks, spilling oil that burned for days. The accident forced the evacuation of more than 1,000 people and shut down two water treatment plants. The governor of West Virginia declared a state of emergency after oil contaminated the Kanawha River, which supplies drinking water to several downstream counties.
After its investigation, the FRA said the Mount Carbon derailment could have been prevented. A broken rail was missed by CSX, and its contractor, Sperry Rail Services, on two separate inspections in the months leading up to the accident.
CSX spokesman Rob Doolittle says that even before the investigation was complete CSX began working in collaboration with the FRA to develop additional inspection processes that will enable the company and its contractors to quickly and accurately identify rail flaws. CSX is also working to mitigate the environmental damage.
It comes as no surprise that 2015 was the costliest year on record year for crude oil train disasters – it was also the busiest year for rail shipments from the Bakken oil region, according to the U.S. Energy Information Administration, though volume began to decline in November and December.
New rules
The surge in accidents was a wakeup call.
The U.S. Department of Transportation (DOT), by emergency order, required railroads to notify state emergency response agencies of any large movement of Bakken crude through counties in their states.
The DOT announced new rules for phasing out older DOT-111 tank cars, implementing stronger tank car standards, and upgrading braking systems.
The new cars will have a thicker shell and upgrades to prevent leaks and fires in the event of a derailment. Oil producers and rail-car leasing companies will have five years to replace the crude oil tank cars, and ethanol cars must be scrapped or retrofitted by 2023, a timeline criticized by legislators in high-traffic states, including U.S. Sen. Robert Casey. Casey is pushing legislation that requires a phase-out of  DOT-111 cars by 2017.
Casey co-sponsored the Hazardous Materials Rail Transportation Safety Improvement Act. The Act would establish a fee on DOT-111 tank cars used to transport crude oil, ethanol, or other flammable liquids and would use the funds raised from the fees to reduce risks to communities by training first responders, hiring more state railroad inspectors, and relocating tracks that carry large volumes of flammable liquids and gases.
At the top of the National Transportation Safety Board's "Most Wanted" list is nationwide installation of Positive Train Control (PTC), designed to prevent train collisions and derailments by automatically slowing locomotives traveling at excessive speeds. Congress first ordered the rail industry to implement PTC in 2008. The system was to be fully operational by Dec. 31, 2015, but rail operators fell short despite having so far invested $6 billion in the technology. Only 14 percent of the more than 60,000 mandated miles were enabled with PTC by the end of last year, according to the Association of American Railroads. Last fall, the railroads threatened to shut down service over the deadline, so Congress extended it to 2018. But Ron Nixon of the New York Times reported that "… tucked into a 1,000-page transportation law signed Dec. 4 is new language that could effectively extend the deadline until 2020." CSX and Norfolk Southern say they won't have the system ready until 2020.
Casey is not happy with the delays. "I believe that it is essential that railroads do all they can to implement PTC technology. This life-saving technology could have prevented countless fatal accidents, including the Amtrak derailment that killed eight passengers near Philadelphia last May," Casey told the Erie Reader through his press secretary, Jacklin Rhoads.
"I understand the concerns about cost, interoperability, and technical difficulties that come with installation, which is why I have consistently supported funding Amtrak and critical safety measures, like PTC, through the appropriations process. Every railroad, carrier, and passenger rail should continue to make a good faith effort to meet the PTC mandate by the end of 2018," Casey said.
Gov. Tom Wolf met several times with railroad officials to discuss safety measures, including reducing speeds in urban areas. "Pennsylvania sees some of the largest volume of Bakken crude oil transportation by rail in the United States and the potential for disaster is too great to ignore," says Jeff Sheridan, the governor's press secretary.
At the governor's request during his first full week in office, the Pennsylvania Emergency Management Agency (PEMA) brought the governor, his cabinet, and senior staff together for a tabletop emergency preparedness exercise that simulated an oil train derailment in Harrisburg.
Wolf hired Dr. Allan Zarembski, a train safety expert, to focus on ways to reduce risk and increase safety.
Zarembeski's report, Assessment of Crude by Rail Safety Issues in Commonwealth of Pennsylvania, released last August, includes 27 recommendations. The measures, addressed to the Commonwealth and the railroads, are designed to prevent derailments, improve the resilience of tank cars in the event of a derailment, and help state and local emergency responders deal with a catastrophic event.
One of the recommendations called upon railroads to voluntarily reduce oil-train speed limits to 35 mph in cities with populations of 100,000 or more. Neither CSX nor Norfolk Southern has adopted the voluntary speed reduction, though Burlington Northern Santa Fe agreed to do it. "The governor will continue to push for this, as it has little impact on their operational ability, but a significant impact on reducing the risk of an incident. Without federal regulation, however, there is nothing compelling either company to adopt a speed reduction," Sheridan says.
Inspections and enforcement
In a scathing audit report released Feb. 26, the U.S. DOT's Inspector General faulted the FRA for failing to provide the comprehensive risk assessment and oversight necessary to protect communities from serious accidents involving hazardous materials, including crude oil. The government watchdog stated that FRA inspectors are failing to refer serious safety violations for criminal actions and are going light on fines.
The FRA has exclusive responsibility for regulation and enforcement of federal standards, so states have little authority over safety – including on the 700 miles of track that carry crude oil in Pennsylvania.
The Pennsylvania Public Utility Commission (PUC) inspects the tracks and reports violations to the FRA when they discover them. The PUC has seven full-time inspectors in its rail division and is working to fill another vacancy, according to PUC press secretary Nills Hagen-Frederiksen. Two more inspectors are included in the PUC's budget proposal for next year. The railroads have their own inspectors.
Recognizing the need for more safety resources, the FRA included in its 2017 budget a request for more rail bridge program staff and a national bridge inventory.
In January the PUC, in conjunction with Norfolk Southern and the FRA, conducted a targeted inspection on a crude oil route between Harrisburg to Hagerstown, Maryland. Wolf's spokesman said one defect was found and targeted for repair.
Neither the FRA nor PUC would permit one of their inspectors to be interviewed for this story, nor would CSX, when asked. "As a general matter of policy we don't set our inspectors up with interviews," said Hagen-Frederiksen. "We prefer that they spend their time actually doing the inspections."
CSX's Rob Doolittle instead told the Erie Reader that routes traveled by crude oil trains are visually inspected at least three times per week; the steel rails are subject to internal inspections using sophisticated ultrasound technology on a cycle ranging from three to 12 times annually, depending on the volume of freight that uses them; and the tracks are inspected regularly by a geometry car which measures the track structure for compliance with design standards. "This regimen helps ensure that CSX's infrastructure is safe and suitable for the freight consigned to us for transport," says Doolittle.
Trainspotters
With the decline in oil production, the daily average number of crude oil trains on the CSX network has been reduced to one to two per day, says Doolittle. CSX declined to share with the Erie Reader the precise routing and frequency of their crude oil trains in Erie County, saying that doing so would pose a risk to national security. Yet the long caravans of black, torpedo-like oil cars can be easily observed by the general public and counted by amateur trainspotters.
A group of western New Yorkers recently took it upon themselves to count crude oil trains coming through Hamburg, New York, over a 24-hour period. The group, organized by Dr. Charles Bowman, chair of the Environmental Justice Task Force for the Western New York Peace Center, saw four crude oil trains, among them two long, high-volume unit trains, one carrying 124 cars, within half an hour of each other. The same trains had already passed through Erie County.
Are we ready for worst-case scenario?
"Are we prepared?" repeats Erie County Emergency Management Director Dale Robinson. "I'll tell you right now there isn't a community out there that's prepared to have a train explosion in the middle of their downtown."
"Are we prepared?" repeats Erie County Emergency Management Director Dale Robinson. "I'll tell you right now there isn't a community out there that's prepared to have a train explosion in the middle of their downtown. Once it happens, it happens. You're not going to stop it, unless you take mitigation steps like, hey, let's build a pipeline instead of shipping this stuff through and around a quarter of the world's fresh drinking water supply. I'm in the business of managing risk. Putting this stuff in a virtual pipeline that moves is not a good way to manage risk."
Robinson says the biggest danger is the explosive mixture of oil and gases inside the rail cars. "You get a lot of pentanes, methanes, and butanes that come off this oil; that's what's causing these things to explode when you have a train derailment. I can only imagine one of these trains going through downtown Erie at noon on a Tuesday. You know you're going to have a death toll, regardless of any amount of emergency planning and preparedness."
If anything good has come from the attention on crude oil train derailments, it's the increased focus on emergency response. In addition to the county's all-hazards Emergency Operations Plan, the county is working on a Crude Oil Unit Train plan that will enable the county and all its municipalities to effectively respond to a crude oil train incident.
Robinson and his team of countywide emergency management coordinators have attended crude-by-rail training conducted by PEMA, and participate in training offered by the railroads. One HazMat team member went to a three-day crude-by-rail training in Pueblo, Colorado, and another staff member attended a five-day session in Atlanta, both sponsored by CSX.
Still, Robinson says, you can't plan trail derailments out of existence. They've become what some call "acceptable loss."
"We're letting private industry and politicians who support them say, hey, yeah, we understand the risks, but because of profits and politics, we're going to throw that risk aside," Robinson rants. "And that's the criminal part of this whole thing that nobody wants to talk about."
Poor and people of color at greater risk
A 2015 PennEnvironment report, Danger around the Bend: The Threat of Oil Trains in Pennsylvania, used GIS data and statewide rail routes to confirm 3.9 million Pennsylvanians live within a potential one-mile evacuation zone. The City of Erie has more than 51,058 people living in the danger zone, making us the fifth largest Pennsylvania city in terms of population at risk.
The burden of risk for crude oil trains falls disproportionately on a community's most vulnerable citizens, according to a study by PennEnvironment Research and Policy Center, ForestEthics, and ACTION United released in February.
The report, Environmental Justice and Oil Trains in Pennsylvania, found that people of color and low-income were more likely to live along the rail routes compared with white and higher-income communities.
Zoe Cina-Sklar, who led the study for PennEnvironment, maintains that oil trains will never be safe, and that as a nation we need to transition away from using oil trains, and for that matter, dirty energy, altogether. But until then, she says, it's crucial that emergency management personnel reach out to the people who are most at risk.
"People in these neighborhoods deserve to understand the risk that oil trains pose to their health and safety," says Cina-Sklar.
"You look at this issue, and you look at the water crisis in Flint, Michigan, and it's the same story. It's the story of people of color bearing the brunt of the cost of environmental degradation in so many different ways."
More oil trains on the horizon?
The budget deal passed by Congress and signed by President Obama in December lifted the 40-year ban on oil exports, opening new markets for oil producers. The market may be saturated for now, and it might take a few years before the impact of lifting the ban is felt, but once prices rise and the market starts to tighten again, U.S. producers will be free to move large volumes out of the United States, Tyson Slocum, energy director at the Washington-based consumer advocacy group, Public Citizen, told CNBC news.
This doesn't sit well with Sam Miller, a retired engineer and Erie activist who participated in a national protest marking the two-year anniversary of the Lac-Mégantic disaster last summer. He thinks efforts should be focused on keeping the oil in the ground.
"Of course the immediate concern with these crude oil trains is for safety in residential areas," says Miller. "But the long-term risks of climate change by continuing the use of fossil fuels is the real problem. We need to invest now in existing clean energy sources for electricity and transportation, so that our children will have a healthy, sustainable future."
Lisa Gensheimer is a documentary producer and writer who lives in North East. She can be reached at lisa@onmainstreet.com