Booking an Erie County Library Tour
A local trail penned for wanderlust readers
October 9, 2019 at 10:30 AM
In our own backyard, we have tours and trails for those who relish local wine, craft beers, Erie foods, haunted spaces, and historical places.
It would be cool if someone followed in the footsteps of Maitham Basha-Agha, a former refugee from Iraq who organized tours of new-American food businesses this summer (before he moved away), and it might be sweet if some shops from Erie were added to VisitPa's "Pursue Your Scoops Ice Cream Trail," which just wrapped up its second season.
But I have a modest proposal for a new tour you can do on your own, with or without an entry ticket — i.e., a library card.
Maybe it sounds like a tour for word nerds, but bear with me, because I've also discovered that libraries and libations can go together.
I hatched the idea for a local library trail after spotting the September banner on the Erie County Library's homepage, erielibrary.org, inviting patrons to visit the library's six locations: Blasco, which is the main library downtown; the Iroquois Avenue, Millcreek Mall, Edinboro, and Lincoln Community Center branches; and the Bookmobile.
When I research freelance stories, I often use the Heritage Room at Blasco Library, but I didn't know about the delightful offerings and unique atmospheres of the county's four branches until I became a per-diem library clerk earlier this year.
Thanks to my part-time job, I've also come to learn about the extensive resources of Erie's six independent libraries: Rice Avenue Community Public Library, in Girard; Albion Area Library; Waterford Public Library; Union City Public Library; Corry Public Library; and McCord Memorial Library in North East.
I wanted to tout local libraries for several reasons.
First, I'm impressed by the breadth and depth of what Erie people read. Patrons keep up with The New York Times Best Seller List and they track favorite authors anticipating their new releases. They read classic literature and tomes on arcane topics. They like romances and westerns, biographies, and graphic novels.
They borrow audiobooks, music CDs, TV and film DVDs, jigsaw puzzles, they utilize Wi-Fi hotspots, museum passes — and even fishing gear. They stock up on light reads for vacation and devour books on current events and historic eras.
They participate in a host of activities at the library, for young and old alike. They access the aforementioned free Wi-Fi and computers for many reasons — to print out their car registration and insurance forms, to log their hours as home health aides, and to apply for government programs such as Social Security and heating assistance, according to Susan Osborn, director of the Waterford Public Library.
"A gentleman wanted to apply for a job but he didn't know how to use the computer. We walked him through it and he got the job," said Osborn, who has helped her library evolve into a business center with the help of generous locals such as Peggy and Duane Lehr, who donate baskets of goodies for monthly raffles.
Osborn also points out that the library's fax machine is the only public one in town.
Erie will get to show off our commitment to libraries, literacy, and community engagement when the Pennsylvania Library Association holds its annual conference and expo at the Bayfront Convention Center Oct. 13-16. This is the first time in 30 years that the conference will be in Erie. With the theme "Shine On," it's a great opportunity to show off Erie in its finest fall glory.
"There's local pride in that we have a lot of Erie librarians who will be presenting," said Sheryl Thomas, assistant Erie County Library director.
We can also celebrate the news that a long-lost statue of Minerva, the Roman goddess of wisdom, has been returned to the library after a mysterious 77-year absence. It's on display in the case outside Blasco's Heritage Room.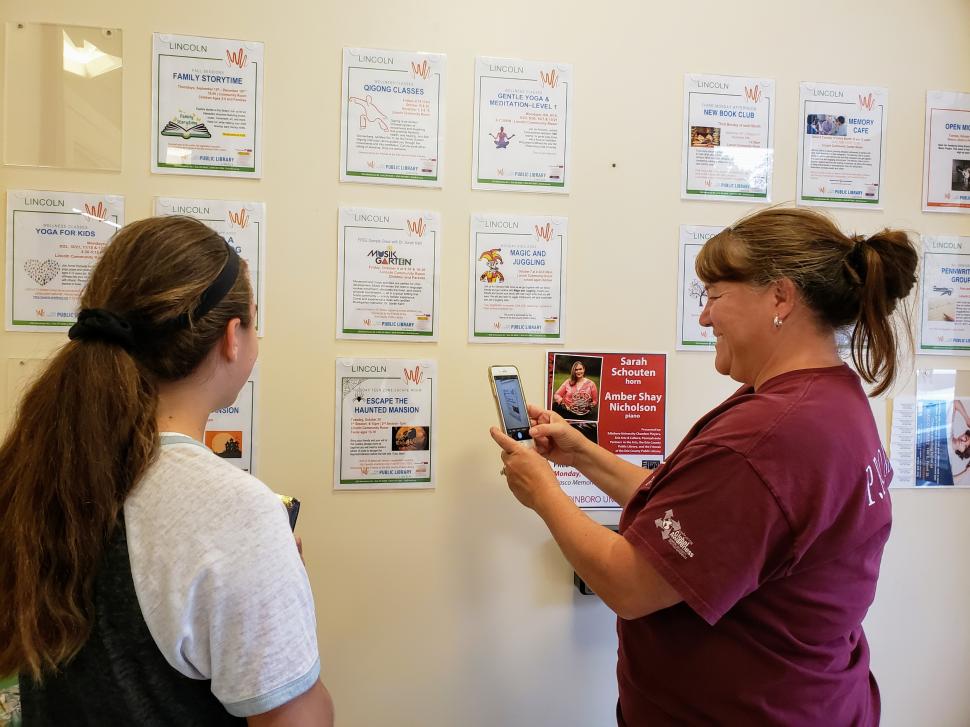 Liz Allen
And if you are a leaf peeper as well as a bookworm, you'll love a leisurely drive to the local branches and the independents, but don't do it all in one day. You can divide your tour into different legs. There's west county, with Lincoln Community Center, Rice Avenue, and Albion. Then there's south county, with the Millcreek Mall and Edinboro; southeast county, with Waterford, Union City, and Corry; and the east county, with Iroquois and McCord.
You can try it alone but it's more fun with a friend or two in tow to suggest spontaneous stops — at a farm stand, pumpkin patch, mom-and-pop business, museum, or natural wonder.
During lunch breaks at work, I've driven from Lincoln Center, which reminds me of a New England cottage with its blue-green shake shingles, down to Manchester Beach to watch Lake Erie crash onto the shore.
On my solo tour, I wish I had popped into the quaint Kennedy Hardware in Cranesville. I also spied a sign advertising the Cranesville Fire Department's wing fundraiser, held on the first and third Fridays of the month. A new flavor, citrus chipotle, will be featured Oct. 18.
At the town square in Waterford, an Amish man who had tethered his horse to a tree was selling cider. On North Center Street in Corry, I spotted a pocket park with an inviting bench.
Several independent libraries feature homemade quilts, on permanent display or up for sale to raise money. The Loose Threads Quilters in Albion have donated a piece called "Weave it Be," to be raffled off Dec. 19. McCord's children's room has a patchwork quilt sewn in 2006 by the Girl Scouts. Library staffer Autymn Maas pointed out that her sister Summer's photo is on the quilt. Yes, she said with a laugh, the sisters were named after the seasons but only Autymn's name has an unusual spelling.
Whether the buildings are old or new, libraries are designed with children in mind. Union City has a cool castle room for kids, and many of the libraries have colorful murals by local artists. The Millcreek branch library is in a modern plaza but children love to gaze at the fish tank, whose inhabitants include Jerome, a catfish who has been in the aquarium since 1974. "I enjoy reading historical fiction and travel books," a sign about Jerome jokes.
At least three local libraries are geared toward train buffs.
The Union City library has an extensive collection of train books, donated by former resident Dave Spencer, an engineer on the Chicago and South Bend electric line.
The Iroquois library is designed in the style of a train station, with an arts-and-crafts interior and an exterior clock tower, in tribute to the GE locomotive workers in Lawrence Park.
The Albion library is in the former rest quarters for the Bessemer and Lake Erie Railroad Company, whose house rules — still posted — prohibit vulgar language, playing cards, and games of chance.
But if you like taking chances to support a good cause, buy a ticket for the raffle baskets used as fundraisers. Some libraries feature basket raffles every month. Rice Avenue does big raffles twice a year; right now, 53 enticing baskets are on display, to be raffled off later this month.
At each library, I met friendly, knowledgeable librarians and staffers who are more than willing to talk about the unique features of their respective libraries. Some always knew they wanted to become librarians. Others reinvented themselves to become the town librarian and the keeper of local lore.
Blane Dessy, executive director of the Erie County Library, patronized one of the Carnegie libraries, in Pittsburgh's Oakland neighborhood, when he was a kid. "There was this complete freedom to wander this space," he recalled. "I could read history one day or sports the next or something about sociology the next day. It was the most liberating place to learn," he said.
"You could travel anywhere through books, to ancient places or to space," said Sheryl Thomas, assistant library director for Erie County. Her parents home-schooled her in Anaheim, Calif., where the local library served as her school library. She started volunteering there at age nine, shelving books. The librarians were always helpful, so she decided that's what she wanted to be, rather than pursuing her earlier ambition to be a dentist.
During middle school in Franklin, Marcia Wilkins, district consultant for the Erie County Library, also volunteered at the library, as a story-time assistant. "They needed an extra person to walk around with the scissors and the glue," she joked. She thought about a career as a creative writer or as a laser eye surgeon until she pivoted to libraries.
Ronda Nicholes, who has an accounting degree, met her husband, Bill, at the Country Fair at 705 Rice Avenue in Girard at age 18, when she was the assistant store manager. Now the former convenience store is the library and she's the main librarian.
"We are one of the hubs for Girard," she said. "If you want to learn about Girard, you come here. We try to make our library a community center. We're proud of that," she said. "It's a place where kids come after school and hang out."
People also drop off Girard memorabilia there — circus planters, fashioned to honor Dan Rice, and a baseball bat, made at a factory down the street years ago, for example.
Osborn, the Waterford librarian, is a retired teacher, the former owner of a lawn-care business and a self-published author. She draws on her journals, which she started at age nine, for her stories. She also teaches patrons how to self-publish. She designed a ruled school notebook, featuring Fort LeBoeuf history on the cover, for sale as a fundraiser. She also turned an 1887 journal by a Waterford woman, donated to the library by someone from Minnesota, into a book, A Journal for Mary.
Wilkins, the district consultant, said there is a genre of fiction known as "cozy mysteries," where the writer focuses on the whodunit instead of a gory murder, and libraries offer perfect settings to not only check out those books but to get comfortable.
Albion, the old railroad rest house, has a brick fireplace, decorated with local memorabilia. Thomas, the assistant Erie County director, said that while the snow is falling, it's delightful to sit by the gas-burning fireplace at the Edinboro branch, a former barn for Culbertson Farms.
If you like to stock up on books at the Great American Book Sale sponsored by Friends of the Library for the Erie County system, check the websites for the independent libraries, too. They have regular book sales and they also sell used books inside the libraries.
Of course, if you have a thirst for more than just book knowledge, here are some other things I learned on my tour.
The Corry Public Library, 117 W. Washington St., was built in the 1990s and is an impressive 5,800 square feet. Corry's former library at 203 N. Center St. has been transformed into the Library Bar & Grill. Old wooden shelves are stacked with books, but one of the big draws is its large selection of draft beers, according to Alexis Martin, the day manager.
The façade says "Library" in big letters and she said sometimes people who still "walk in here and want to return books."
Similarly, Wilkins, who has worked at the Corry library, remembers people calling the real library and asking about the nightly menu special.
I also learned that McCord Memorial Library was built on the site of a former tavern. That nugget of information allows me to segue into my final chapter of recommendations.
Take the North East version of the Erie Food Tour, as I did after visiting McCord. You'll leave sated with the food and drink and satisfied with the lovely, engaging storytelling by tour guide Cassidy Wyman.
Did you know?
Library cards for the Erie County system and for the six independent libraries are good at all of the institutions. The Albion Area Library helped to spur the decision to adopt a uniform computerized circulation system in 2005; state funding covers the cost of the shared system.
Erie County's Blasco Library is open Monday through Thursday, 9 a.m. to 8:30 p.m.; Friday and Saturday, 9 a.m. to 5 p.m.; and Sunday, 1 to 5 p.m.
The four Erie County Public Library branches are open Monday and Tuesday, 9 a.m. to 8 p.m., and Wednesday through Saturday, 9 a.m. to 5 p.m.
Check eriecountylibrary.org for Bookmobile stops, for the monthly calendar of events at Blasco and the branches, and for the catalogue of holdings and new books.
Visit the websites for Erie County's six independent libraries to learn about their history, hours, activities, fundraisers ,and book sales. The independents are Rice Avenue Community Public Library, Girard; Albion Area Library; Waterford Public Library; Union City Public Library; Corry Public Library; and McCord Memorial Library, North East.
Eerie County Boo(k)s!
Looking for a spooky book or a Halloween event?
Erie's county and independent libraries have great displays of scary books and videos for patrons of all ages, and there are lots of fun events to heighten your frights.
Highlights include:
"Exploring the Paranormal," by the Eerie Voices Paranormal Society, Iroquois Library Community Room, Saturday, Oct. 12, 12:45-2:45 p.m. No registration required.
"Mystery at the Library," a murder mystery theater production, for ages 14 and up, at the Corry Public Library, Friday, Oct. 18, 6 to 8 p.m. Pre-registration required. Patrons should wear costumes. Call 814-664-7611 for more information.
"Escape the Haunted Mansion," for ages 13-18, Lincoln Community Center, Tuesday, Oct. 29, 6:15 and 7 p.m. Registration required at events.erielibrary.org or by calling 814-451-7085.
Favorite picks at this time of year by Erie County Library staff members include Murder at the Library of Congress, by Margaret Truman; anything by Agatha Christie; Lirael by Garth Nix; and the National Treasure film with Nicolas Cage. For kids, try Arthur Locked in the Library, by former Millcreek resident Marc Brown.
Make a U(niversity) Turn
If you love libraries, check out the local college ones, too.
Pennsylvania residents are eligible to apply for library cards for the Penn State library system. Pressed for time? Visit psu.short-edition.com to read very short stories by Penn State writers. You can also print out stories, pegged as one-minute, three-minute or five-minute reads, at the Short Edition kiosk in the lobby of the John M. Lilley Library at Penn State Behrend.
Residents from Erie, Crawford and Warren counties can apply for borrowing privileges at the Baron-Forness Library at Edinboro University of Pennsylvania. Guest Wi-Fi access is available throughout the building, and the library has collections of student, faculty, alumni and community art displayed.
The Edinboro library is also the site of the "Uncomfortable Conversations" panel discussions.
Mercyhurst University celebrated the grand reopening of its library on Oct. 7. The renovations include a collection of nine built-in glass display cases featuring historic documents, photographs, and other items from the collection of Gov. Tom Ridge and his wife, Michele Ridge, former Erie County library director. The public is welcome to visit the display.
Gannon University's Nash Library was rededicated in January 2018. The Urban Brew Coffee Shop inside the library is open to the public.
Liz Allen — a retired newspaper editor — says the only drawback to working in a library is that she doesn't have enough time to actually read. You can reach her at lizallenerie@gmail.com.