Boots on Ground Wins Free Renaissance Centre Office Space for a Year
The organization, founded by Venus Azevedo Laboda, serves veterans who suffer from Post-Traumatic Stress Disorder.
January 21, 2016 at 10:30 AM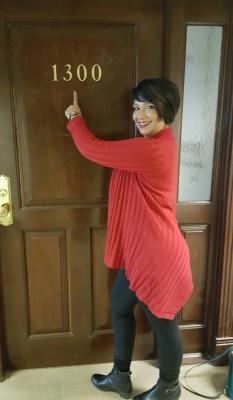 At a recent press conference, I got to see a small picture of the true spirit of community that runs through the entrepreneurs here in Erie.   
Tom Kennedy owns the Renaissance Centre at 10th and State streets. Kennedy knows that the success of the city depends on the success of its entrepreneurs. In that spirit, Kennedy runs an annual contest to give a deserving business free office space for a year.
During the press conference announcing the winner of the free space on Tuesday, Jan. 19, Kennedy referred to his approach as being a "steward of the building" rather than an owner. I loved that he used that word, because it embodies so much more than ownership. It embodies the spirit of using what you have in order to further yourself and your community: precisely what Kennedy is doing through his "office space for a year" giveaway.  
Anyone who has started a business knows that overhead is a major factor in its success. Imagine having a space to house your business in; a chance to grow and succeed, without the cost. This is exactly what small businesses vie for in this contest. The winner is chosen by an impartial panel of judges who meet with qualified applicants. There was a caveat to this year's contest: The business had to in some way be tied to veterans and their well-being.
The deserving winner of the space was Venus Azevedo Laboda, whom The Reader published a story about in 2012. It was moving to see the overwhelming joy as Laboda accepted the award for her Boots on Ground organization. Laboda's story is touching and all too familiar for families of veterans. Now her organization, which serves veterans who suffer with Post-Traumatic Stress Disorder, will have a rent-free space for a year. Her emotional and gratitude-filled response was so heartfelt. It is exciting that Erie is home to this organization. 
Second and third place applicants receive awards in the form of discounted office space. This year's second place winner was weCreate website creation and marketing firm co-founded by Marine Corps veteran Nate Wheeler. The third place honor went to Tim Sechler of Heritage Elder Law and Estate Planning. Sechler, a combat veteran, currently has an office in Butler, Pa. and is looking to expand to Erie. 
Partnering with entrepreneurs in this manner shows that the Renaissance Centre is a treasure in the Erie community, and with a steward like Tom Kennedy, it seems that it will remain an important asset for many years to come.
There are already plans in the works for next year's office space giveaway. Details will be forthcoming soon.