Boyhood Signals Filmmaking's Coming of Age
Richard Linklater's new film, Boyhood, is more than a great story. It's great storytelling.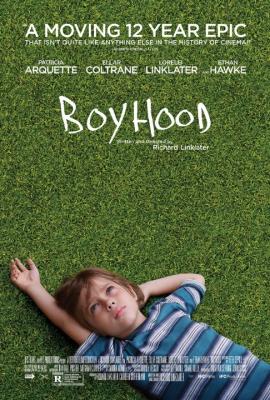 Boyhood opened Friday in select cities. Movie goers will note that Erie was not one of those cities. But just because Erie didn't land the film at its opening, doesn't mean that we shouldn't be paying attention to Boyhood or its director, Richard Linklater.
If you haven't seen or heard of Linklater's independently produced, dialogue heavy Before series - Before Sunrise (1995), Before Sunset (2004), and Before Midnight(2013)- starring Ethan Hawke and Julie Delpy, you may be familiar with his more mainstream work like Dazed and Confused (1993), School of Rock (2003), and the reboot of Bad News Bears (2005).  But those works barely scratch the surface of this prolific, self-taught filmmaker's catalog. 
Linklater is part of a generation of independent filmmakers for whom film viewing, and later filmmaking, was a philosophical odyssey. But unlike their predecessors - like Coppola, Scorsese, Spielberg, and Lucas - who were among the first generation of American filmmakers to attend film school and whose experience at film school helped them make sense of the kind of filmmakers they wanted to be, Linklater and company were on a subversive mission to make film on their own terms, challenging not only the filmmaking establishment, but the form of the medium as well.
Linklater has been called "the most subtle and radical of his generation," in no small part because of the way his films are made.
The Before series began in 1995 introducing audiences to twenty-somethings Jesse and Celine, played by Hawke and Delpy. The subsequent films in the series follow Jesse and Celine, reuniting them in 2004 after a nine year estrangement, and nine years later in 2013 after they've married and had children. As if the real time nature of the series isn't enough, the second film in the series, Before Sunset, is 80 minutes long, capturing an 80 minute moment in the lives of two forlorn lovers.  
Linklater's work is as important to the pantheon of American filmmaking as the work of French New Wave filmmaker François Truffaut was to the French filmmaking community in the 1960s and 1970s. The Before series, in fact, mirrors the form of Truffaut's Antoine Doinel series in which the characters evolve in the space of time of the films productions.
Boyhood takes this idea of film, time, and space further, challenging the storytelling form by removing the time compression common in feature films which requires filmmakers to use multiple actors to play a single character over time.
To accomplish this, Linklater made a single film over the span of 12-years in order to capture the changing face and personality of the film's main characters. Film critic David Eldelstein told the CBS audience, "I'm thinking there's my life before I saw it and my life now, and it's different. I know movies can do something that just last week I didn't".
Cinephiles know that there is something special in the work of Richard Linklater, but the general American movie going, blockbuster seeking public may be slow to recognize how unique Linklater's contribution truly is. Let's just hope there's a venue somewhere close, somewhere soon, to let everyone in on the secret.