Brewerie Enters 2015 with Bottled Brew
Brewerie wraps the 2014 mug club and announces a bottled brew for 2015.
January 12, 2015 at 10:31 AM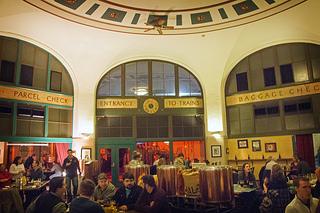 The Brewerie at Union Station officially closed its 2014 season on Sunday afternoon during its "Mug Club" year end event.
If you've been to the Brewerie and noticed someone at the bar drinking from a larger-than-you-have ceramic mug and wondered how they got it, wonder no more. They're members of the Mug Club. I won't go into the perks, but there are some.
At the end of the year, Mug Club members head to the Brewerie to drink from their previous year's mug one last time, listen to the folk-bluegrass stylings of Salmon Frank, and engage in some brew-related comradErie – see what I did there? Few spots remain for the 2015 Brewerie Mug Club.
2014 was a year of change at the Brewerie most marked by the installation of brewer Tate Warren, who has brought a modicum of consistency to the brews at Union Station.
Warren began as a home brewer and assisted at Lavery Brewing Company, among others, before joining the Brewerie in early 2014.
Brewerie owner Chris Sirianni noted Warren's involvement in the brewing of craft brew at Union Station among the reasons to celebrate Sunday at the midtown establishment.
Sirianni also announced that the Brewerie would begin its first bottled release in 2015 with its Russian Imperial Stout. The 10%abv stout will be a limited release of 150 hand-numbered 22oz. bottles available at the Brewerie.
Warren described the beer as "full bodied and black as night."
Bottling at The Brewerie is yet another example of the evolution in Erie's brewing industry that may establish craft brewing as the manufacturing industry of record for the early 21st century. It follows Lavery Brewing Company and Voodoo Brewing, among others, in bottling local brew for mass distribution.