Brooks, Rove Speech Locations Moved
Some tickets still available.
November 12, 2012 at 2:41 PM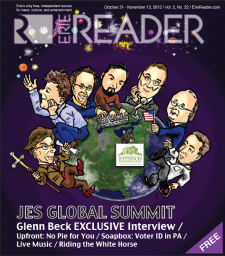 Due to overwhelming demand for tickets, two speakers from The Jefferson Educational Society's Global Futures Summit IV have been moved from the JES, which has a capacity of 300. 
Journalist David Brooks and political strategist Karl Rove will appear instead at the Northwest Pennsylvania Collegiate Academy, 2825 State St, which seats nearly 900.
Brooks, who will speak at 7:30 p.m. on Tuesday, Nov. 13, is expected to deliver a speech titled, "On Paradise Drive: How We Live Now - The More Things Change the More They Stay the Same." Rove, scheduled for 7:30 p.m. on Wednesday, Nov. 14, will discuss "The Future of the Republican Party."
A few tickets are still available for both Brooks and Rove; will-call sales will end at noon on Tuesday, Nov. 13, after which, only walk-up sales will be conducted. Tickets are $25 each; to purchase tickets or for more information, contact the Jefferson Educational Society at 459.8000, or visit www.JESerie.org.