Business District in Focus: Parade Street Corridor
Connecting Erie's past with its future
September 22, 2023 at 7:00 AM
Starting out as a dirt road connecting the Fort of Presque Isle to another fort in Waterford, Parade Street was one of the first main thoroughfares way back when the plan for the City of Erie was initially laid out in 1795. Named Parade Street because of the soldiers who practiced their marches on it, and due to its early use as a main road, it quickly became a center for business and commerce. And although much about Parade Street has changed over the years, there are a number of businesses serving as anchors to the past while remaining, to this day, a contributing part of a historic street of connectivity and commercial activity.
From Kraus Department Store to Mighty Fine Donuts, Nickel Plate Mills to Pulakos Chocolates – these businesses have made their home on Parade Street for generations. Those long-standing establishments are now accompanied by enterprising New American businesses such as  Fadak International Food Market, Almadina, and UK Supermarkets. With the investment of LECOM and a nascent ErieBank branch, along with the efforts of neighborhood revitalization organizations like the Sisters of St. Joseph Neighborhood Network, the Bayfront East Side Task Force, and the East Side Renaissance, Parade Street is poised to reclaim its legacy as a commercial epicenter of Erie as the stalwarts of the past join the investment of the future. Let's take a deeper look at all of the businesses and community players contributing to this history and revitalization.
810 Parade St.
When speaking about anchor buildings on Parade, one can essentially start and stop with Kraus Department Store. Their history begins in 1886 when Edward Kraus, a German immigrant to Erie, built a small shop on the site of the current Kraus building. There he operated a five and dime general merchandise store which grew, expanded, was passed on through family, and remains operational within the fifth generation of family ownership to this day with members of the fourth generation still at it, working hard (and pictured on the cover of this publication).
Kraus is synonymous with reliability. If you can't find what you need anywhere else, you're bound to find it at Kraus. It is this commitment to customer service and satisfaction that has served Kraus well over the years (while they, in turn, serve Erie well). According to their published family history, "Kraus weathered the Depression years and World War II because of its loyal customer base and its reputation for personal service, a reputation that proudly continues today."
In 2012, Kraus won the first ever Commitment to Erie award and in 2013 they won the PRO Hardware's Paul L. Cosgrave Memorial Award and PRO Retailer of the Year award. Kraus is a clear choice for these awards, as they are a business that exhibits neighborhood pride and care. "Kraus Department Store still has the old-time feel of a family-owned business, personal service, and good advice. It remains the place to shop for those hard-to-find items. And yes, the candy counter still draws wide-eyed children and the customer is still king."
A steward of Erie's past, Kraus Department store continues to serve people from all around Erie and their presence and reputation bring thriving business and consistent consumers to Parade Street daily.
We at the Erie Reader would like to extend our condolences to the Nowosielski family upon the recent passing of a reliable and familiar face behind the Kraus counter, Joe Nowosielski.
929 Parade St.
Summertime in Erie can't be beat: the beach, the community events, the ice cream stands that host scores of customers throughout the warm months. Denny's is one such staple for icy confections in Erie and is a representative of commercial vitality on Parade Street.
Back in the day, blue moon ice cream (which is ubiquitous in Erie now) originated on Parade Street and was served as the name implies: once in a blue moon. But Denny's came to recognize that the desire for the vaguely minty, vanilla-scented, aqua-tinged dessert arose much more often than once in a while, and they have made blue moon soft serve available daily along with another Erie familiar favorite: the orange sherbet vanilla twist.
If the long lines for tasty treats all summer weren't enough of an indication, the footprint of Denny's – which now includes a coin laundry and car wash – keeps expanding and giving life and commercial success to their corner of 10th and Parade.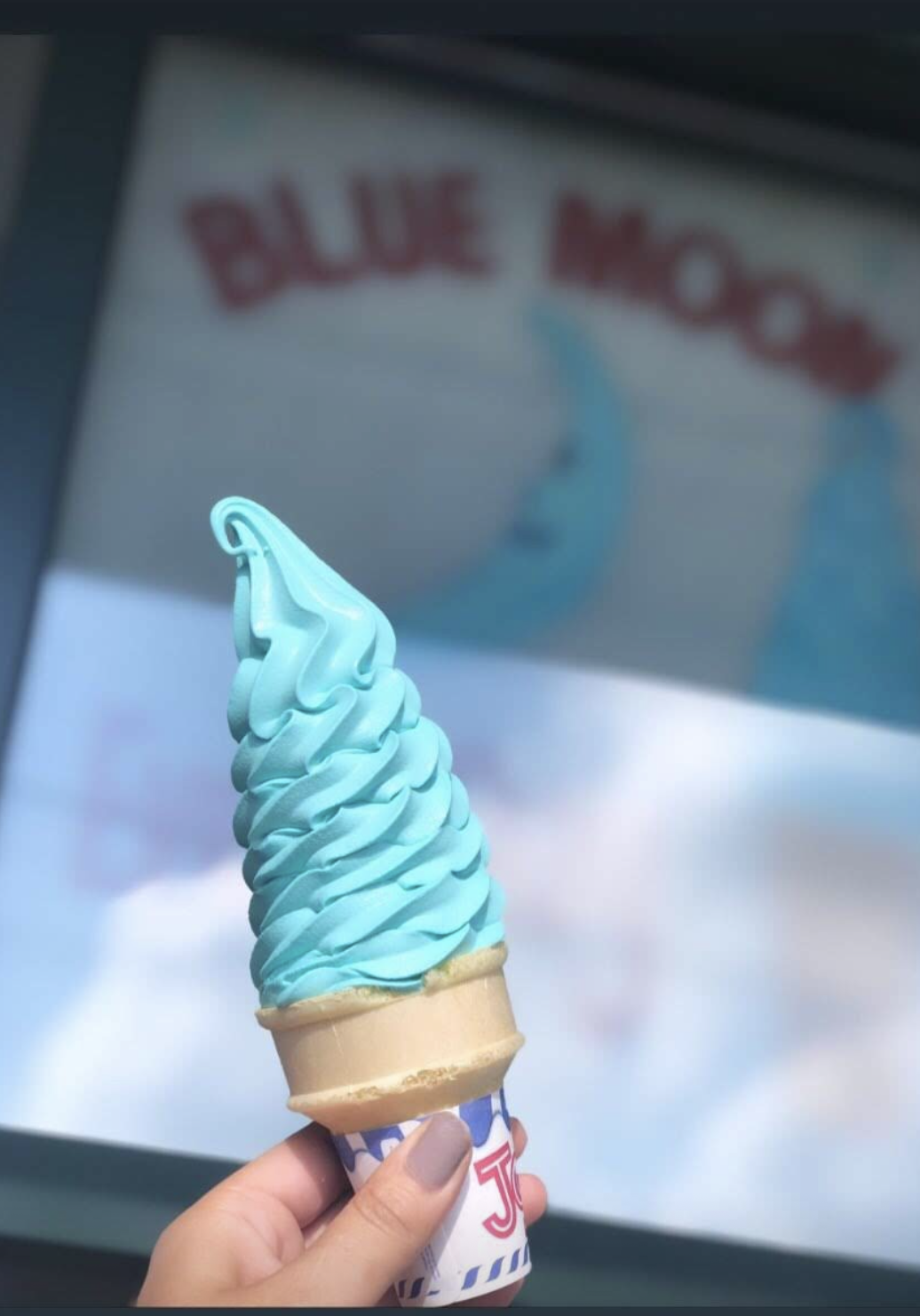 The local phenomenon of blue moon ice cream had it's origin on Parade Street and that tradition is proudly carried on today at Denny's Ice Cream stand which serves the hard-to-describe flavor daily. (Photo: Jessica Hunter)
UK Supermarket, Almadina Supermarket, and Fadak International Food Market
1115 Parade St., 2325 Parade St., and 2601 Parade St.
Many areas of Erie have the unfortunate distinction of being a "food desert." A food desert is officially defined by the U.S. Department of Agriculture as a low income tract with at least 500 people who live either one mile away from a grocery store in urban areas or 10 miles away in rural areas. Historically, Parade Street was a hub for fresh produce and the Parade Street Market, which was constructed in 1895 and was located between Ninth and 10th streets on Parade, was a massive, open air market the likes of which developers are keen to recreate today. This historic food market had dozens of stalls which hosted local vendors offering fresh vegetables, fruit, meat and poultry, cheese, fish, eggs, dry, and baked goods aplenty. This market closed down in the 1960s, which aligns with the time when the east side of Erie was redlined, and declined from its early days of commercial vibrance.
Enter Erie's New Americans and today, the Parade Street food desert is starting to blossom with life. All three of these independent, immigrant-run food markets offer what the Parade Street Market once did: access to fresh produce, baked goods, fresh meats and dairy products, along with imported ingredients that many of the New American citizens of this neighborhood find a comfort.
Cobb's Second Time Around Thrift Shop
1215 Parade St.
What what?? The originators of one of the catchiest local commercials in recent Erie history, Cobb's Second Time Around Thrift Shop has given purpose to a historic building on Parade Street to house their one-of-a-kind store. Historically known as the Gorney Building, the structure at 12th and Parade was built in the early 1920s and traditionally housed a retail establishment in the storefront at street level, while the upper floors were occupied by various offices.
When the longtime tenant of the expansive commercial space moved on, Cobb's stepped up to make sure the location did not stay vacant for long. With consignment options, as well as thrift and vintage finds, you're sure to find something unique or useful at Cobb's. While reusing a historic building on Parade Street, they are also ensuring that many of the items for sale in their shop (including apparel, decor, furniture, etc.) do not end up in a landfill and are, in fact, given a second time around.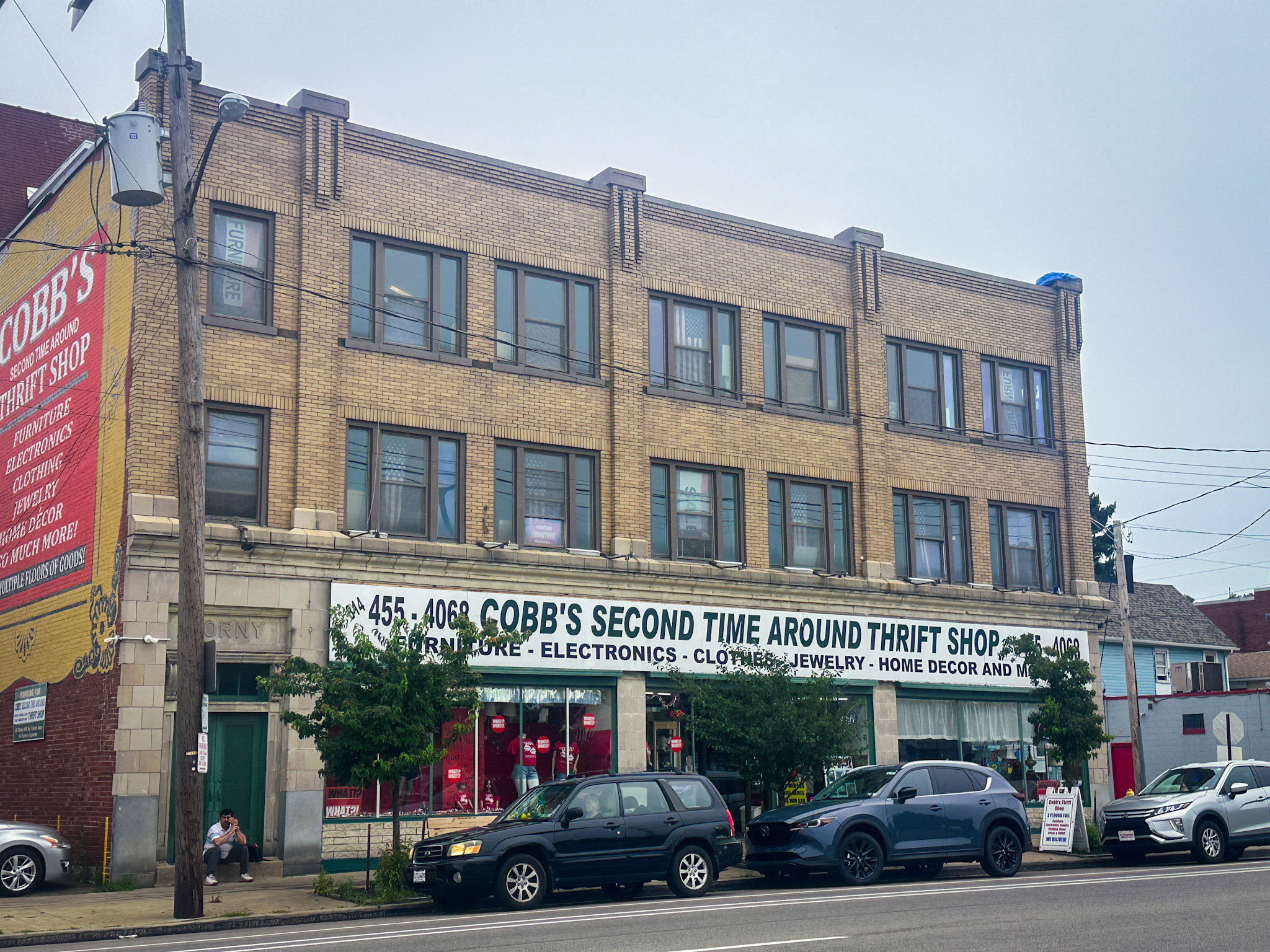 You can find whatever you need (or didn't know you needed) at Cobb's Second Time Around Thrift Shop. What? What? Reusing a large commercial building in the heart of the Parade Street business district, Cobb's encourages reuse through their inventory, as well. (Photo: Jessica Hunter)
Erie Metropolitan Transit Authority
127 E. 14th St.
The EMTA has made 14th and Parade their main hub in recent years and has enthusiastically embraced being a part of the fabric of the neighborhood. Sponsoring public art projects as well as a now-annual 14th Fest celebration (taking place on June 14 each year) bringing food, fun, and live music to their neighborhood, they are making their presence visible. According to EMTA's CEO Jeremy Peterson, "The EMTA is excited to do our part by bringing vibrancy to the new, inviting, mid-city neighborhood of Erie."
The mission of the EMTA is "to provide integrated mobility solutions to safely connect people to places and contribute to the region's economic and environmental sustainability." Their presence as Erie's only form of public transportation speaks to their importance in the community, and making their home within such a large footprint in the Parade Street corridor speaks to their commitment to the city.
Red Hot Restaurant
1301 Parade St.
Talk about staying power. Red Hot Restaurant has been a familiar sight on Parade Street since the 1980s and little about their offerings have changed in all that time. If it ain't broke, don't fix it. This tucked-away mainstay diner serves Erie favorites like Greek dogs and burgers (and if you're not from Erie, beware: no feta cheese or olives are involved) – it's the kind of place that seems to always be open and always serving food that will evoke real local nostalgia.
Their menu is simple, affordable, and delicious. They offer their one-of-a-kind "Greek sauce" by the pint or quart – which is not quite a chili, not quite a sauce, but something in between: a slow-cooked, ground-beef based, spiced, unctuous taste sensation that every carnivorous Erieite can attest is worth every single calorie.
1701 Parade St.
Making their home at 17th and Parade since 1975, St. Martin Center of Erie's mission is to "strengthen lives and support our community by providing immediate assistance, education, and long-term services, consistent with our Catholic values." St. Martin Center serves in a crisis capacity – helping senior citizens, students, veterans, families, and others with emergency provisions like food, security deposits, rental assistance, and mortgage assistance while also helping folks reach long term goals through financial literacy and basic budget counseling as well as home buying education.
For those who are suffering the effects of poverty, displacement, homelessness, hunger, etc., the doors at St. Martin Center are always open to lend a helping hand and their presence on Parade Street is key to employing their impact in the community.
1932 Parade St.
Nickel Plate Mills has been in business and in the same location on 19th and Parade since 1922. Begun by Phil and Frank Schmid over 100 years ago and with ownership remaining within the same family all this time, Nickel Plate Mills is a story of reliable customer service, dedication to their community, and sound business practices.
Beginning their business providing farm animal feed products and milled goods of all varieties, Nickel Plate Mills – named so for their proximity to the old Nickel Plate passenger line railroad that ran along 19th Street for generations – continues to provide quality, holistic pet food, as well as agricultural and home gardening products, greenhouse plants, and flowers under the ownership of Gretchen and Bob Bonadio. They also offer pet obedience classes from local trainer Isabelle Wolf.
While the scope of the business has had to adapt with the times, their overall work ethic has not changed at all. According to their history, "Our customers benefit from tried and true knowledge that has been passed on from generation to generation. Over the years, we've continued to learn from what works the best from our valued, loyal customers."
Sisters of St. Joseph Neighborhood Network (SSJNN) Community Garden
E. 22nd and Parade St.
The SSJNN was originally established to serve the neighborhood of Little Italy near 18th and Walnut streets and surrounding areas; however, in recent years their reach has expanded to include eastside neighborhoods, including the midtown area of the Parade Street corridor. One of their more noticeable initiatives on Parade is their community garden on the corner of East 22nd and Parade streets.
According to the SSJNN, "Garden plots not only address healthy food, but they also are spaces of beauty, education and community for neighbors. SSJNN and its dedicated volunteers now maintain five thriving gardens and an urban farm in Little Italy and two gardens in our eastside neighborhood." The garden at 22nd and Parade is one of two gardens on the east side of Erie. Having reclaimed a lot left vacant from demolition, the group is bringing life, vibrancy, fresh produce, and educational opportunities to the neighborhood.
2530 Parade St.
The founder of Pulakos Chocolates, George P. Pulakos, brought his handmade candy business from a push cart in Philadelphia to the City of Erie 120 years ago, in 1903, and the people of Erie have been delighting in his recipes for generations since.
His flagship store opened at 926 State St. in 1916 and gave Pulakos 926 Chocolates its namesake. Since 1971, the base of production and retail business has been at their Parade Street storefront and remains there to this day. According to their history, "While we're always changing, we make sure that the important things – our goal of bringing you the best and freshest candy, our belief in outstanding customer service, and our chocolate artisans' commitment to bringing our founder's recipes to life on marble tables and in copper pots – remain the same."
2612 Parade St.
If someone asks who has the best donuts in Erie, any answer besides Mighty Fine would be wrong. Consistently voted Best Donut Shop in the Erie Reader's crowd-sourced Best of Erie awards, the community can't help but share their love for the nostalgic goodness provided by the old favorite: Mighty Fine on Parade Street.
Established in 1967 by the Brigaman family, it rounds out the list of long-standing generational mainstays on Parade Street with its consistently delicious breakfast confections. The locally famous donut shop's long-time owner recently sold the shop, but the listing agent for Mighty Fine assured worried patrons that the new owner intends to continue on with making the traditional donuts so well-loved in our city. Realtor Greg Rubino was quoted in an August 3 interview with the Erie Times News as saying, "They have every intention of keeping the brand and bringing it into the 21st century. I think the community is going to be very happy."
As long as we can keep our glazed twist and custard-filled cravings satisfied, I'm sure Erie will welcome the new owners with open arms.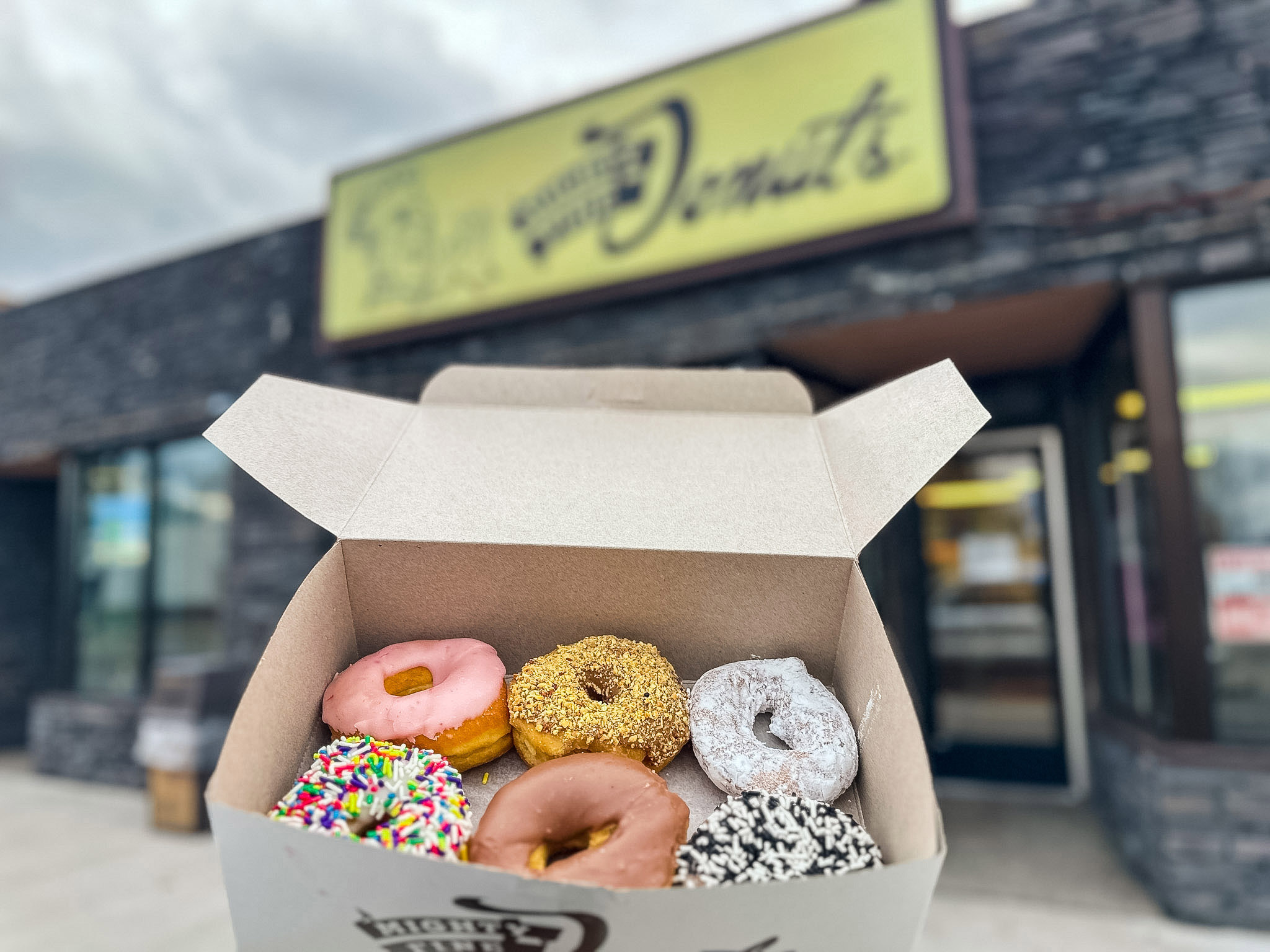 Consistently voted best donut shop for the Erie Reader's Best of Erie Awards, there's no denying that Mighty Fine Donuts on Parade Street is a local favorite. (Photo: Jessica Hunter)
2625 Parade St.
While a doctor's office may not seem like an important addition to a neighborhood, the LECOM Eastside Medical Center represents an area of medical care that has been scarce or missing from the Parade Street corridor for many years. Including providers that specialize in geriatrics, podiatry, obstetrics and gynecology, and family medicine, the residents of the neighborhoods surrounding Parade Street now have easier access to the healthcare they require within a state-of-the-art, modern medical facility.
According to Dennis Styn, president of the Medical Associates of Erie, "Eastside will be able to accommodate more patients and decrease overall patient wait time to see a physician or specialist." This development is life-changing for many neighbors who may have previously forgone medical care due to lack of easy access or transportation to medical facilities outside of their neighborhood. LECOM is proud to be a part of the neighborhood and to play a role in its revitalization.
Revitalization Through Neighborhood Groups
Those who have had businesses on Parade Street for generations can speak to how much the neighborhood has changed, developed, and struggled throughout the years. There are many players at work to keep moving the needle of progress, development, access, and inclusivity forward within the Parade Street community.
Neighborhood revitalization groups like the Bayfront East Side Taskforce (BEST) and the East Side Renaissance are working to improve blighted properties, increase access to fresh food, beautify the neighborhood while improving safety, offer incentives to new business, and stand as a beacon for the community, saying: we care about making Parade Street better for everyone.
One of BEST's major upcoming projects will be implementing the grant funding they received to improve pedestrian safety and public park space. The organization received a $10,000 grant from Safe Routes to Parks Pennsylvania Activating Communities to improve active travel to parks and greenspaces. This funding will aid in snow removal, improved pedestrian infrastructure, and pocket park improvements that will enhance the safety and quality of life for all the residents who utilize these spaces.
The East Side Renaissance is just getting started in its mission to help revitalize Parade Street and their goal is a lofty one: "Enriching Parade Street via investment, the restoration of properties, and other improvements – expanding the development plan for Erie's east side." They work towards their goal of enriching Parade Street by acquiring previously vacant properties, many of which would have otherwise remained in disrepair or become blighted. Their mission statement continues, "Eighteen properties on or near Parade Street have plans for the eastside neighborhood. Plans also include a new bank office, which is missing and leads to a low banking participation rate among area residents."
With this bank office goal, the East Side Renaissance has already succeeded. Currently in the planning and development stages is a new ErieBank office set to be built at 10th and Parade streets. This is a million-plus dollar investment in the neighborhood that will provide a long-missing service to the residents of the east side of Erie. This banking facility will not only offer traditional banking services, it will also provide educational opportunities for community members like financial literacy and best practices when considering purchasing a home.
This type of investment in the Parade Street corridor will build upon the already established and thriving businesses in the area to lift up their micro-economy and build upon it. With newer investments like ErieBank and LECOM's Eastside Medical Center, the Parade Street corridor is witnessing investment that has been lacking for generations, bringing the neighborhood's past in line with a brighter future.