Call for Nominations
Do you know someone who belongs in our upcoming annual 40 Under 40 issue?
February 25, 2014 at 12:47 PM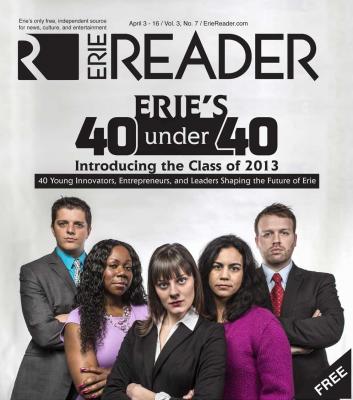 And now, an important message from the editorial staff of the Erie Reader:


The Erie Reader – Erie's only free independent source for news, arts, and entertainment – is proud to announce that this year's 40 Under 40 issue will appear on newsstands across the area on Wednesday, April 16, 2014.
Last year's edition – which showcased 40 outstanding Erie-area individuals under the age of 40 deserving of recognition because of their personal story, their professional accomplishments, and/or their impact on our community – proved to be the most popular issue in the Reader's history because of the quality and diversity of the remarkable people profiled. 
This year's edition will be no different, and in an effort to reach out as broadly as possible across all sectors of the Gem City, we're asking people in the community – people like you –  to let us know who you think those remarkable people are. 
Send your confidential nomination by 5 p.m. on Friday, Feb. 28 to Contact@ErieReader.com and be sure to include as much of the following as possible:
1. Their personal story – age, hometown, high school/college/major/advanced degrees, etc.
2. Their professional achievement – employer, occupation, title, major job duty
3. Their impact on the community – how has their work made Erie a better place?
Then, be sure to pick up a copy of the Erie Reader or visit www.ErieReader.com to see the 2014 class of Erie's 40 Under 40!