Caring for the Community One Bird at a Time
Jerry McWilliams has gifts to give.   
April 27, 2016 at 3:30 PM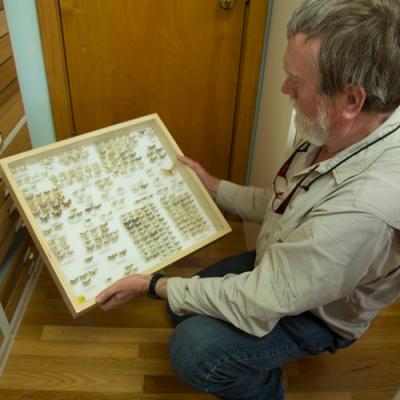 The temperature is 42 degrees and wind gusts are cutting across the parking lot of the Tom Ridge Environmental Center (TREC). Jerry McWilliams sits, bundled up, on a small folding stool with his back against his vehicle. Dark clouds hang low in the sky, but this is where his eyes are trained. He is here to count hawks and other raptors. "Today is the only day this week when the winds are from the southwest, which is favorable for bird migration," he says. "I'll stay as long as I can."
At this task for nine years now, McWilliams counts raptors every day from March 1 through May 31 for the Hawk Migration Association of North America. From September to January he conducts an independent water bird count (ducks, mergansers, and other birds like them) at Sunset Point on Presque Isle, and he also coordinates the International Shorebird Survey at the park, which can run from late March through November. The number of hours logged by McWilliams is uncountable because he has been tallying waterfowl for 29 years and shorebirds, 30.
Every hour of which is volunteered time. Even when he was working full time for the Pennsylvania Fish and Boat Commission, from which he retired in 2005.
Why does he do these things? Because, he says, "We all have a short life. What better way to spend your time than being where you belong with all the life that planet Earth has to offer?"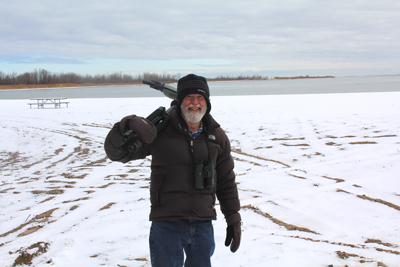 This is a dedication rarely seen, and unfortunately, not celebrated nearly enough. Too often we put all of our focus on people who run businesses, wear suits, own big houses. We point and say, "See, this is success." I'm here to broaden the definition to include someone like McWilliams who has dedicated his life to wildlife conservation. His gifts to our community are priceless and will last long into the future.
But what exactly are his gifts to us? First, 30 years of data on which birds use the waters and beaches of Lake Erie and the bay as they move through from winter homes to breeding grounds and vice versa. This information is available to any researcher, industry, or interested party through organizations with which McWilliams shares it. For example, right now Sarah Sargent from Audubon Pennsylvania is using the waterfowl count records to make a case for elevating Presque Isle from a state-level Important Bird Area to a global-level IBA based solely on the number of particular birds using this area for resting and feeding during migration.
One of those birds is the Red-breasted Merganser. In the winter of 2013-2014, more than a quarter of a million of them passed through Erie; 46,600 of them on Dec. 6 alone. If McWilliams had not counted them, we would never know this.
"Jerry's dedication is truly amazing and his work is essential for understanding the significance of Presque Isle and environs for bird populations," says Sargent. "The waterbird count is extremely valuable to me because it is the only data of its kind for this significant location in Pennsylvania. We could not apply for global status without his work."
McWilliams, through his data collection, has seen a shift in bird populations. "Some species of waterfowl, such as Greater Scaup, have shown a decline, while others like Double-crested Cormorants have shown a remarkable increase," he says. And the types of shorebirds visiting Erie are changing, too. "Short-billed Dowitchers and Red Knots have seen drastic reductions, as well as Sanderling, Dunlin, Semipalmated Sandpiper, and phalaropes. However, some species, such as American Avocets and Willets, once considered rare visitors, are now being seen more regularly."
These record sets are precious now, especially with the challenges of climate change looming. They will also be invaluable to future naturalists as they seek to understand changes in bird populations long into the future.
Another gift McWilliams offers is a wide-ranging knowledge of butterflies and moths, which, much like birds, were of interest from an early age. "I remember identifying a cabbage white butterfly outside of my classroom window in second grade," he says. Today, his collection contains more than 10,000 specimens and he currently curates the insect collection for the natural history museum at the TREC.
It wasn't easy going for this budding naturalist, though. The kids in school called him names for what they perceived as a sissified pastime. "When I would go out catching butterflies, I would hide when other people came by so they wouldn't ridicule me."
These days, he hides when he is collecting, too. "Now, people look askance, as my collecting seems damaging to nature. But in fact, it is worthwhile if we're going to understand how species are responding to changing habitat conditions or evolving."
According to McWilliams, when an animal is collected, whether it's a mammal, insect, or bird, DNA can be collected and examined to understand the species more deeply or used to compare older specimens to newer ones to see if changes are occurring in a particular species.
His ongoing data collection and insect knowledge is only the tip of the iceberg. McWilliams has authored or co-authored six publications, including The Birds of Pennsylvania, one of the most respected books about avian life in the state.
His ongoing data collection and insect knowledge is only the tip of the iceberg. McWilliams has authored or co-authored six publications, including The Birds of Pennsylvania, one of the most respected books about avian life in the state. He has contributed to seven more, and illustrated the books Fishes of Erie County, Pennsylvania and Fishes of Pymatuning, Pennsylvania/Ohio. McWilliams was also instrumental in having Gull Point closed to the public during shorebird season, a stance that earned him the disdain of many and some slashed tires.
And it really doesn't stop there, either. He conducts moth and butterfly surveys at Presque Isle and Erie Bluffs State Parks, is editor and a regular contributor to the journals Pennsylvania Birds and North American Birds, has taught countless local birders the basics of identification, and has led birding tours worldwide.
Did I mention that McWilliams never went to college? He is a born naturalist and is completely self-taught. Coming from a farm family with no history of college attendance, though, he was not encouraged to go. He says he took the entrance exam but did not do well on it, so his counselor told him he would never get in.
McWilliams has never let anything stop him and he will not be slowing down soon. In 2006, after retiring the previous year, he hit the road on his bicycle, traveling more than 2,400 miles to Arizona. He tallied every live and dead animal along the way and chronicled his trip in the book Life and Carnage along U.S. Highways: A Wildlife Survey by a Naturalist on a Bicycle.
Now, above the TREC parking lot, the sky is mostly empty; but when something in the distance is spotted, McWilliams' binoculars go up. We experience a short burst of bird migration activity: Turkey Vultures, Cooper's hawks, and an American Kestrel glide overhead. He clicks the counter he uses to track the numerous Turkey Vultures coming through. All in all, he counts 320 birds in the five and half hours he's there. Another piece of data to add to the record books. Another day doing what he loves.
Another day for us to feel that our part of the earth is in good hands.
Mary Birdsong can be contacted at mBirdsong@ErieReader.com, and you can follow her on Twitter @Mary_Birdsong.