Carving a Path
Award-winning woodcarver, Fredy Mallqui connects history and passion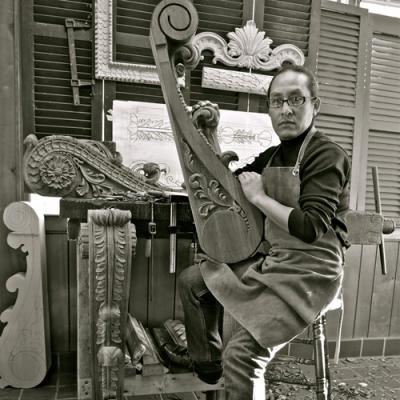 "As a woodcarver, I am connected with the history of art," Fredy Huamán Mallqui reasons.
Seeing Mallqui's work, that link to the past is difficult to deny. The local artist's intricate pieces are reminiscent to the baroque and rococo periods of art. These two styles dominated Europe, (and, more specifically for the Rococo period, France), during the 17th and 18th centuries. Works of this period are known for their ornate details full of beautiful flourishes. Blending these with the deep traditions of his native Perú, Mallqui has used the past to forge a voice of his own. Through patient attention to detail and years of practice, Mallqui is bringing old-world artisanal expertise into the 21st century.
The art of woodcarving has been around since before recorded history. Tracing the roots of Mallqui's profession, one is able reach back to one of mankind's earliest artistic efforts. Being relatively easy to shape, when compared to stone or other materials, wood has a workable softness, while still remaining durable. That, combined with its natural abundance has made it into an inviting canvas throughout the millennia, gradually evolving into a rich artform. Spanning across cultures and continents, woodcarving has the ability to merge functionality with fine art.
"Woodcarving is another expression of art, just like painting or photography," Mallqui described. "It also connects me with the history of my city, Ayacucho, Perú, where the craftsman tradition is centuries old."
Ayacucho is the capital city of Perú's Huamanga Province, located in the center of the country's southern half. The city, established in 1540, has a deep legacy of culture, which provided Mallqui with an important artistic roadmap. Detailing his early life, he explained that "growing up in the city of Ayacucho, the Peruvian capital of the craftsman, I have inherited an active appreciation of my cultural heritage, which is a product of the syncretism between Spanish and local cultures."
"I learned wood carving from master carvers in Ayacucho and Cuzco, and I have developed my own technique to design, carve and conserve intricate pieces in Baroque, Rococo, Gothic, and Romanesque styles," Mallqui detailed. Trained by the Peruvian Ministry of Culture, focusing on art conservation and restoration, he worked in the provinces of Cuzco as well as Apurímac. During his time there, he was able to work with religious art, wooden and plaster polychrome sculptures, furnitures, frames, architectural elements in wood and plaster, as well as gilded pieces and murals dating from the 16th-18th centuries.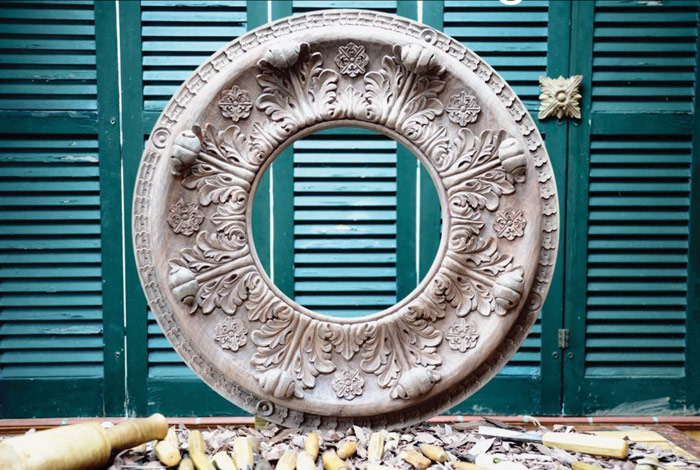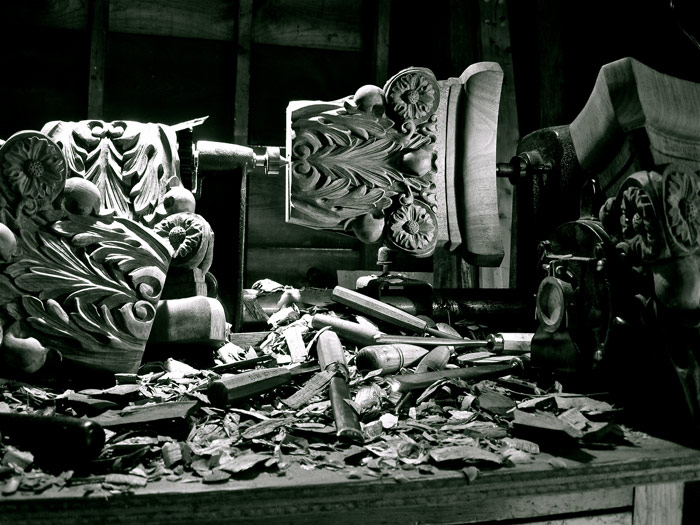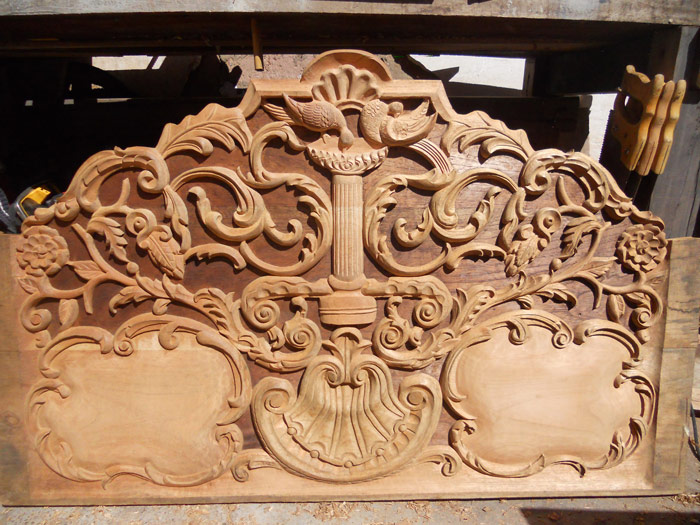 Since relocating to Erie in 2012, he has continued to develop his skills. From his homeland, Mallqui literally brought his tools with him (which he customized himself by hand), as well as what he described as "the most precious tools: my sensibility, creativity, skills and expertise that I have accumulated with patience and observation, careful of the details in my work as part of my daily life."
Working as a freelance conservator, Mallqui diligently helps to faithfully restore various works, while also carving custom orders. Requests often consist of architectural elements, including arches, corbels, capitals, balusters, and medallions. There are decorative pieces as well, such as sculptures, frames, even coats of arms. His clients include the Roman Catholic Diocese of Erie, the Erie Art Museum, Greenville Wood Products, Erie Insurance, Kidder Wachter, Jefferys Construction, CMI/Carving Masters, Inc., David's Woodworking, Buffalo's Kittinger Furniture Company, as well as private clients.
While in Erie, Mallqui quickly gravitated towards one of our region's best woodcarvers. "I had the opportunity to collaborate with my friend and fantastic local furniture maker Brian Millspaw, from whom I learned different woodworking techniques." Millspaw's output encompasses pieces such as relief portraiture, statuettes with an abstract flair, and intensely detailed custom re-creations.
"Carving a piece of art or an architectural element makes me feel very happy and satisfied, because it is what I do and what I am passionate about doing."
A blend of craft, art and passion, woodcarving has become a fulfilling part of Mallqui's life. "Carving a piece of art or an architectural element makes me feel very happy and satisfied, because it is what I do and what I am passionate about doing," the artist confessed. Working from preliminary sketches, to clay models, to the finished product, Mallqui relishes every step of a piece's creation. "It is gratifying to know that I can transform any kind of bidimensional design into tridimensional form. I am involved in the entire process, from the design to the carving."
 Earlier this year, Mallqui entered a scholarship competition with the Marc Adams School of Woodworking. In spite of an overwhelming response from hopeful entrants, Mallqui won. He was awarded the 2017 Excellence in Education Scholarship in the professional category. The school, located south of Indianapolis, Indiana, specializes in intensive short-term classes ranging from five days to two weeks.
Edinboro woodworking professor Karen Ernst (a master of bold, modern designs) marveled at Mallqui's work: "I don't think there are many people in the world, and certainly in this region, capable of carving designs that ornate and complex out of solid wood and by hand."
Ernst went on to explain the widespread technique of computer numerical control (CNC). She explained that "many furniture producers use CNC technology or molded composite products to create similar ornamentation." With the aid of computer aided drafting, CNC projects are meticulously automated.
As CNC techniques proliferated, becoming widespread during the 1970s, traditions of hand-carving have become a rarer and rarer thing.
Ernst explained that "Fredy's work is pretty special, and it is wonderful that he is carrying on this tradition from his native Peru."
An artisan seeped in rich historical traditions, Mallqui is restoring the past, as well as creating something new.