Catch God's Favorite at All An Act
The modern and humorous retelling of the Book of Job
November 6, 2019 at 9:30 AM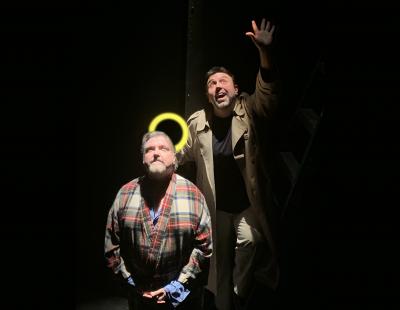 Friday, Nov. 8
Neil Simon, the Pulitzer Prize-winning playwright who penned Barefoot in the Park, The Odd Couple, and Lost in Yonkers, lost his first wife to bone cancer after 20 years of marriage.
What followed soon after was God's Favorite, a play Simon had actually been working on for a few years before his wife's death. This modern retelling of the Book of Job premiered on Broadway in 1974.
Before you grab the hankies and strap in for a tragedy worthy of Shakespeare, know this: God's Favorite is, in fact, a hilarious comedy.
Enter the All An Act Theater, led by co-directors David W. Mitchell and KC McCloskey.
The directing duo and their eight-member acting ensemble are bringing to the stage the story of Joe Benjamin (Joe-B — get it?), a wealthy and religious Long Islander with a houseful: his wife, their three kids, plus a few servants, to boot. Life for this crew is turned upside down when a messenger from God arrives and orders Joe to renounce God. He refuses and chaos ensues.
"The anachronism of a modern setting, and essentially several Biblical plagues sent down upon this family, and specifically Joe — who suffers from any and every discomfort you can think of, and probably more — is hilarious!" said Mitchell.
Further, Erie's theater community lost a devoted and beloved friend in Erin McCarty, who passed  away recently from ovarian cancer. The entire run of God's Favorite is dedicated to her memory, and All An Act has announced a special benefit performance on Thurs, Nov. 7 at 7:30 p.m., with donations collected at the door in lieu of admission, and all the proceeds going to the Ovarian Cancer Research Alliance.
Laugh through the tears, dear Erie theater appreciators; we have to believe it's what Neil Simon would have wanted. — Cara Suppa
Fridays and Saturdays at 7:30 p.m., Sundays at 3 p.m. through Dec. 1 // 652 W. 17th St. // Adults: $12; Seniors (55+) and Students: $10 // allanact.net