Catching up with Guided By Voices
The prolific rock band from Dayton, Ohio continues their decades long journey.
July 13, 2016 at 10:19 AM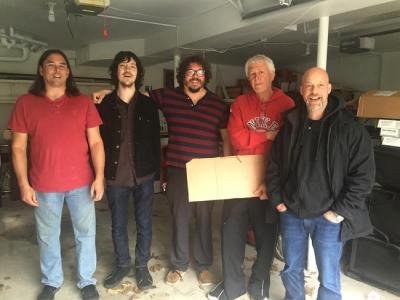 Thursday, July 14
Fresh of the release of their 23rd studio album, Please Be Honest, Guided By Voices continue their unparalleled career. Helmed by GBV mastermind, Robert Pollard, the band began in Dayton, Ohio in 1983.
They're ready to make good in their home state once again, returning to Cleveland's Grog Shop this Thursday.
This will mark the band's 17th appearance in the city since their 1993 debut at the Euclid Tavern. The current lineup of the band sees Pollard flanked by Kevin March on drums, Nick Mitchell and Bobby Bare Jr. on guitar, and Mark Shue on bass.
The band has a cult following almost everywhere you go, especially around the great lakes region. Local guitar instructor Stephen Maynard detailed his love for the band, saying "I teach my students Guided By Voices songs all the time. Robert Pollard's songwriting is so diverse. Not just his lyrically ability–which is obviously incredible–but tonally. It serves as a great jumping off point, and on the way I've managed to convert a few fans."
New generations are embracing the band all the time. Concertgoers know well of the band's onstage presence. Toe touches, cigarettes, and gradually emptying bottles remain a fixture of the band's iconic live show. - Nick Warren

7 p.m. // 2785 Euclid Heights Boulevard, Cleveland, OH // $32 // All ages // http://www.grogshop.gs/event/1159067-guided-by-voices-cleveland/