Ceasar Westbrook's Art Makes an Impact
Sitting down with one of Erie's top painters
February 12, 2020 at 11:00 AM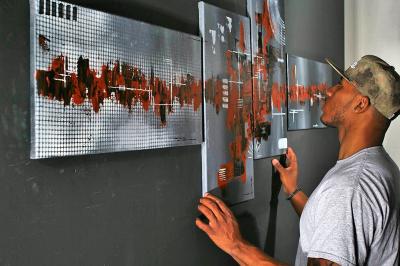 Ceasar Westbrook has made a big splash in the Erie art community recently. In August of 2019, the artist received back-to-back honors. Assisting Rafael Gerlach, better known as SatOne, Westbrook helped complete "Flotsam" on the observation deck of Dobbins Landing, a mural coordinated by Erie Arts & Culture. Days later, he won first prize at the Chalk Walk at Celebrate Erie with his piece for the Erie-Western PA Port Authority. Since then he's gotten to design jerseys for the Erie BayHawks and all while furthering his teaching career.
With a wide-ranging style, Westbrook creates bold, invigorating work. Combining skilled draftsmanship and rendering with a lush, intense color palette, he is able to blend both worlds in art that leaves an indelible impression. He has a series of recent more formalist, abstract works dubbed "Yin and Yang," where he combines polymer-like swirls and organic forms with rigid straight lines and complementary color schemes. He's no stranger to portraiture as well, occasionally showcasing celebrities like Prince or Aretha Franklin in vivid hues. Creating one of his paintings takes about a week-and-a-half, depending on his schedule, and he estimates that he's done between 15 and 20 in the past year. He works big, too, citing a new canvas he's about to build that's 60" by 40" for an upcoming portrait of Kobe Bryant. Westbrook planned to stretch and gesso (i.e., apply primer to) the canvas before heading back home to Lancaster, Pa. for the weekend, where he has an art show at The Ware Center at Millersville University.
Westbrook hails from Lancaster and has been an Erie resident for more than five years now, moving here around the time that his son was born. A graduate of Indiana University of Pennsylvania, Westbrook studied woodworking and furniture design as well as education before turning to painting. For the last five years, he has been leading weekly classes on Thursdays at the downtown Erie YMCA's Teen Center, and is now a full time art teacher at McKinley Elementary School. Westbrook sat down to share a few words about his art career, experiences in Erie, and personal realizations.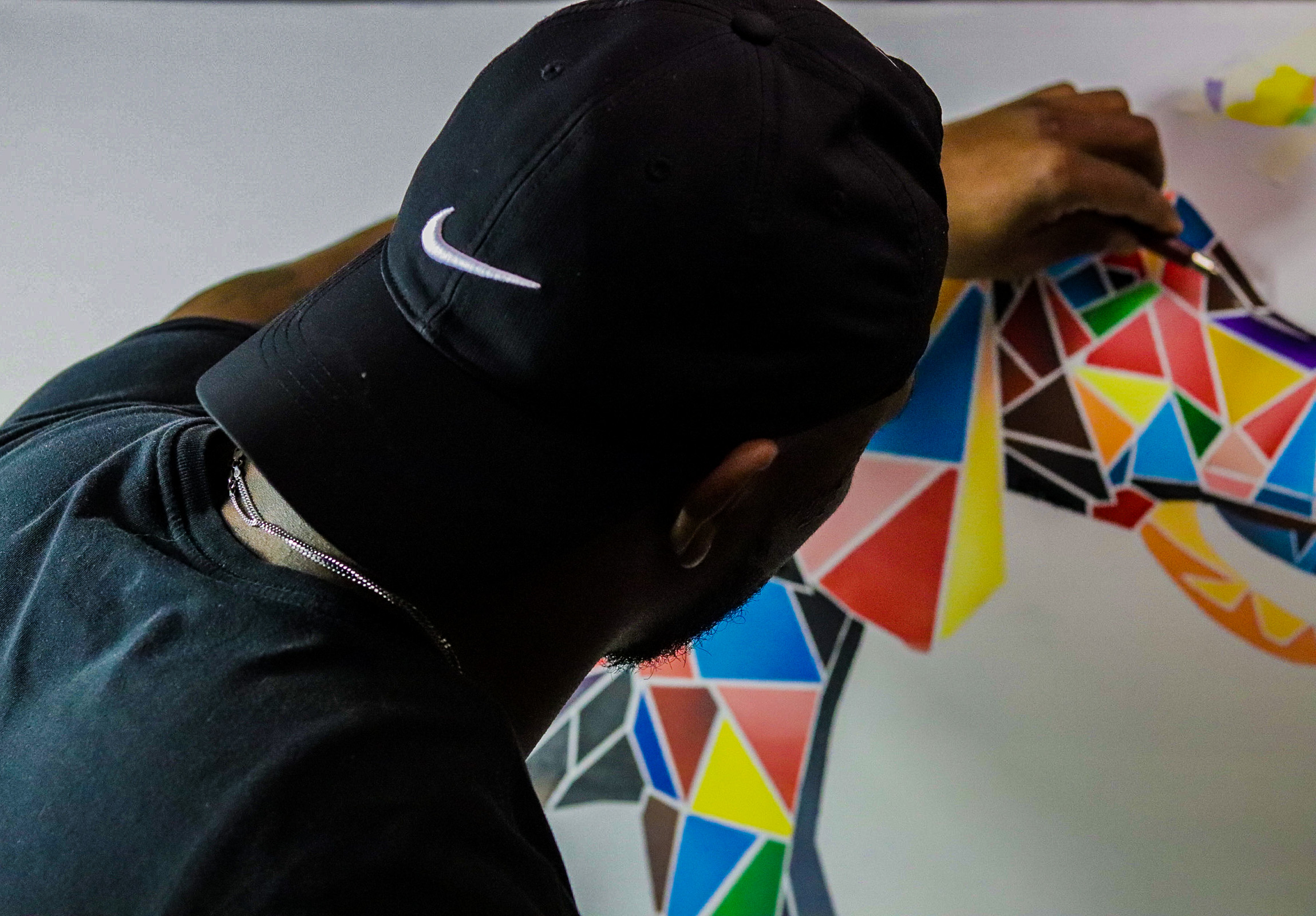 Nick Warren: Obviously, one of the things I'm personally impressed about in your style is the drawing ability, and the great actual rendering of it, especially with people. And not just doing that, but combining it with a really impressive color palette, more than your standard portrait.
Ceasar Westbrook: That's one of the main things I like to tie into my work is the color palette. Most of the time you look at my work, a lot of it is different. And I like that too. I like that I don't have a set style. You can't walk into somewhere and say "Oh, that's C West's work." It *could be, but you don't know that. And I pride myself on that, on being versatile and being able to do a couple of different things.
NW: Let's start from the beginning. What got you started in art?
CW: I mean, I was the kid who was in the back drawing during class when I should have been listening [laughs]. I paid attention when I needed to, but there were certain times when I would just doodle and do my own thing. Then once I got to college and I had to decide on what I wanted to major in, that was really the only thing. I was into athletics heavily too, but I really didn't want to do anything like physical education. I was a two-sport athlete in college [football and track & field]. But I was really into art. Art was something to me.
NW: So when you got to Erie, by then were you painting more?
CW: Erie is where I really started painting. I graduated in '13, but then when I got here, I started picking up steam. I had a studio at Raven Sound. When I got in there is when I *really started. I just felt I had the space to be creative. That's when I was trying things and I started finding my niche. I didn't even start getting into the art community here until about a year-and-a-half ago. So prior to that, it was just me doing my own thing. I would sell a lot of my work and ship it out and stuff like that. But then I started, slowly and surely getting linked with different people and having little shows here and there.
NW: What were some of the things that helped you tighten with the community more? The mural?
CW: I did a Gallery Night [in February 2018] for Attic Rehab. So that helped out a lot. And then I got linked with Erie Arts & Culture, so I know Patrick [Fisher, executive director] really well. He's been awesome getting me linked with other people. And then that's when opportunities started happening. And then I did the Chalk Walk this past summer. And that's another funny story because I wasn't even going to do it. I was 90 percent "no" and 10 percent "yeah," and I rode with the 10 percent [laughs], only because I never used chalk before.
NW: Right. And it's very different.
CW: So something just told me to try something new. And I got the hang of it midway through, and then I was able to finish it out strong. And then I ended up winning that. That whole summer last year was just a series of fortunate events. It was a blessing. I'm very fortunate to just be riding the wave and taking what's coming.
NW: So, do you plan on teaching for the long haul?
CW: Yeah, it's impacting them. I still want to stay involved with the young ones' lives, showing them that this is something that you can really dip into and make something of. You don't always have to pick up a ball, there are other things out there. Because growing up — and I'm gonna be real — I never saw a black artist growing up. I want to give these kids something to see that they might never really see.
NW: Yeah, it's important.
CW: It's easy to see it on social media and like some kid in California, but you're not going to see it in your own hometown, this close. So I think that's something that I really am pushing.
NW: It's a big deal. Just to see someone that looks like you doing what you want to do. I'm Mexican-American, and even stuff like seeing the movie *Coco — and I'm a guitar player — if I would have seen a little Mexican kid playing guitar when I was, like seven? Some people just don't understand that representation matters so much.
CW: It really, really does. And kids at a young age, they're so influenced. They do what they see, they're into what's "in" at that time. They gravitate towards what they see.
NW: Especially having an actual role model, a teacher, I think that makes a big difference. To have different voices — that's how great art is made, you know?
CW: Absolutely.
NW: And it's for everyone, not just for a certain group. It's not just for guys, not just for girls. Not just for any race or social class, it's everyone. I think that 10 years down the line you'll probably run into a kid that would be like ...
CW: That would make everything so — not that it's not already worth it — but that will bring everything full circle. Years from now, if an artist says that they saw my work when they were young, that would touch me beyond measure.
Browse and purchase some of Ceasar Westbrook's art at cwestcollections.storenvy.com.
Nick Warren can be reached at nick@eriereader.com .