Celebrities, Positivity, and the Art of Being a Buddy
Nick Sorensen's Buddycast builds both their guestlist and their fundraising outreach
September 28, 2021 at 12:05 PM
If you ever need a buddy in Erie, Pennsylvania, Nick Sorensen is your man. Sorensen is the host of Buddycast, a live-streamed podcast where guests — his buddies — are interviewed about their careers, unique talents, hobbies, and lives. 
Masterminded during the early weeks of the pandemic, and with his girlfriend as his first guest, Sorensen deliberately chose to make his show stand out with kindness, positivity, and optimism. He focused on developing a show that would make people feel a little more normal (and a little less angry) during not-so-normal times.
"I was getting tired of all of the negativity going on in the world," says Sorensen. "You had political drama, negativity from the coronavirus, and it really just seemed like you'd walk down the street and say hi to someone only to get greeted with a profanity or an unkind gesture. I thought: what this world needs is a feel-good story, something to remind them of the good times and to focus on what makes them good."
Since then, Sorensen has interviewed a dizzying number of people with an astonishingly wide assortment of backgrounds. Episodes have included actors, voice actors, comedians, cartoonists, authors, impersonators, magicians, hypnotists, musicians, artists, authors, athletes, teachers, newscasters, radio show personalities, television show producers, motivational speakers, puppeteers, business owners, tarot card readers, professional wrestlers, powerlifters, coaches, jugglers, and even clowns. 
"I started with the intention of a local podcast just talking with friends about their stories," says Sorensen. "I never knew I would be landing the guests I have had on today. If you went back in time a little over a year ago and said I would be interviewing Vince Papale, Sinbad, Stephen Tobolowski, John Mahon, Doug E. Doug, and more I would have made a comment like 'I'll have what you've been having lately.' But the show has grown beyond my wildest imagination."
In the over 160 episodes, other guests have included Bill Klein of the popular TLC show The Little Couple, Hunter "Patch" Adams, Bob West (the original voice of Barney the Dinosaur), actor Martin Klebba of the Pirates of the Caribbean franchise, nationally-syndicated cartoon artist and Erie native Dave Blazek, cartoonist and animator Guy Gilcrist, former NFL player and current comedian Greg Morton, Harlem Globetrotter Herbert "Flight Time" Lang, longtime Pink Power Ranger Catherine Sutherland, and comedian Tammy Pescatelli. He has also interviewed numerous local figures, and has a theme song by Tommy Link.
"I still have some tricks up my sleeve," says Soresen. How does he get such well-known guests? He simply reaches out and tells him why he'd like to talk with them.
"I know the worst case scenario is they say no," he explains, adding that dream guests include Elton John, Peter Dinklage, Brian May, Slyvester Stallone, Bruce Springsteenm, Coach James Franklin, Franco Harris, and Bobby Borgia. "Overall, I look for stories and how I can turn this person into a buddy."
Sorensen, who works professionally in digital content management and also locally as a comic, hopes that the show continues to grow and that, most importantly, people from all over keep listening and focusing on the positive messages. He also says that while he's enjoyed interviewing celebrities, he's just as excited to talk to a local piano teacher or food vendor.
"I hope we can continue landing impactful guests and learn more positive stories," he says. "It would be my ultimate dream to one day turn this into a full-time job with a livable wage — but until then a man can dream, can't he? Now get back to work, Nick!"
In October 2020, Buddycast held its first live-streamed variety show fundraiser called Buddy Aid. For this first event, he helped raise over $700 for Little People of America.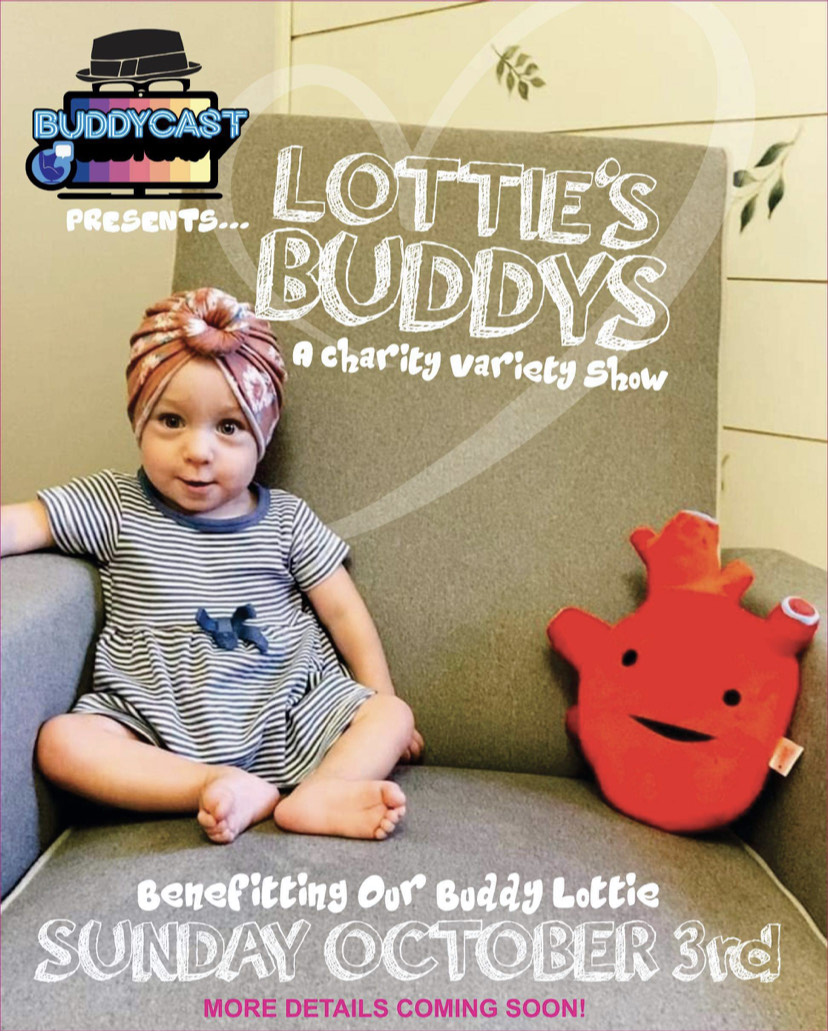 For Buddycast's next charity event, which will be livestreamed on Sunday, October 3, 2021 on Facebook, the show will be raising funds for a family friend's young daughter Lottie, who will be getting surgery to patch holes in her heart. The online variety show will include magic, singing, motivational speaking, and more while raising funds to help the family. You can access the GoFundMe here. 
Buddycast can be found on Facebook, Spotify, Podbay, and Anchor.fm. As Sorensen always says on his show, "Now go be somebody's buddy!"