Celestial Spaces
Interglasstic Studios celebrates their 10 year anniversary in the cannabis industry while many venture into this market for the first time
April 10, 2019 at 9:30 AM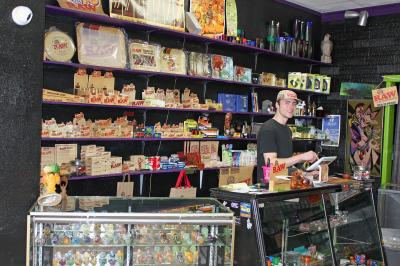 By: Alayna Gallagher
With April 20th fast approaching and the recent visit from Lieutenant Governor Fetterman fresh in everyone's mind, marijuana is all the buzz around Erie. Since Representative Merski's legislation decriminalizing marijuana passed City Council in January of 2018, Erie's acceptance of marijuana has broadened. Looking at how the economies in cities such as Denver have boomed with the legalization of marijuana, you can bet it's only a matter of time before the local self-proclaimed economic experts start weighing on how this industry will save Erie. There are, however, folks who have been on the marijuana industry train long before decriminalization laws and medical marijuana prescriptions.
Interglasstic Studios is Erie's oldest head shop, located at 2402 Peach Street on Federal Hill. Owner Zach Cacchione is celebrating 10 years of business this year after what some would call a journey of "trials and tribulations" working in a "taboo" market. After a break-in/robbery and a move to the end of the block, shop manager Jared Staszewski reinforces that he is confident about the future of the studio. Shop dogs Rufio and Huckleberry declined to comment but wagged tails in agreement. 
As soon as one goes past the bright blue storefont, guests are greeted by hundreds of colorful glass pieces. Additionally, Interglasstic Studios carries a variety of other items for one's CBD and marijuana needs, including vape pens and cartridges, to Smokebuddies, and rolling papers, CBD isolate, and water bongs. Cacchione even recently started carrying my personal favorite locally-owned brand, Misery Bay Green Relief, products in their shop. This includes yummy CBD soaps, CBD lotions, isolates, and delicious teas. My current favorites are the Misery Bay Relief chamomile peppermint tea and orange patchouli handmade soap.  
Although the industry of cannabis has been secretive and off-limits from the perception of the general public, Interglasstic Studio generates business and boosts Erie's economy, just like any other store on the Hill. They respond to the market and put their customers' needs first. Staszewski even went toe-to-toe with me personally when I talked to him about not carrying any femme-appealing pipes. Wouldn't you know, the next week he called me to let me know they now had purple and pink pipes in stock as well as some gorgeous crystalized Bismuth pipes made by Bash Glass in their featured display case.  
Cacchione and Staszewski not only care about their customers they also truly care about the community that they are in. Interglasstic Studios is always looking for ways to give back to Erie in unconventional ways that maybe other shops cannot. Whether it's displaying artwork for local artists, hosting local musicians or DJs, bringing coffee and donations to the UE strikers, having conversations about de-stigmatizing marijuana, or understanding and accepting the medical benefits of marijuana, they are always looking out.
So, although the cannabis industry has had years of verboten stigma associated with it, perhaps it's time to question our "inside the box" thinking and look for guidance from those who have been on board with this concept for a decade.
Interglasstic Studios is located at 2402 Peach St. and is open from 10 a.m. to 8 p.m. Monday through Saturday, and from noon to 6 p.m. on Sunday.