Charting a New Course Together
Finding a new direction for City Hall  
November 9, 2016 at 12:15 PM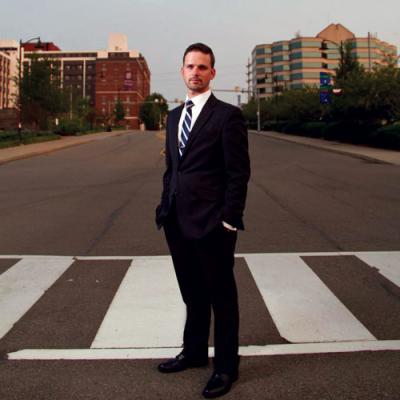 You don't need a passport to see the world. All it takes is a trip around Erie.
Aside from the many cultural festivals during the summer, one can see the rich tapestry of human experience with a simple trip to our delis, donut shops, and neighborhood markets, our community centers, and our public schools.
Erie has a long and proud history of giving new Erieites a shot at the American dream, and there are no signs of that slowing down. But it seems that City Hall is detached from this reality as it focuses on building political walls and excluding the core of any community: the people who live here.
My daily encounters in Erie have far surpassed my years (and related global travels) in one of the most diverse organizations in the world: the U.S. Army.
There are, however, marked differences in serving as a leader in our community versus in the military. In the Army, I was responsible for the daily well-being of my unit, the success of our missions, and our professional ability to grow and do better the next day, every day.
In Erie, that role is more global.
Schools
The phrase "As Erie's Public Schools go, so goes Erie" was not coined by the school district to instill fear; it's a reality that has yet to be accepted in City Hall.
The current administration speaks of turf, and parallel but separate responsibilities; but what you won't hear is shared efforts or strategic partnerships, even when it comes to our comprehensive plans.
Our schools are the bedrock of a stable tax base, and serve as the cornerstone of our economic potential for decades to come. City Hall must work with our school district not only for funding equity out of Harrisburg, but for the future economic security and social well-being of our community.
This means creative collaboration as well as joint development and implementation of shared plans.
Neighborhoods
During my listening tour, which began Sept. 1, countless conversations with parents, homeowners, young professionals, and business leaders all reflected one common refrain: Those who can make the choice are looking for reasons to stay, and to continue making Erie their home. Sadly, they already have too many reasons to choose somewhere else.
Those without the resources to make that choice become more responsible for the rising costs of a city managing its own decline, with decreasing opportunities for themselves or their children.
We need to change this narrative and chart a new course for Erie.
If City Hall wants our neighborhoods to thrive, Erie's citizens must be front and center on that task and effort. Work cannot merely be done for our people and community; instead, progress must be made with them at the table – helping to make decisions regarding our neighborhoods with our collective sleeves (sometimes literally) rolled up.
Jobs
There's one sure way for City Hall to ensure businesses stay and grow in Erie, and that is through communication.
There's one sure way for City Hall to ensure businesses stay and grow in Erie, and that is through communication.
We cannot afford to passively wait for businesses to come knocking on the mayor's door or to find out after the fact that they are packing up and moving out of town. Nor can we expect other organizations to bear all the responsibility. The role of the mayor must involve visiting the offices of our private sector consistently, not only to see how they're doing but to champion any resources – municipal or otherwise – that they need for greater viability in the City and across the region.
On Friday, Nov. 11th at 3:15 p.m. in Wayne Park (East Sixth Street & East Avenue), I am announcing my candidacy for mayor of Erie because I believe we need to help Erie grow each day, every day, by focusing on our greatest resource: our people.
Jay Breneman can be contacted at email@jaybreneman.org or on Twitter @jaybreneman.