Chocolateville, USA
Move over, Hershey: Erie is the real chocolate capital of Pennsylvania.
February 6, 2013 at 11:34 AM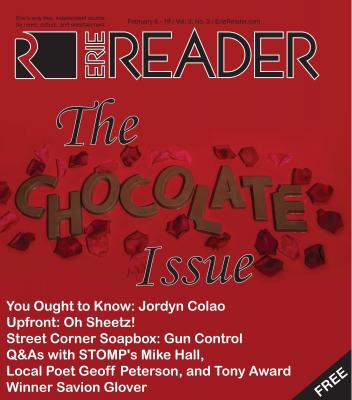 While this may be a bit of a stretch, as far as I'm concerned, Erie not Hershey, should be known as  "The Sweetest Place on Earth," as our Gem City plays host to three well-known chocolatiers that we have all come to know and love over the years. Each of them are steeped in family tradition, uniquely boasting rich European heritages. The lines of their industry all go back well over a century, and each business still flourishes today. While some ownership may have changed hands over the years, these three confectioners – Romolo's Chocolates, Pulakos 926 Chocolates, and Steffanelli's Candies – all maintain their roots and believe in keeping tradition - doing their best to maintain the original recipes that were passed down from generation to generation.
Romolo Chocolates
Just off the northernmost point of I-79, the 27,000-square-foot state-of-the-art facility is almost a destination in and of itself. The Mediterranean-style building boasts grand archways that lead you into not only a theater-style chocolate shop where you can watch chocolates and baked goods being made right on the spot, but also features a Mercato (a gift shop), and a café, as well as a romantically-lit outdoor piazza, which in the summer, plays host to a variety of musicians on Saturday nights from late June to August. And even though the company started back in 1994, Romolo Chocolates has over a 100 years of tradition within its family. Owner and master confectioner Tony Stefanelli was virtually raised in his grandfather's candy shop, and apprenticed under both his grandfather and father Tony, Sr., as well as his uncle Art for many years.
"My grandfather, Romolo Steffanelli started Stefanelli's Candies," Tony says. Originally from just outside of Rome, Romolo came over to the United States at only 14 years of age to avoid going into the priesthood. "Romolo's brother, Vincenzo, had been the Vicar of Rome and decided to leave the priesthood to come over to the U.S. to teach at Columbia University in New York," Tony explains. "Romolo was second in line to take over that post and wasn't comfortable going into the field, and instead opted to leave the country."
When Romolo came over to the states, he immediately went into the industry, becoming a candy maker at Loft's candy store in Manhattan. A few years later, he went to Erie to stand up for his brother at his wedding – where he would meet his wife, Elizabeth. After they were married, they went back to Big Apple to work at both Loft's and another renowned candy factory, Barricini Chocolates. During that time Tony's father (Tony, Sr.) was also born. Eventually, because of the depression, Romolo moved his family back to Erie. "At the time, because of the shortage of sugar during the depression, they basically lost their jobs so they moved back here in 1926, and started making candy in the basement of their house at 414 Raspberry," Tony adds. "That was the birth of Stefanelli's."
And yes, Tony Stefanelli, who owns Romolo Chocolates, is referring to the start of Stefanelli's – this will all become clearer soon.
After working out of their home for several years, Tony's grandparents opened their first official shop at 2054 W. Eighth Street, which still operates as Stefanelli's Candies today. "Originally, the company was literally run by family – my grandmother and three of her sisters, alongside my grandfather, his brother, my father and uncle, and a couple of cousins all worked there. I was immersed in it as a child and I would spend all my vacations from school there as well."
Tony would go to college at Gannon University but return to the family business in the 1970s and start making candy full-time. Eventually his uncle Art would sell the business to Frank DeDionisio, a friend outside the family, but Tony continued working in the industry and eventually opened his own shop – Romolo Chocolates – in 1994, which he aptly named after his grandfather. Today, he works alongside his wife Jennie (who serves as the pastry chef), and his sons, fourth generation chocolatiers Anthony and Roman Stefanelli.
"These days, so much of tradition is lost in the candy-making industry and we have very strong ties that bring us back to our roots," Tony says. "I've done my best to maintain that family connection and family heritage."
As for what sets Romolo's apart from the other confectioners? "We're very well known for our inclusions. My grandfather's forte was the confection part of the chocolates. His real expertise was hard candy and confectionary."
And as for the sweet treat itself? The cacao beans Romolo's uses are grown in regions of Indonesia for chocolate that has a sweeter, smoother taste. And while they produce over 200 varieties of candies and chocolates, some of the customer favorites include the meltaways, sponge candy, chocolate covered grapes (my personal favorite), strawberries, and caramel.
"The meltaways are a product my uncle Art created years ago. They are milk or dark chocolate and are hand-whipped three separate times to give it the perfect texture. They are also mixed with a variety of flavors."
Aside from their chocolates, Romolo's also offers an assortment of other treats. "One of our major goals when we built this building was to diversify our products and services," Tony explains. "I wanted to create pastries and products that I had seen throughout New York City and Europe. Many places in Little Italy in NYC don't even feature chocolate as the main product anymore – many are known for their pastries and baked goods."
And at Romolo's, customers find the best of both of those worlds. "We have a great chocolate product that we can infuse into our baked goods and the shop also features a variety of ice creams that are homemade and a number of different coffee and specialty drinks."
After I left the shop that day – with a number of delectable samples, I might add – I stopped in the next morning for coffee on my way to work. Tony pulled me aside.
"I was thinking after you left, that I may have been remiss in mentioning how important my wife and sons are to me in this industry," he adds. "By having these two work side by side with me, I know I will be able to keep the tradition going for years to come."
He actually went on about them and his grandchildren, but I sense that throughout this part of the story, you get the point – they really are all about family.
Pulakos 926 Chocolates
To help support my opening statement, here is an interesting piece of trivia: Pulakos 926 Chocolates has been in business almost as long as Hershey's. Milton Hershey broke ground for his factory back in 1903, which happened to be the same year George P. Pulakos founded his company.
Through the years, Pulakos would be passed down over four generations and ultimately sold to local businessman Joseph Hilbert. However, even though hands have changed, the original recipe hasn't, preserving the company's strong traditions and ensuring its viability for new generations of candy and chocolate lovers to come.
I sat down with Joe in the back room of his flagship store, located at 2530 Parade Street,  on one of our rare 60-degree days in January, to talk a little bit about the history and the future of the business.
"I know they'll kill me if I miss something, so bear with me," he says, as we sit down at the break room table. I immediately know he is referring to the family and co-workers of Pulakos. Although he is now the owner, I sense he has a deep respect for the history and tradition that has kept the business alive over the years – all of which started with George P. Pulakos back in 1916.
"George P. immigrated from Greece back in in the late 1890s. He landed in Philadelphia where he started his trade and ultimately moved to Erie in 1903 where he would open the first of his three stores on State Street," Joe explains.
A black and white picture of the original building hangs on the wall in the office. It's ornate in detail and has a fountain out front. Today, residents would recognize it as the courtyard of the Avalon hotel.
"It took four wrecking balls to knock that place down – it was that strong," Joe adds.
George P. ultimately moved to 926 State Street where he weaved the address into his name, becoming incorporated as Pulakos 926 Chocolates. That location remained the base of his operations until 1971 when the family settled on the flagship store at 2530 Parade Street.
"George P. did not live to be very old," Joe says. "He actually passed in 1920 and his son Constantine – everyone called him Gus – took over the business at a young age."
In its early years, 926 State Street sold ice cream and baked goods – eventually opening other outlets throughout Erie and in Wesleyville. After some time, the bakery was phased out, but the foundation of the chocolate store remained.
"The organization would be run by the family until George A. Pulakos [fourth-generation] would sell me the business back in 2009."
Joe himself comes from a family business: Reddog Industries in Erie.
"I started in grade school, cleaning floors and chips off of the machinery." He ultimately would take several different career paths throughout his life. "I was an EMT for a few years and then went on to nursing school at Gannon University. After I graduated, I went back to work for my family for about 17 years. And then I did something I should have done from the start – I took a year and a half off and traveled."
And that is when things changed.
"Close to five years before I bought the business, I saw George A. at a party. I asked him if he'd ever be interested in selling his business, but at the time I'm not sure why I said it," he says. "I knew I loved chocolate. Wherever I traveled, I always went to different chocolate shops. And I wouldn't just stop in, I would ask all kinds of questions and find out the details and ingredients and production – I was very inquisitive. And I would always bring back gifts from various confectioners for my friends, co-workers, and family."
Eventually, Joe formally approached George on Valentine's Day of 2009. "I had no idea it was his busiest day of the year. He never said anything that day to me about it, but we laugh about it today. Looking back, I'm not sure how he did it. I mean, last year I think I got two hours of sleep in the 48 hours around Valentine's Day."
And he's not exaggerating. Pulakos produced 1,400 dozen chocolate-covered strawberries – that's 18,000 strawberries in total – in just over 48 hours around the holiday.
Although the business is no longer owned by the Pulakos family, Joe does everything he can to maintain the tradition and continuity. "We still use the original marble tables to layout the different centers for the chocolates. And we still have a lot of the same machinery – utilizing copper pots on open fires with open flames."
As for what makes them different from the rest?
"Aside from the chocolate recipe, one of our main products that differentiate us is our marshmallow. We make it here, and it's an old-fashioned flavor. It's something you would never find in a grocery store, and I believe we are the only one around that make it. When blended with caramel – it's definitely one of our go-to items."
Their chocolate is also blended differently.
"Our milk chocolate is a darker milk chocolate. It's not sweeter, like you may find in other blends. It has a higher cacao content – and we feel it's a better fit especially when there's a sweeter center, it complements the chocolate."
In addition, Pulakos makes their caramel and jellies in house.
"The centers have an old-fashioned slant, and we use the original recipes. And we only create chocolates in small batches – we never freeze anything."
Joe tells me that there's a certain shelf life to chocolates. "I can tell when I travel if chocolates have been in the case a long time. We usually give everything here a 6-month shelf life. Generally a chocolate with a center has a shelf life of a year, but we only give it 6 months to maintain the freshness."
Recently, they added another shop located at 410 French St.
"Little by little, we are growing – and things are happening around us. The store on French Street is a leap of faith, as we're not on the main drag, but we are close to Erie Insurance and Pufferbelly Restaurant, and overall and it's been a good venture. We have coffee and baked goods, and we're just another great option for the neighborhood," Joe explains. "This coming year, we really want to focus on this building [Parade]. We want to do some exterior work, and we're going to create murals on the outside walls."
A local graphic design student Samantha Williams at Mercyhurst University has also done some re-branding for them.
"She has updated our logo and reshaped the look of our company. The look was about 20 years old, and we felt it was time for some updates. And while we may be updating some of our look and feel, we won't lose the original recipe or the traditions of Pulakos and everyone will still know the same great chocolate they've been enjoying all along."
Stefanelli's Candies
If you've lived in Erie for long enough, you know that many businesses have strong family roots. Aside from Pulakos 926 Chocolates, both Stefanelli's Candies and Romolo's Chocolates share similar history – because Stefanelli's was operated by the some of the same family that now owns Romolo's Chocolates. The major reason for this shift is because Art Stefanelli opted to sell his business to someone outside of the family leaving Tony Stefanelli, Jr. to open his own business – Romolo's – which he named after his grandfather Romolo Stefanelli.
That local businessman Art sold to is Frank DeDionisio. I sat down with Frank early one Friday morning at his flagship store – the original Stefanelli's – to talk about how he got involved in the business. I quickly learned the steps that brought him to where he is, and how even today, the Stefanelli's product still reflects the heritage that was passed down over the generations – keeping with the tradition that patrons have come to know and love over the years
"I purchased Stefanelli's in 1993 about 10 years after my wife and I moved back to Erie," Frank says.
For years, Frank was working for General Electric and was getting transferred around the country. "In 1983, I decided it was time to come home and do something else."
He didn't have much luck until he was approached by his uncle Lloyd Weatherby. "Lloyd approached me asking if I wanted to go into business together. I was a finance guy, and he had been retired from the government having worked for the CIA and he thought it would be an interesting venture for us to pursue. I was in my 30s at the time, and Lloyd was in his 50s. He had more experience, but I had the finance background so together, we would be able to invest in something more than I would have been able to do on my own."
After some searching, Frank and Lloyd went to a broker in town looking for businesses for sale. "The broker thought the only thing we could really handle was a restaurant or tavern." But they didn't have much luck in that arena and eventually were proposed with the idea of taking over a convenience store.
"We decided to check it out and right on the spot opted to buy it."
Though they did well, a little less than a year in, the two of them got the itch to get into something else. "We wanted to keep progressing, so we ended up buying another business – a small grocery store on Wattsburg Road. It was a rustic little place but it did well for us." A year later his uncle decided he was going to move to California. "So I stayed with the grocery store, sold the Lawrence park convenience store and bought out his share."
In the mid to late 1980s, Art Stefanelli had bought Tony Stefanelli, Sr. out, Frank explains. "I had just happened to be in the store one day as I was a wholesale customer of Art's, and they didn't deliver much like they do today." At that point, Frank, off the cuff, asks Art if he'd ever be interested in selling the store.  "I just asked him candidly. I had also purchased a pasta business a few years back and found I enjoyed the factory setting better. But when I asked, he pretty much laughed at me. I didn't mind. I just told him if he was ever interested to give me a call."
Frank would wait about four years.
"I wasn't thinking much of it and one night I get a call and as soon as I pick up the phone, a guy on the other end says, 'So, are you serious?' And I said 'who is this?' and he asked me the same question again. I finally figured out it was Art, and all I said at that point was 'Yes.'"
That was in 1992.
"That summer he interviewed me. I didn't know he was going to do that. I thought I was going to check the place out, but he had two other people who were also interested. Ultimately, he offered it to me."
At that point, Frank took the papers and ran to the bank telling them he was ready to sell everything he had – his businesses and his house.
"Even with that, I still didn't have enough money." But after a few months he worked it out.
"So, I officially purchased it in 1993. And I would say there was a bit of a learning curve. I knew Art was closed during the summers, and I was pretty excited to think that we'd get summers off but that changed really quick."
After the first year, they realized they couldn't be successful with so much time off. "We had debts to pay so from that point on we've been open year round." They also were just beginning to understand the different seasons. "We were running out of product all the time – holidays were crazy – Easter, Valentine's Day and such, but we ended up finding our way and have been successful ever since."
And although they never advertise, their business continues to grow. "We used to have major crowds here, especially around the holidays, so I thought it might be a good time to expand."
And they did – in all four corners of the city. "We opened a location in Millcreek on Sterrettania Road, then we went east and opened a store on Buffalo Road and finally completed the compass and went south opening a store in Summit Town Centre." In the decade from 1994 to 2004, they expanded from one to four businesses.
As for their biggest seller? "Sponge is the number-one product. We pretty much make it every day – and although all the local confectioners sell it, it's our most popular item. Plus, the seasons all have their chosen product. "Christmas, we sell a lot of assortments and Valentine's Day it's the chocolate-covered strawberries."
And they haven't changed the recipe. "Whatever it cost us, I wasn't going to change the recipe or the ingredients. We really wanted to cater to the customers that have always known us. I always told my employees, just do what you do, and do it well. We already have a good product. As long as we have great service, we can't fail."
Whether you favor the airy, crunchy sugar taffy that is sponge candy, the dark -chocolate-coated caramels dusted with sea salt, or the milk chocolate covered ripe and sweet strawberries, there's truly something for even the most distinguished palate.
So, while Hershey, Pa. lays claim to the title "The Sweetest Place on Earth," with its Hershey Kiss street lamps scattered throughout its candy-coated chocolate world, Erie still offers its residents something quite sweet in and of itself: a trifecta of renowned chocolatiers in one city, each with a storied past  - and all with a rich and delectable future.
 
Rebecca Styn can be contacted at rStyn@ErieReader.com, and you can follow her on Twitter at @rStyn.