CHQ: Week 4
Chautauqua Summer Season: Week Four is underway, perhaps with the best yet to come.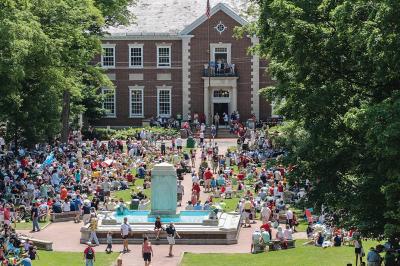 Week four at the Chautauqua Institution is well underway. Closing out this week are famed public intellectual Michael Eric Dyson, professor of sociology at Georgetown University, and for the pop-culture set it's American Idol. 
Chautauqua Institution's summer season features morning and afternoon lectures focusing on weekly cultural themes. The morning lecture series will take place at 10:45 a.m. Monday through Friday in the Amphitheater. The Week Four theme, "Irrationality," examines the complex and often irrational world of human decision-making in a week that will also include analysis of simultaneous research on attendees of the program.
The afternoon Interfaith Lecture Series occurs at 2 p.m. weekdays in the Hall of Philosophy. The Week Four theme, "The Ambivalence of the Sacred: Religion and Violence," explores how and why religions consistently contradict their stated intentions by sponsoring intolerance, hate, and violence, and ask "What will reverse these irrational impulses?"
Here's how the week stacks up:
Monday
Morning: Dan Ariely is the James B. Duke Professor of psychology and behavioral economics at Duke University. His work focuses on how people actually act in the marketplace, as opposed to how they should or would perform if they were completely rational. Ariely is the author of New York Times best-seller Predictably Irrational: The Hidden Forces that Shape Our Decisions and his research has been published in leading psychology, economics and business journals.
Afternoon: Philip Jenkins, one of the world's leading religion scholars, is co-director of the Program on Historical Studies of Religion at the Baylor University Institute for Studies of Religion. His work has been lauded in many different disciplines including sociology, criminology and religious studies. Jenkins' current studies focus around global Christianity, emerging religious movements and 20th-century U.S. history.
Tuesday
Morning: David A. Pizarro is an associate professor of psychology at Cornell University, where he studies moral judgments and the influence of emotional states on thinking and deciding. At Cornell, Pizarro researches a wide range of topics involving emotion, judgment and behavior, with one of his primary interests in how people arrive at judgments about moral responsibilities. 
Afternoon: The Rev. Tony Campolo is professor emeritus of sociology at Eastern University, a former faculty member at the University of Pennsylvania, and the founder and president of the Evangelical Association for the Promotion of Education. He has written more than 35 books and is also one of the founders of the Red Letter Christian movement.
Wednesday
Morning: Michael I. Norton is professor of business administration in the Marketing Unit of the Harvard Business School, where his research includes the effects of social norms and social factors on people's attitudes and behaviors, and the psychology of investment.
Afternoon: Rabbi Matthew D. Gewirtz is senior rabbi of the largest Jewish Congregation in New Jersey, B'nai Jeshurun, in Short Hills. A strong advocate of social justice, Gewirtz is a founding executive committee member of the Newark Coalition for Hope and Peace, an interfaith organization of Jews, Christians and Muslims that is committed to ending gang violence in Newark.
Thursday
Morning: Dan Ariely will deliver a follow-up to his Monday lecture.  
Afternoon: Hussein Rashid is founder of islamicate, L3C, a consultancy focusing on religious literacy and cultural competency. In his research focusing on Muslim and American popular culture, he writes and speaks about music, comics, movies and the blogistan.
Friday
Morning: Leslie K. John is assistant professor of business administration in the Negotiations, Organizations and Markets Unit of the Harvard Business School. In looking at consumer privacy, John examines why and in what circumstances consumers are willing to divulge personal information, whether it be through shopping, gaming or socializing online.  
Afternoon: Michael Eric Dyson is professor of sociology at Georgetown University as well as a contributing writer for The New York Times. A former factory worker, an ordained Baptist minister and a one-time church pastor, Dyson has been celebrated as one of the nation's most visible public intellectuals and is currently at work on a book about President Obama and race.
Additional Lectures
3 p.m. Saturday, July 18, Hall of Philosophy: Hal Gregersen is executive director of MIT's Sloan Leadership Center, where he is a cutting-edge innovation and leadership guru. Presenting as part of the Chautauqua Women's Club's Contemporary Issues Forum series, Gregersen challenges us to question the way we think and act to make our world better.
3:30 p.m. Thursday, July 23, Hall of Philosophy: This week's CLSC Author Presentation will be given by Anne Fadiman, Francis Writer in Residence at Yale University. Fadiman wrote the foreward to The Opposite of Loneliness, an affecting and hope-filled collection of essays written by her student Marina Keegan, who tragically passed away five days after college graduation.
Amphitheater Entertainment
Aside from the daily lectures, Week Four features a variety of evening entertainment programs in the Amphitheater each night.
At 8:15 p.m. Saturday, July 18, Chautauqua Opera Young Artists will take to the Amp stage for a night of "Opera Highlights" with the Chautauqua Symphony Orchestra. The guest conductor will be James Meena, Opera Carolina's general director and principal conductor since 2000.
The following day, at 2:30 p.m. Sunday, July 19, when entrance to the grounds and Amp is free to the public, the Chautauqua School of Dance will perform its first student gala. The production is directed by Jean-Pierre Bonnefoux, Chautauqua Dance artistic director.
 On Monday, Chautauqua's Music School Festival Orchestra performs for the third time this season at 8:15 p.m. in the Amp with celebrated conductor, Timothy Muffitt
Golden Dragon Acrobats will be bringing their tremendously talented and skillful performers to the Amp for a 7:30 p.m.Family Entertainment Series performance on Tuesday, July 21. With award-winning acrobatics, traditional dance, spectacular costumes, ancient and contemporary music, Golden Dragon Acrobats carries on more than 25 centuries of Chinese acrobatics for a show that is not to miss.
At 8:15 p.m. Wednesday, Chautauqua puts on the community-favorite Amp Ball, featuring the Ladies First Big Ban. Based in western New York, they are a 16-piece, all-female group formed by bassist Jennifer May.
The Chautauqua Symphony Orchestra performs at 8:15 p.m. Thursday with music director and conductor Rossen Milanov, and guest pianist Roberto Plano on Schumann's Piano Concerto. This performance will also feature works by Stravinsky and Beethoven.
Concluding the week is a special performance by the top five Idols from Season 14 of American Idol for their touring show, American Idol Live! Occurring at 8:15 p.m. on Friday, July 24, the former contestants will showcase their individual artistry and talents, all set to a live band.
Alternative Entertainment Options
Artistic entertainment at Chautauqua is certainly not limited to the Amphitheater. There is a variety of events happening throughout Week Four, ranging from theater to orchestra performances all over the grounds.
At 4 p.m. Monday, July 20, the Chautauqua Quartet performs as part of the Logan Chamber Music Series in Elizabeth S. Lenna Hall. This resident quartet, all members of the Chautauqua Symphony Orchestra, comprises Vahn Armstrong, violin (associate concertmaster); Diane Bruce, violin (principal second violin); Eva Stern, viola; and Jolyon Pegis, cello (principal).
Week Four also sees the introduction of Chautauqua Theater Company's second mainstage production, Intimate Apparel. With a preview performance at 8 p.m Friday, July 24 in Bratton Theater, the play will continue its run through Chautauqua's Week Five. CTC Artistic Director Vivienne Benesch will direct. Written by Pulitzer Prize winner Lynn Nottage, Intimate Apparel is a beautifully written and intensely personal story that weaves a delicate tapestry of the joys and sorrows of an African-American seamstress in 1905 New York City.
Gate Pass Information
Day tickets are available for purchase at the Main Gate Welcome Center Ticket Office on the day of your visit. Morning tickets grant visitors access to the grounds from 7 a.m. to 2 p.m. for $24. Afternoon tickets grant access from 12 p.m. to 8 p.m. for $15. Combined morning/afternoon passes allow access from 7 a.m. to 8 p.m. and cost $39. Evening passes grant access from 4 p.m. to midnight — the cost varies based on the evening entertainment. For tickets and information, visit chqtickets.com or call 716-357-6250.