Classic Death Metal Nostalgia with Day of Darkness at BT
Return to the glory days of old-school '80s death metal
January 29, 2020 at 10:15 AM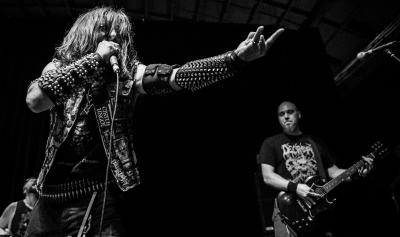 Saturday, Feb. 1
If you've ever wanted to return to the glory days of brutal, old-school '80s death metal, you're getting your chance this February. Dread Metal Concert Productions, operated by devoted local 814 metal enthusiast Jay Durnell, has formulated a diabolical lineup for its "Day of Darkness" at Basement Transmissions. Death metal legends NunSlaughter and Funerus headline with local hardcore and metal mainstays Maniacal Device, Obelus, RE$INATE, and Joe Nameless opening.
NunSlaughter has nearly 33 years of anti-religion, anti-establishment metal under its belt — truly putting the "cult" in cult favorite. Originally based in Pittsburgh and now operating out of Cleveland, expect macabre themes and grimy, thrashy music from these self-proclaimed "Devil Metal" players. Never backing down from the hard-hitting, aggressive style the group has honed since 1987, longtime fans will be pleased to know that many of their hard-to-find favorites have been collected on the 2-CD/1-DVD compilation The Devil's Congeries: Volume 3.
Funerus of Johnstown, Pa. performs a very Scandinavian-influenced brand of death metal, inspired by Swedish bands like Entombed and Carnage. The band has gone through several lineup adjustments since its founding in 1990 and now features the husband-and-wife metal power-team of John and Jill McEntee. John definitely leaves his sonic mark on the band, as Funerus shares similar musical stylings to his main project, Incantation. Refining the art of whittling death metal to the roots and basics, the group's sound is defined by massive-sounding doomy riffs and Jill's guttural vocals.
All openers for this headbanging nostalgia-fest are Erie based. Maniacal Device revels in old punk and old thrash influences, and they deliver their songs like they're throwing firecrackers — quick and to the point. Obelus recently returned to their most well-loved lineup, and they continue their brutal, grinding brand of metal. RE$INATE are relative newcomers to the scene, having debuted in September 2019, and the group already has a rambunctious hardcore reputation. Joe Nameless rounds out the bill with absolutely goofy, outfit-accented comedic punk-metal.
— Ellie Brooks
6 p.m. // Basement Transmissions, 145 West 11th St. // $15 pre-sale, $20 doors // All Ages // facebook.com/basement.transmissions