Cleveland's Broccoli Samurai's Re-defines the Term "Jam Band"
Catch two great takes on the traditional jam band at the King's Rook Club.
January 7, 2015 at 4:45 AM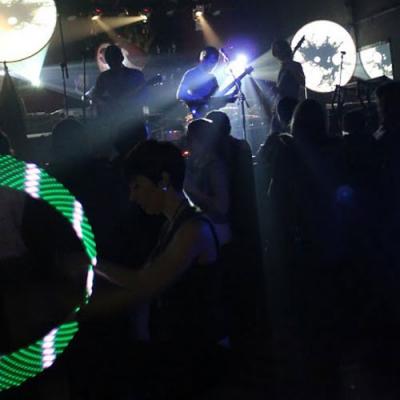 The last time I caught new-groove collectives GNOSiS and Broccoli Samurai together in Erie – a little less than a year ago, on the then-crooked i's fine stage – it was like a warm little taste of the summer festival season showed up on State Street in the cold, old dead of winter.
When shows like that peak – and, man, that one peaked that night – it's a lucky, dance-happy, open marriage of sound and sight and motion: Sweet, sweet, sweet.
Cleveland-based trio Broccoli Samurai had, at that time, already been well-established as one of the best electric-jam outfits playing anywhere around these parts. And they didn't disappoint that night.
But, and most impressively, GNOSiS – right outta sunny, little, nearby Edinboro – were just getting started at that point, having played out only a few times prior.
Really, as time keeps ticking by, both bands – melding together multiplicities of influences into soundscapes all their own – keep getting more progressive, going deeper and taking us further out. They're of that small, but growing, cadre of musicians and bands (think groups like Papadosio, Lotus, Consider the Source, Snarky Puppy, etc.) who are busy re-defining the term 'jam-band' for a new generation – and having a helluva lotta fun doing it.
So, almost a year later, and right after the kick-off of a whole new year, it's safe to say the sights, and sounds, and motions they bring will be abound when the bands share the Kings Rook Club's downstairs concert complex stage on Saturday, Jan. 17.
There are pre – and after-parties featuring more live music from Two Bird Stone in the Rook's upstairs lounge, too, so, altogether, it's shaping up to be a sorta huge show indeed.
Take note, though, kids: This one's all for the 21-plus crowd – and for Kings Rook members and guests only. 
Saturday, Jan. 17, 10 p.m. (no admittance after 2 a.m.) // 1921 State St.  //facebook.com/KingsRookClub