Cloud 9 Wine Bar
With the addition of Bertrand Artigues' new restaurant, Erie's food scene just jumped up a cloud level -- or three.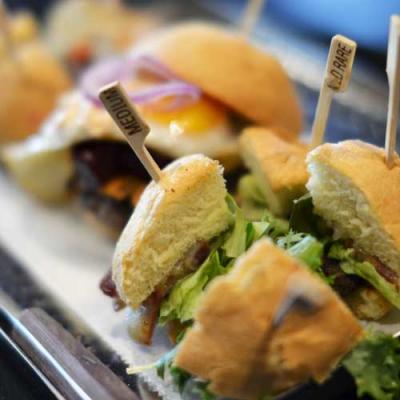 Up until recently, the restaurant scene in Erie has certainly been robust enough to leave diners on cloud 3 or cloud 4; of course, we've got Alto Cucina, Bertrand's Bistro, Colao's, Peppino's, and 1201 Kitchen, so maybe it's more like cloud 5 or 6.
But now, Bertrand Artigues – owner of the aforementioned Perry Square favorite Bertrand's – has let his French roots vine their way down to 10th and French streets with a truly hyperbolic effort sure to leave local gourmands on cloud 9 – the Cloud 9 Wine Bar.
First, let's talk about that space – that rounded, glassy corner of the parking garage across from Jerry Uht Park. Somehow, Bertrand's crew made the arcing, rambling room even more open by closing off parts of it and coloring it in Mediterranean hues of maroon and tan, accented by dark woods and a stainless steel bar. Among the finer details of this beautiful environment lies a secret – when you grab a seat at the bar, reach your hands underneath and feel what's there.
No, most of us wouldn't go to Cloud 9 just to recharge our phones, but the electrical outlets nestled just above your lap are a handy feature symbolic of the attention to detail that went in to this place – a place that has been synonymous with failure over the past few years. In fact, about the only thing that didn't fail in that space in the last decade or so was the local Obama for President campaign headquarters.
However, if this respected restaurateur fails in this effort, this Reader eater is willing to pull a Werner Herzog and eat his shoe.
Seriously. It's that good. The restaurant, not the shoe.
As the name suggests, Cloud 9 Wine Bar has wine. Lots of it. And in what is believed to be a first for our area, they even have a cruvinet – a custom-built, climate-controlled tap system holding 16 different bottles of wine that fills the bottles with inert Nitrogen to keep them fresh indefinitely.
Bertrand's always been known for his wine savvy, and in another brilliant innovation – at least locally – all wines are available by the bottle, by the glass, and by the "taste." A "taste" is a 2-ounce pour just perfect for pairing with the plethora of small plates served.
And those plates – dear Lord, those plates – they are astounding. Brilliantly conceived, expertly prepared, and beautifully presented, everything on the menu is ridiculously delicious (ridiculicious?), unpretentiously priced, and created with a mindfulness of the world from which it comes.
"Bertrand himself having grown up in the French countryside – it was a way of life for him. There was no 'organic' or 'biodynamic' or 'sustainability,'" said B.J. Shields, General manager of Cloud 9. "His mom would send him to get produce, and it was produce from the farmer down the road. That's how he grew up, and moving to the States with all of our processed stuff was kind of a shock to him, so he tries, even with his bistro, to do everything local and sustainable. Those are things that the chef holds dear to his heart, and I do as well."
You can see this ethos in action for yourself in some of their appetizers – especially the charcuterie and cheese plates – mostly sourced from Showman Farms in Edinboro.
Chef de Cuisine Kyle Fioretti – an Erie native and Mercyhurst University alum, who comes to Cloud 9 from 1201 Kitchen and is just 27 years old – deserves much of the credit. "What we're trying to do is source as much as possible from not only local but also sustainable and wholesome farmers, foragers, and producers," he said. "We spend a lot of time finding these people, finding these ingredients, and then we take all that and make things from scratch."
Almost as if on cue, the duck egg man showed up at that moment with a fresh dozen. He handed them over the bar to Chef Kyle, who returned moments later with a decadently rich crispy poached duck egg perched precariously atop pancetta risotto and swimming in aromatic bouillon.
If that sounds good to you, run don't walk. In line with the sustainability-oriented mindset of Cloud 9, only 24 of these dishes will be available each week, because some of those duck eggs need to grow up to become ducks for Cloud 9's fried duck wings – available in ghost honey hot, Cassis blackberry Jalapeno, and maple mustard stout varieties.
Cloud 9's other equally-delicious offerings include several types of poutine (a common Canadien dish consisting of French fries and gravy topped with more Showman Farms cheese), gourmet thin-crust pizzas, salads, topless tartines, and burgers, all exhibiting high-quality ingredients and thoughtful flavor pairings. Main courses (no, Cloud 9 is not just a tapas joint like some had speculated) include everything you'd expect from a place like this – gnocchi, Mahi, scallops, free-range chicken, duck confit, pork loin, and strip steak.
To wash it all down, Bar Manager Ryan Bondi sums up how his little fiefdom complements Artigues', Shields', and Fioretti's. "We want to fall in line with the vision – sticking with sustainability and local spirits and local wines," including Lavery Brewing Company's beers and Mazza Vineyards' whiskey. "We will not be using any pre-made things here," he said. "We utilize fresh fruit, fresh-squeezed juices, and down the road, we'll be getting into a classic cocktail revival – bringing back original recipes from the 1920s."
Overall, Cloud 9 Wine bar is a welcome addition to the local scene and will certainly be appreciated by eaters, drinkers, and anyone who enjoys great food and great service in a great setting. Perhaps the only problem with the whole concept is the name; to hell with "Cloud 9" – this place should be called Cloud 19.
The Reader Eater can be contacted at ReaderEater@ErieReader.com.