Combing for Ideas
NWPA Innovation Beehive bringing buzz to Erie community
March 27, 2019 at 11:00 AM
By: Ben Speggen
"An interesting example."
That's what Washington Post columnist David Ignatius, who visited in October 2018 as part of the Jefferson Educational Society's Global Summit, called Erie in a March 19 op-ed in search of "the right answer for Rust Belt towns where the old manufacturing base has disappeared."
For many, part of that answer is beehives.
While it hasn't disappeared, the decline of old manufacturing isn't a new story for Erie. In 1980 — around the same time Pittsburgh's economic rock was meeting its bottom before the Steel City would go on to become a three-decades-long rebounding and resounding success story (it was the only U.S. city to land on the U.K. National Geographic Traveler's 2019 Cool List) — the Erie region boasted some 45,000 manufacturing jobs. That accounted for 40 percent of private employment.
The numbers have since met a buzzsaw that cut them nearly in half. Less than 26,000 jobs exist, accounting for 20 percent of employment, according to a 2016 report by Mark Muro, Brookings Institution Senior Fellow in the Metropolitan Policy Programming Division.
Yet, more than half of the "Advanced Industries" — "50 critical manufacturing, energy, and service industries that invest most in R&D and STEM workers" — Brookings first identified back in 2015 exist in Erie. During a recent conversation with Muro, he said updated data will soon be available.
Since 2015, Erie hasn't necessarily shouted "out with the old," but it's certainly championed "in with the new."
Erie is "rebuilding itself around its local universities and a big insurance company," Ignatius wrote. "Profits from a big gambling casino in Erie County are funneled partly to 'innovation spaces' at four local campuses."
The local universities with those innovation spaces supported by casino funds is the equation that equals the Northwest Pennsylvania Innovation Beehive Network.
Six entities are key to understanding the Network: The four local universities (Gannon, Edinboro, and Mercyhurst universities and Penn State Behrend), as well as the Erie County Public Library each host a hive — and the Erie County Gaming Revenue Authority, which has drafted a blueprint for the innovation-based economic development system in Erie.
The work began back in 2013 when ECGRA Executive Director Perry Wood brought Pittsburgh native Richard Bendis, CEO and founder of Innovation America (a national public-private partnership focused on accelerating the growth of innovation economy in America), to Erie for Ignite Erie: A Day of Innovation for Entrepreneurs.
Out of that came the second phase of Ignite Erie in 2015, which included the idea to begin having local universities collaborate for the greater good of Erie's economic ecosystem.
The Beehive Network "is about leveling the playing field for the entrepreneurs of Erie County," says Wood. "It's about opening the doors of our universities to the community because not every entrepreneurial idea is born out of a physics class. In essence, we're democratizing entrepreneurship with the help of the universities."
At its most basic, the concept can be seen as a "many hands make lighter work" approach to advancing Erie's economy but with the note that each hand is holding something different.
"The decision to designate an area for each university was key," says Tony Peyronel, executive director of Edinboro University's Center for Branding and Strategic Communication. "There is no overlap in competition when it comes to that."
Too, the four, smaller universities working together can match the might of Research 1 (R1) universities — a classification for institutions offering numerous doctoral programs and very high levels of research activity — which the Erie region lacks.
"R1s are more successful in attracting larger businesses and creating cottage industries," says Brad Gleason, director of operations at the Tom Ridge College of Intelligence Studies and Applied Sciences at Mercyhurst University. "And so for our region to be useful in the economic development space, there is a collective belief that we need to start acting together in regards to generating business."
But collaboration between colleges? It's easier to think of the academic arena as Gonzaga versus North Carolina or Michigan State versus University of Tennessee — and not just because March Madness happens to be upon us.
But the Lions teamed up with the Golden Knights, the Fighting Scots, and the Lakers — as well as the Librarians! — to advance business development in the region.
The initiative — which initially received a $200,000 Appalachian Regional Commission grant with a dollar-for-dollar match by the Ignite Erie Industry+University Business Acceleration Collaborative in October 2017 — was first coordinated by Penn State Behrend, which opened the first hive, theirs dedicated to design and engineering support for prospective businesses.
The other hives followed: Gannon's focused on business development and analysis; Edinboro's on public relations and marketing; Mercyhurst's on business intelligences studies; and the library through its Idea Lab, which Emerging Technologies Librarian Jude Shingle calls "a feeder system into the other beehives," noting that the Idea Lab serves as "a great first step in giving feedback and guidance on who can help and what resources are available."
"The beehives are what will turn our innovators into entrepreneurs," says Erie County Executive Kathy Dahlkemper. "There are so many dreams out there in our community just waiting to be brought to life — and that's why it is so important to have the Idea Lab as part of the beehives. As part of the library, it welcomes all citizens, from all walks of life, and helps them take their idea, their innovation, their dream and work with the Beehive Network to make it a reality."
The complexity — and heightened pace — of the global economy has made scaling a company from a garage to somewhere on a Fortune magazine list more of an exception than the norm.
"The innovation space the beehives create bridges the local and the global," Wood adds, creating access to networks of people and resources to be better positioned to develop their product and market and commercialize it at a faster pace.
In December 2018, ECGRA injected $1 million of additional funding into the Network — $200,000 to each hive — which since launching has "seen more than 100 clients; employed 50 students; helped with the formation of two businesses; developed 15 business plans, seven intelligence studies and 21 marketing concepts; and designed three prototypes," as Erie Times-News Matthew Rink reported.
"[Entrepreneurs] have each of [the beehives] as a resource but we're leveraging our collective strengths as a whole," says Steven Mauro, vice president of academic administration at Gannon University, of the beehives. "This is something that is really unique and you're not going to see it anywhere else across the nation."
In fact, other institutions have been coming to Erie to study the model to see if it can be replicated and scaled in their markets.
"We have people benchmarking this from across the country, coming here to see how we're doing this," says Amy Bridger, senior director of corporate strategy and external engagement at Penn State Behrend.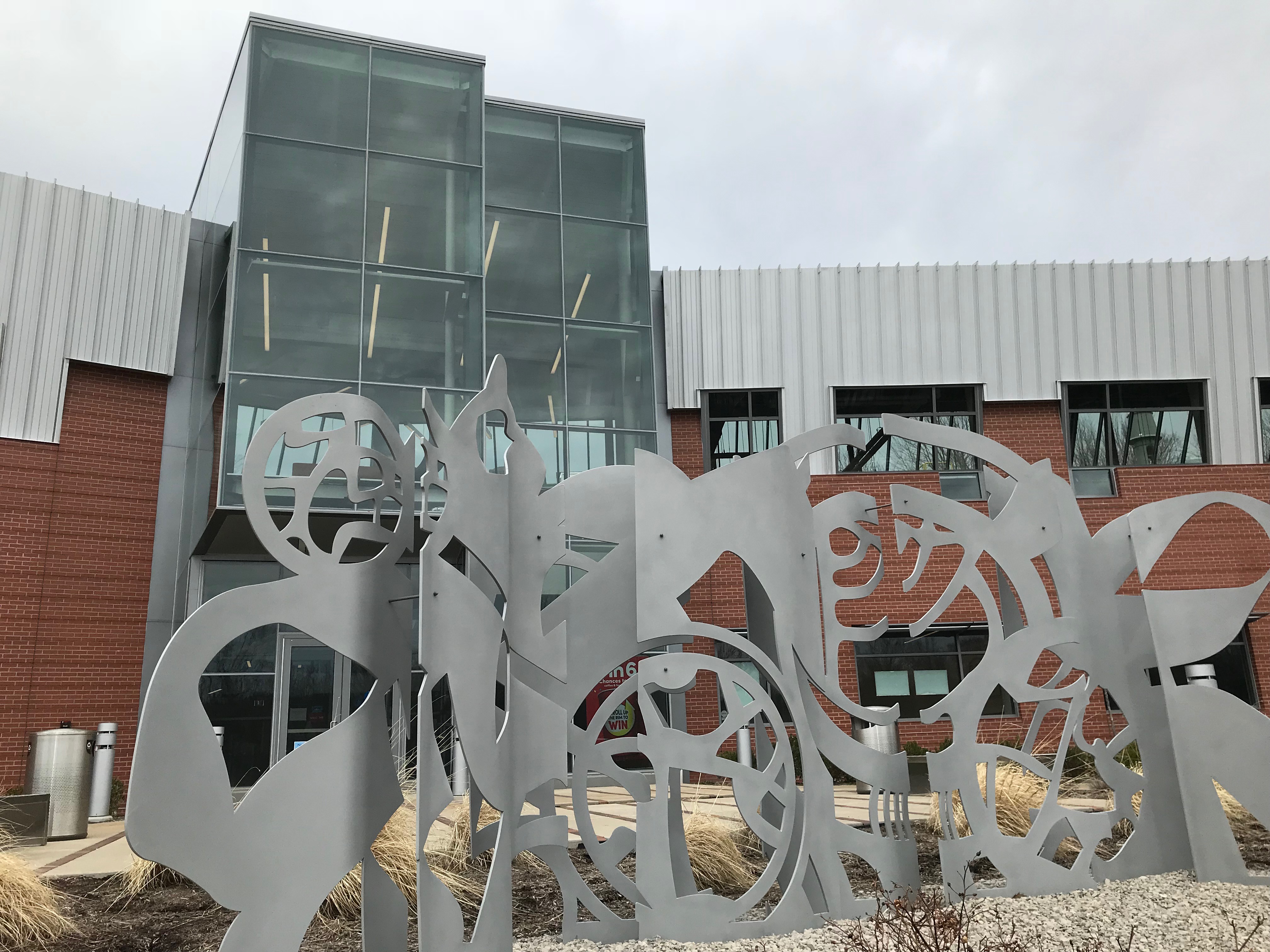 Penn State Behrend hosted the first hive at its Innovation Commons idea lab, which has lent its 3D printing, product design, and CAD assistance capabilities to over 50 business projects.
But why does it make sense for universities to undertake such an initiative, to concern themselves with business development?
"Educational institutions really are areas where you have a high level of creativity and development of new research and production. Invention goes hand-in-hand with educational institutions," Mauro says. "We're well poised to serve as that anchor for business development and entrepreneurial services."
That, too, goes for the benefits the beehives bring current and prospective students at any one of these four universities.
"This is a really great way to answer the question that is being asked on a national level of the relevance and the answer of higher education and how we match the skills needed for businesses to the education component of the student we produce," Bridger says.
And the beehives give the students the ability to work across campuses.
"An advisee of mine is involved at Gannon," Peyronel says. "Another student I have in class is working at Mercyhurst. A lot of people might've thought they wouldn't see that, but it's working well."
"If you come in as a business major, you think 'I'm going to receive a great education,' but what you might not always think of is: 'I'm going to have an opportunity to start a business, or be hired to work with a small business directly,'" Mauro adds. "What this means for the student is they get a fantastic opportunity to be thinking entrepreneurially and get great hands-on experiences."
So far, the beehives have effectively created the buzz around Erie's entrepreneurial climate and four student bodies. And it's garnering attention as an example of something that's working in a Rust Belt region that's working through the shift in its manufacturing climate. Peyronel notes that the beehives are "an important force for the re-branding of Erie."
"Success" of the Beehive Network into the future, says Wood, is the "foundation infrastructure to turn us into what I would call a true startup community where people of Erie County have the resources they need to fulfill that innovative spirit: that's the ultimate goal. Startup friendly, startup successful."
Ben Speggen can be contacted at bSpeggen@ErieReader.com, and you can follow him on Twitter @BenSpeggen